HOME
HOME
▶
You don't have it yet?!
You don't have it yet?!

プライスも手が出しやすいし、気になるけど色モノだから印象が強くて飽きてしまわないか心配・・・というお問合せや質問が多いのが、このbajraのアイスグレーのカーディガンコート。 そこで今回、心配をしている方々へ声を大にしてお伝えしたいのが、 "間違いなく持っていて失敗しないアイテム!むしろ確実に使えるアイテム!"というポイントにフォーカスした今回のコンテンツ。
今年は、使えるIceGreyのみを追加生産。 カラーものだからこそ、手が出しやすいプライスをかしこく手にして、かしこく着まわす! We got many voices and askings about this bajra's Ice grey cardigan that the price is easy to deal with, and so curious about it, but I'm worried if I'll get tired of it because it's a color thing. So this time, we would like to introduce you how usuful it is!! This content focuses on "Items that you definitely have and don't fail to buy! Rather, it must be usuful for your outfit!"
This year, we only reproduce IceGrey one. It's a color item, so you can wear it smartly with easy-to-try price!
---
bajra
OVERSIZED 2WAY CARDIGAN COAT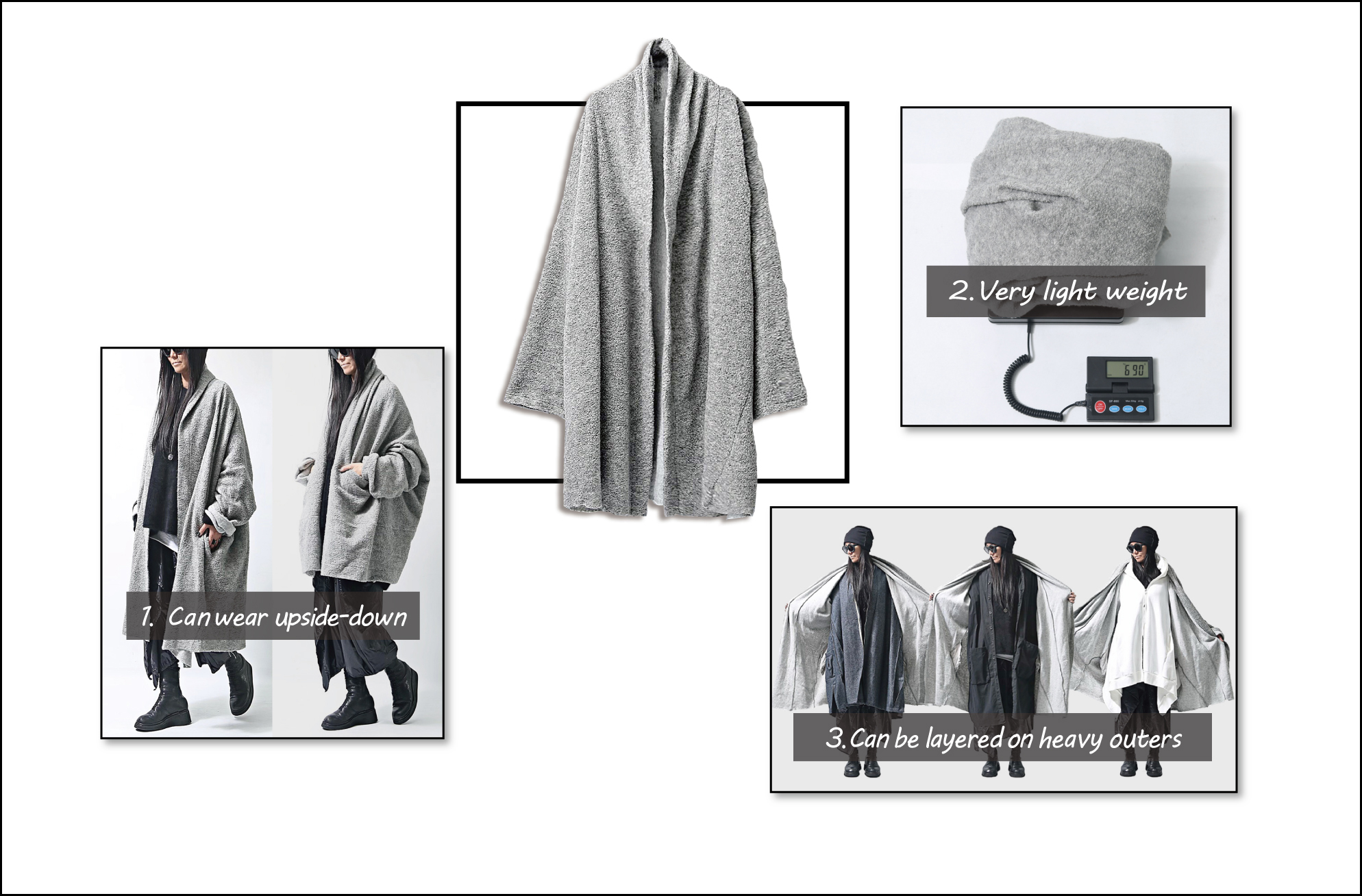 1. 上下逆さまにして2wayで楽しめる!
ゆったりした着心地のロング丈を楽しんだり、上下逆さに羽織って短い丈感のシルエットを楽しんだりできる2WAYカーディガン。
1.You can wear upside-down
Enjoy a long, comfortable length, and a short silhouette with an upside-down, so it's 2way cardigan!
2. 想像以上におどろく程の軽さ
通常のカーディガンやライトコートが1500g~2000gあるのに対して、このボリューム感でその半分以下の700g!!! だからこそサッと羽織ったり、レイヤードスタイリングしやすい!
2.Surprisingly light weight
There are 1500g-2000g regular cardigans and light coats, but with this volume, it's less than half the 700g!! That's why it's so easy to put on and layered style!
3. 厚手の上着にもレイヤードできる!
ゆったりとしたアームと脇下だから、インナーにライトコ―トをINしてつくるレイヤードスタイリングも◎
真冬には一枚では寒くて着れなかったライトコートや羽織りも、これで真冬も問題なく着れ、さらに簡単にレイヤードスタイリングが出き、スタイリング力もUPした感じになるのもポイント!
3.Can be layered on thick outers!
With loose fit arms and armpits, so it can enjoy layered styling with light coats◎
The key point is that you can wear a light coat or haori that you couldn't wear in the middle of winter before because it was too cold to wear alone, but now you can wear it in the middle of winter without any problems, and you can easily get layered styling, and your styling ability has improved!
---