HOME
HOME
▶
"Our Recommend!!!"
"Our Recommend!!!"

今回のコンテンツは、ワタシとヤマダがそれぞれ個人的に絶対におススメしたいアイテムをピックアップ! 全部がおススメ!っと言いたいところですが、この数年毎シーズン再入荷させてきたけど、今回の入荷分で打ち止めとするアイテムをチョイス! 数年前の初回発売から、気が付けば色違い買いしているアイテムも。

他にありそうでないものが大好物なクアドラー。人とかぶるのがイヤ!って言いつつも、良いものは共有してその良さを共感し合うことも大好きなクアドラー。 っていうことで、ワタシとヤマダのお気に入りのアイテムを手にしていただいて、一緒にその良さを共感したり、新しいスタイリングを発見し合いたいです!

ヤマダミサキ、略して「YMS」は、QUADRATOで働く前からクアドラーの自称、潜入型クアドラーだそうですw For this content, I and Yamada have picked up items that I absolutely want to recommend personally! Everything is recommended! I'd like to say that I have restocked it every season for the past few years, but I chose the item that will be stopped by this arrival! Since the first release a few years ago, some items have been bought in different colors.
A quadrer who loves other things that are unlikely. I hate wearing it with people! However, he also loves to share good things and sympathize with each other. With that said, I would like you to pick up your favorite items from me and Yamada, sympathize with their goodness, and discover new styling together!
Misaki Yamada, abbreviated as "YMS", seems to be a self-proclaimed quadrer, an infiltration type quadler even before working at QUADRATO.
Recommended item by Mami
NOSTRASANTISSIMA_STRIPE ASYMMETRY SKIRT
このストライプスカート、何年経っても流行り廃りがない! で、何よりも生地感とか色味がたまらない! 全くもって、ドギツクナイ!こんなストライプスカート、他にある?!って声を大にして言いたい!笑
もう何度も言っているけど、スカートをメインにスタイリングしたりインナースカートとしてチラッと見せたり。 一見、印象が強いイメージのストライプ柄でも、このストライプなら間違いなく使えますよ〜! ちなみに、ワタシはお洗濯も自宅で丸洗いしちゃってます! This striped skirt hasn't gone out of fashion for years! And above all, the texture and color are irresistible! At all, it 's crazy! Is there any other striped skirt like this? !! I want to say loudly! Lol
As I've said many times, I've been styling mainly on skirts and glancing at them as inner skirts. Even if the striped pattern has a strong impression at first glance, you can definitely use this stripe! By the way, I have washed my laundry at home!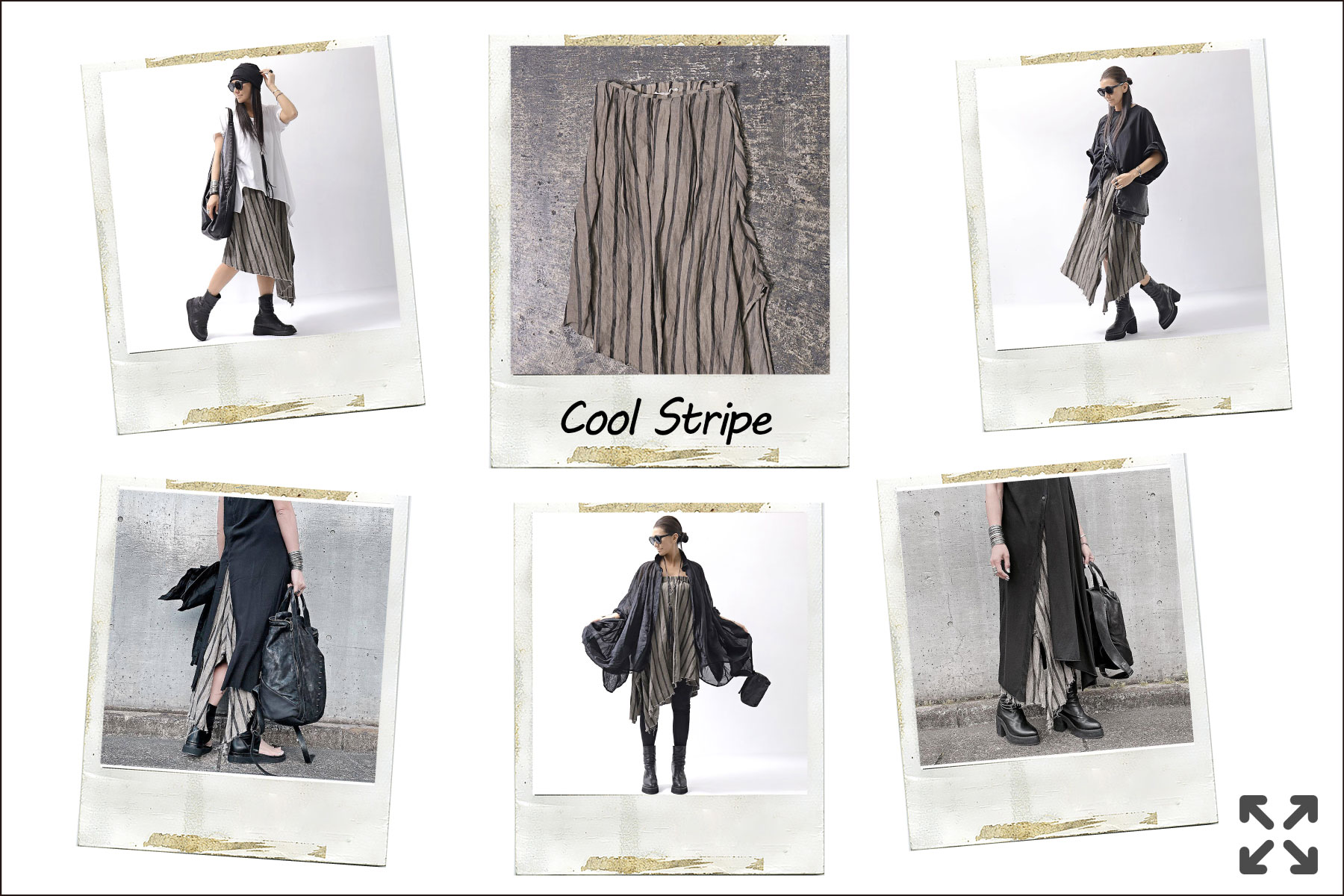 ---
Recommended item by Mami
Andrea Ya'aqov_STRAP COCOON LONG DRESS
初回発売の4年前に手にして、このワンピの良さを年々実感していると思いきや、4年目にしてスカートとして履くという新しい発見をした今年。 ワンピの上からトップスを着れば、スカートっぽくなるから同じかと思いきや、まったくの別物! 長さが増してCOOLな印象になる!
今年、5kg肥えてワガママボディになってしまったので、胸元がちょいキツメだったけどお直しするほどでもないし・・・・なんて思ってた矢先の新しい発見! ボディベルトも活かせるし、このワンピマジヤバ美?? This year, I got it four years before the first release and thought that I was feeling the goodness of this dress year by year, and made a new discovery to wear it as a skirt in the fourth year. If you wear a top from the top of the dress, it will look like a skirt, so I thought it would be the same, but it's a completely different thing! The length increases and it gives a cool impression! This year, I got 5kg fat and became a selfish body, so my chest was a little tight, but it wasn't enough to fix it ... I thought it was a new discovery! You can also make use of the body belt, and this one-piece magical beauty? ?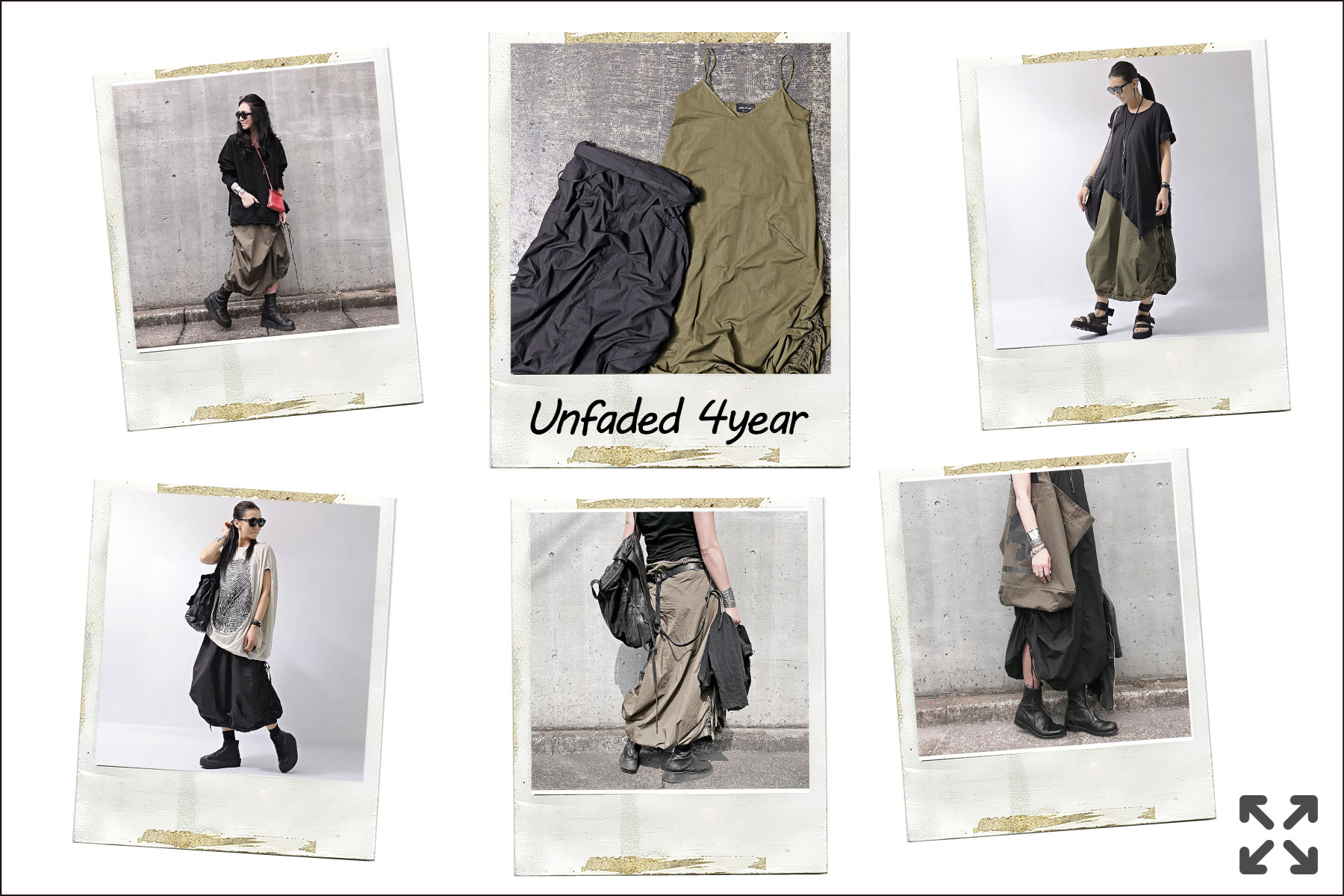 ---
Recommended item by YMS
bajra_UNISEX OVERSIZED COTTON TOPS
腕を出したくない、カラダのラインを出したくないけど、暑さには弱い・・・・そんなワタシにはこのトップスが神アイテム! しかも、真っ白じゃなくIceGreyだからノッペリ感がない!
生地はしっかりとした厚みがあっても、ゆったりとしているから風通しが良く、肌にペタッとくっつかいない! 去年鬼ローテンションで着たので、今年はサイズ違いを買い足したほどです! I don't want to put out my arms, I don't want to put out my body line, but I'm vulnerable to the heat ... For me, these tops are a god item! Moreover, because it is Ice Gray, not pure white, there is no feeling of nopperi! Even if the fabric is thick, it is loose and well-ventilated, so it doesn't stick to your skin! I wore it with demon low tension last year, so I bought more different sizes this year!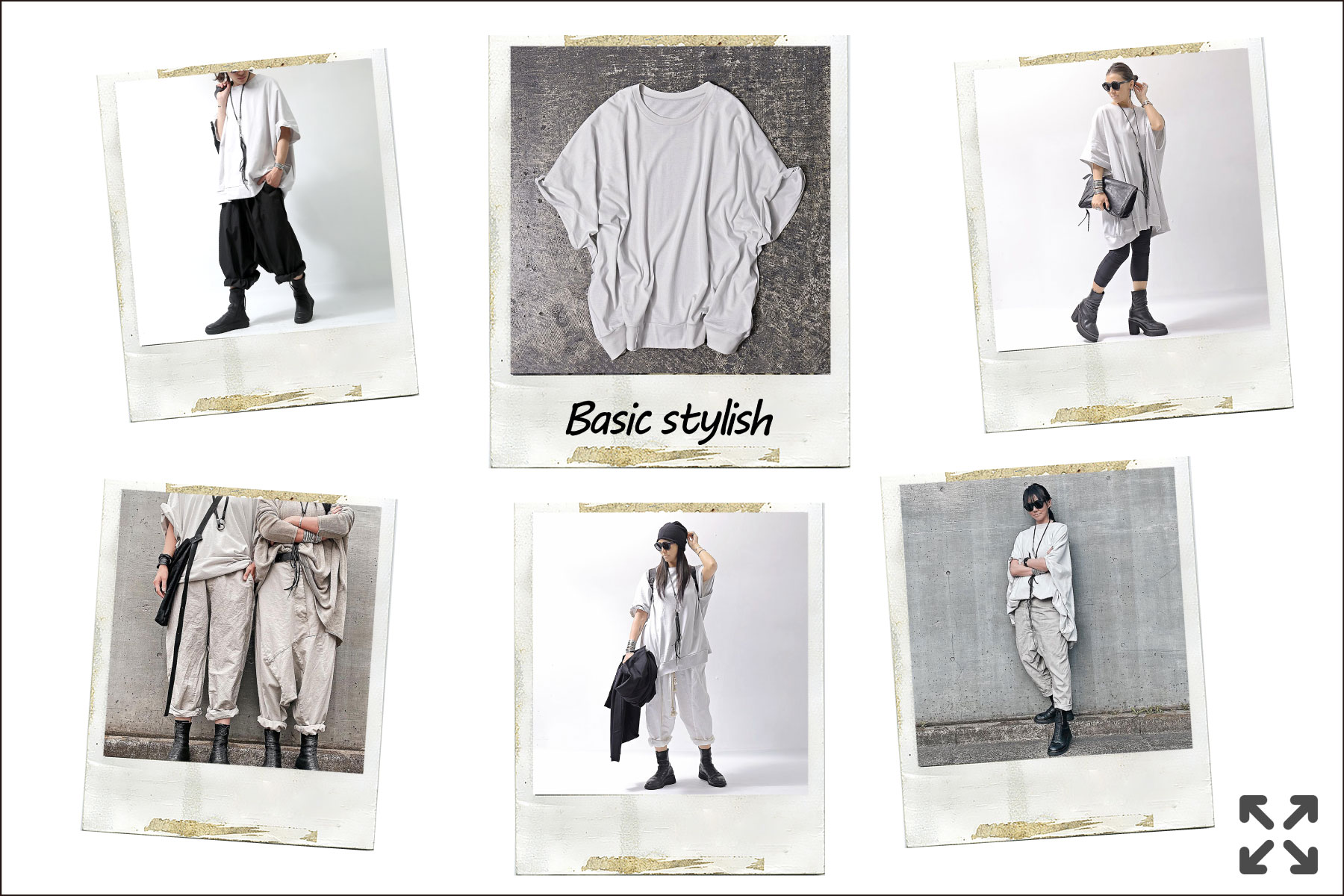 ---
Recommended item by YMS
Andrea Ya'aqov_UNISEX ONE SHOULDER PANTS
このパンツは、ストレッチ生地でワンショルダー付きで発売される前の初期版をQUADRATOで働く前にゲットしてたけど、 ストレッチ生地とワンショルダー付となって発売されると聞いて、即色違いでゲットしました!
これぞ、潜入型クアドラーの特権!!! フェミニンな雰囲気よりユニセックスなスタイリングの方が好きなので、このパンツは、Myヒットです! I got the initial version of these pants made of stretch fabric with one shoulder before working at QUADRATO. I heard that it will be released with stretch fabric and one shoulder, so I got it in different colors immediately!
This is the privilege of an infiltrating quadrer!!! I prefer unisex styling to feminine styling, so these pants are my hit!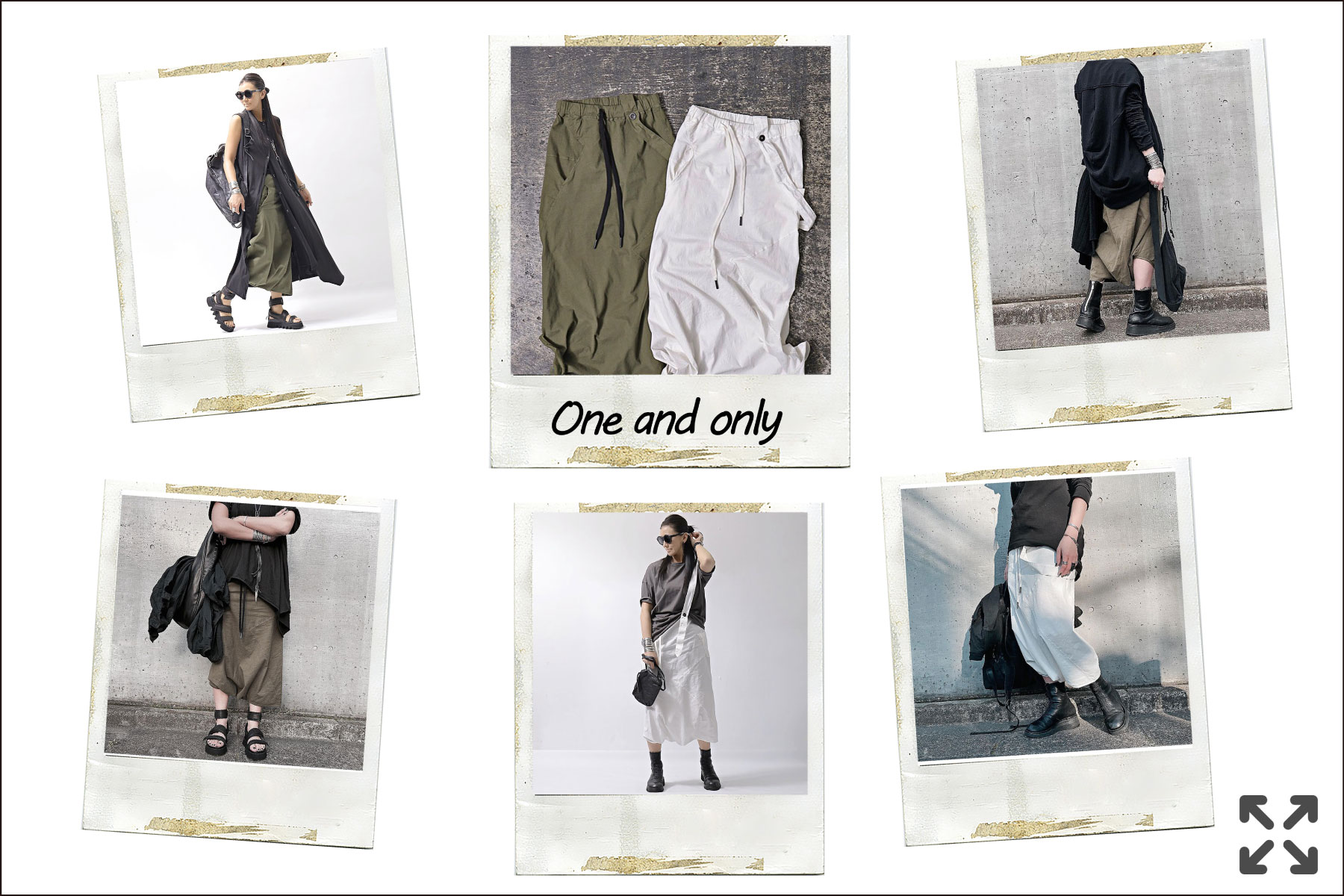 ---