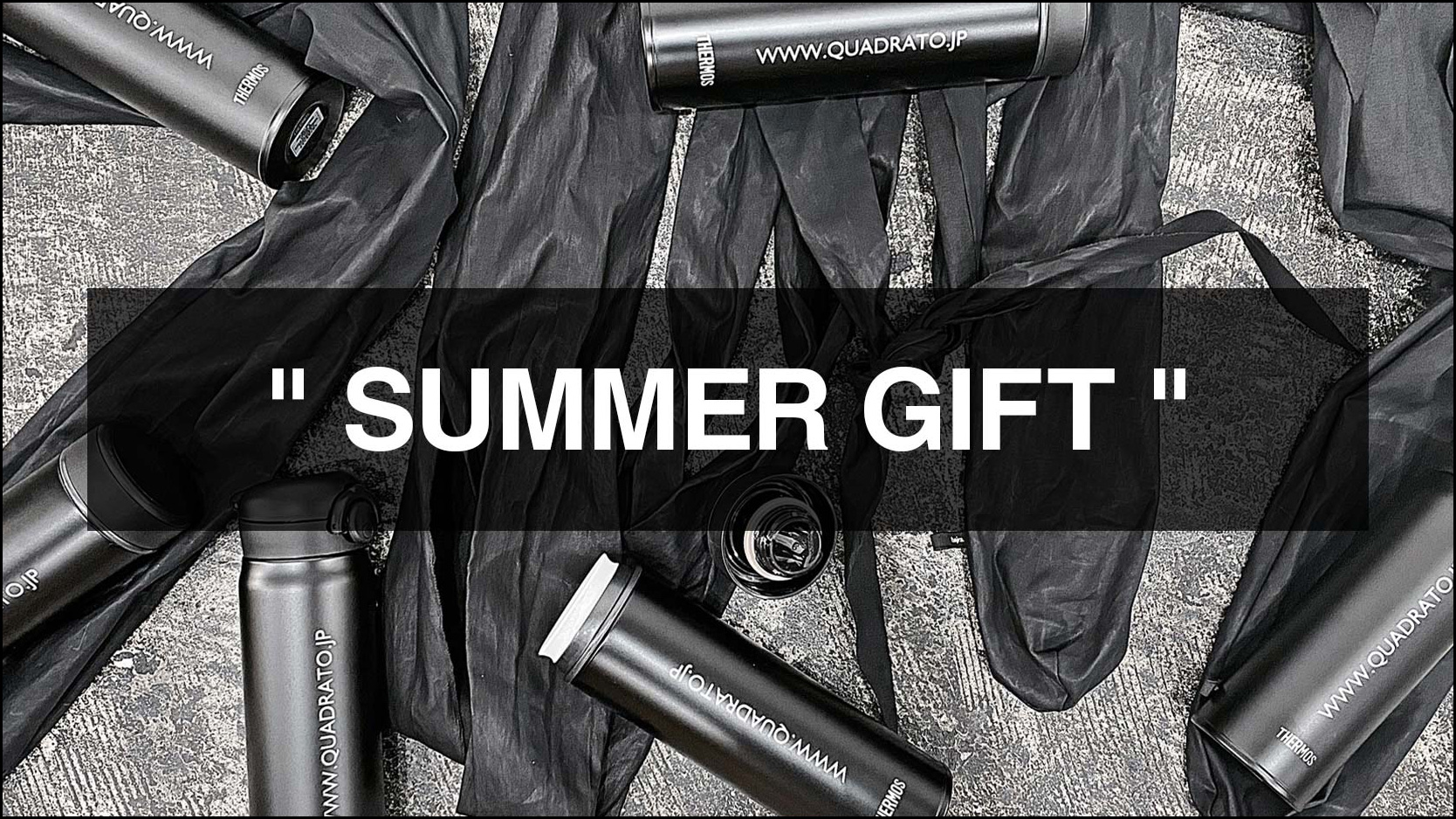 あっという間に夏真っ最中の8月に入り、世間一般ではセールも真っ最中に。 そんな中、今季もセールを行わないQUADRATOでのお買い物を楽しんでいただく方々へ、私たちの感謝の気持ちとこだわりを詰めたアイテムをサマーギフトに!



✔QUADRATO×bajra限定ボトルバッグとTHERMOSボトルセットをプレゼント

✔税抜45,000円以上のご購入で、ギフトをご希望の方のみ


ノベルティというと、ありがちなものやオマケ的なもののイメージ。 そんなレベルではなく、「カッコイイ!欲しい!」というもので、さらにもらったら嬉しい!となるものだからこそ価値があるという想いも詰まっています。
昔、雑誌・本の付録目当てに、本自体には興味がないのについ買ってしまったことがある人も多いはず。 でも、今は商品もギフトも欲しい。そしてどちらも満足!買ってよかった!っというのが大切デス☆



QUADRATO Boutique
MAMI&YMS





August is in the middle of summer, and the general public is in the middle of a sale. Meanwhile, for those who enjoy shopping at QUADRATO, which will not be on sale this season, we will make a summer gift with items filled with our gratitude and commitment!



✔QUADRATO x bajra limited bottle bag and THERMOS bottle set will be presented

✔Only for those who wish to receive a gift with a purchase of 45,000 yen or more excluding tax


Free Gift is an image of common things and bonus things. It's not that level, it's "cool! I want it!", And I'd be happy if I could get more! It is also filled with the feeling that it is valuable because it is something that becomes.
In the past, many people would have bought a book as an appendix to a magazine or book even though they were not interested in the book itself. But now I want products and gifts. And both are satisfied! I'm glad I bought it! It 's important☆






QUADRATO Boutique
MAMI&YMS
---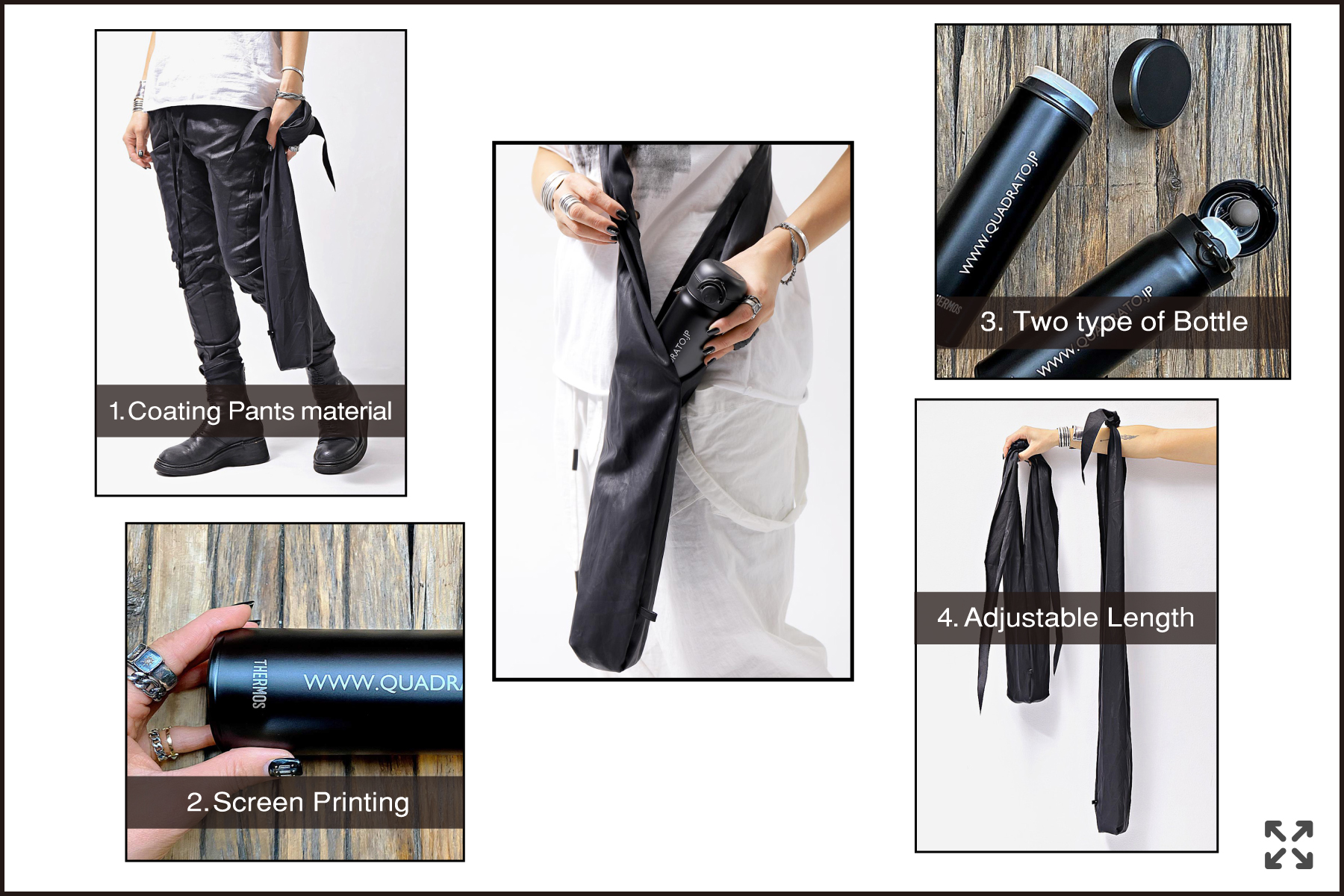 1. " 即完売したあのbajraマットコーティングパンツ素材で作ったボトルバッグ "
ただの生地じゃつまらない!ボトルバッグだってファッションの一部としてスタイリングに馴染む素材がイイ!っということで、実際パンツでも使用した生地を使用。
2. " マットブラックのボトルに馴染むロゴは、洗っても擦れ落ちしにくいスクリーン印刷で "
ガラスからプラスチック、布地まで高品質な印刷が可能として注目を集めているスクリーン印刷。   国内でもスクリーン印刷技術が高いと評価されている山上スクリーン印刷に依頼。   いつもお洋服では洗濯ガンガンしても問題がナシ!っと言っているのだから、こういうところも気兼ねなく使えるものを!
3. " リアルに実用性あるものだから、自分に慣れた使い勝手のフタを "
意外とハッキリと好みの分かれるボトルのフタのタイプ。 ワンタッチオープンか、クルっと回して開けるスクリュータイプか。   お洋服同様、自分に合ったタイプで!
4. " 結んで長さ調整可能だから、スタイリングの一部になるボトルバッグ "
結んで長さ調整できることで、ナナメ掛けはもちろん、肩掛けにしてもバランス◎   そして体型・身長、メンズ、レディースどちらでも問題なし!
1. "A bottle bag made of that bajra matte coated pants material that was sold out immediately"
Just the dough is boring! Even bottle bags are made of materials that are familiar to styling as part of fashion! By the way, I used the fabric that I actually used for my pants.
2. "The logo that fits in the matte black bottle is screen-printed so that it won't come off even after washing."
Screen printing is attracting attention as it enables high-quality printing from glass to plastic and fabric. Requested Yamagami screen printing, which is highly evaluated for its screen printing technology in Japan. Always with clothes, there is no problem even if you wash your clothes hard! Because I'm saying that, I want something that can be used without hesitation!
3. "Because it is realistically practical, use a lid that is easy to use and that you are accustomed to."
A type of bottle lid that has a surprisingly clear taste. Is it a one-touch open or a screw type that can be opened by turning it around? As with clothes, use the type that suits you!
4. "A bottle bag that can be tied and adjusted in length, making it a part of styling."
By tying and adjusting the length, it is balanced not only for hanging on the shoulder but also for hanging on the shoulder◎ And there is no problem with body shape / height, men or ladies!
---

One-Touch Open

"片手で簡単にフタを開けて飲めるワンタッチタイプ" "One-Touch type that you can easily open the lid with one hand and drink."

Screw Open

"スッキリシルエットで飲み口広めのスクリュータイプ" "A Screw type with a wide mouthpiece with a clean silhouette."