HOME
HOME
▶
BLACK-BIRCH-DOUGLAS
BLACK-BIRCH-DOUGLAS
発売開始から注目されている今季のスウェットジップジャケット。
それぞれ全く異なる雰囲気のこの3色。この一週間でサイズ感のお問合せよりも多かったのが、どの色にすべき?というご相談。
そこで、今回はそれぞれカラー別にスタイリングを組み、どのカラーがご自身のお手持ちのアイテムと合わせやすいかをご紹介!
また、お気に入りのカラーをゲットして真冬になっても温度調整しやすいスタイリングを、"for Mid-Winter"としてレイヤードスタイリングでご紹介! This season's sweat zip jacket has been attracting attention since its launch.
These three colors have completely different atmospheres. In the past week, there were more inquiries about size than inquiries about which color should be used?
Therefore, this time we will introduce the styling for each color and which color is easy to match with your own items!
In addition, we will introduce the styling that you can get your favorite color and easily adjust the temperature even in the middle of winter with layered styling as "for Mid-Winter"!
---

迷ったらBLACK!全身黒でも惹き立つデザインとシルエット、プラスどんなカラーアイテムとの組み合わせも確実にまとめてくれる!
黒ばかりを持っている方でも、今までにありそうでなかったスウェットの羽織りは手にしたくなるイチマイ!
The design and silhouette that appeal even if the whole body is black, plus the combination with any color item will surely be put together!
Even if you only have black items, you will want to get a sweatshirt that was unlikely to ever happen!
---
---

一気にスタイリッシュなスタイリングを作るならBIRCH!
黒との相性はもちろん、カーキ&グレーとの相性も◎
また、今季の白はこの、薄っすらと見せる黒の絶妙な表情が白浮きしないので、ちょっとした汚れさえも馴染ませてくれるほど!
BIRCH for stylish styling at once!
Not only compatibility with black, but also compatibility with khaki & grey◎ In addition, this season's white does not have this exquisite expression of black that looks faint, so even a little dirt will blend in!
---
---

黒アイテムばかり持っている方に是非おススメしたいDOUGLASは、普段ALL BLACKスタイリングが多い方でも違和感なく馴染み、確実にスタイリッシュでCOOLに!
DOUGLAS is recommended for those who have only black items, and even those who usually have a lot of ALL BLACK styling will be familiar with it without any discomfort, and it will surely be stylish and cool!
---
---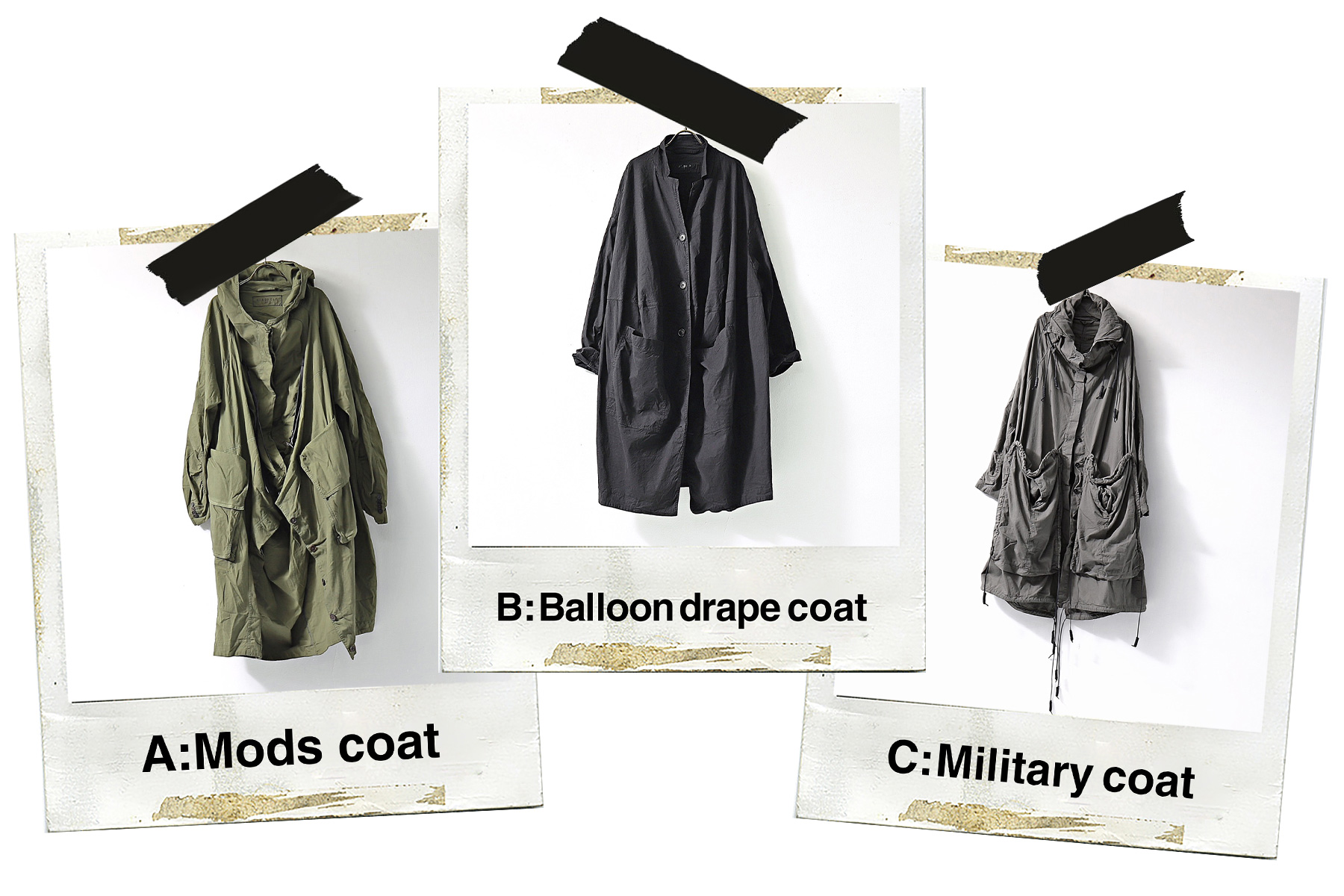 それぞれ一枚では、冬の寒さにはちょっと物足りないのが正直。
そこで、スウェットジップと同じく2〜3シーズン着用できる3つの羽織りをうまく組み合わせることで、スタイリングを楽しめるのはもちろん、寒さ対策にとして相乗効果も!
また、この3つの羽織りは「コート=クリーニング」という今までの概念とは違い、自宅でお洗濯も簡単にできるということで気軽で扱えるのも◎


バックドレープのモッズコートは、スタイリッシュな雰囲気が今までになかったということで、多くの方がノックOUTされたイチマイ!
 デザインだけではなく、このカーキのトーンが黒にも白にも馴染みやすいのも◎

合わない組み合わせはない!といっても過言ではないほどのオールマイティさを発揮してくれるカーディガンコート。
ゆったりとしたシルエットとストレッチある生地で◎ 一枚では寒さを感じるこのカーディガンコートも、スウェットジップとの組み合わせで一気に相乗効果でコートと同じくらいの温かさも期待できるほど!

明るすぎない、暗すぎないこのバランスの取れたトーンのDouglasカラーで魅せる、スタイリッシュでクールなミリタリーコートは、ゆったりとしたアームと身幅でレイヤードしてもゴワツキにくいのも◎

To be honest, each one is a little unsatisfactory in the cold of winter.
Therefore, by combining the three haori that can be worn for 2 to 3 seasons like the sweat zip, you can enjoy styling and also have a synergistic effect as a measure against the cold!
Also, unlike the conventional concept of "coat = cleaning", these three haori can be easily handled because they can be easily washed at home. ◎


The back drape mod coat has never had a stylish atmosphere, so many people were knocked out!
Not only the design, but also the tone of this khaki is easy to fit in both black and white◎

There is no combination that does not fit! It's no exaggeration to say that the cardigan coat is almighty.
With a loose silhouette and stretchy fabric◎ This cardigan coat, which feels cold with one piece, can be expected to be as warm as the coat due to the synergistic effect in combination with the sweat zip!

The stylish and cool military coat, which is not too bright and not too dark, is charmed by this balanced tone of Douglas color, and it is hard to get stiff even when layered with a loose arm and width.