HOME
HOME
▶
Find your Slim&Sarrouel, Find your Color!!!
Find your Slim&Sarrouel, Find your Color!!!
発売開始から3週間が経った今でも勢いが止まらない、もちもちスウェットシリーズ。
特にパンツでは、カタチと色の両方ともで迷う方がほとんど。
そこで今回は、このふたつのパンツをどうスタイリング分けしていくか、ベースとなるスタイリングの分け方をアシストしたコンテンツに!

すでに一本は手にして、色違いを手にするかカタチ違いで買い足すか悩んでいる方。 初めての一本目は、どれにするか悩んでいる方。
これを見て自分の好みのスタイリングバランスがどちらかをまず選ぶことからスタート! Even now, three weeks after mochi mochi sweat series were released, the momentum has not stopped.
Especially in pants, most people suffer to decide to get which shape and color.
So, this time, we will assist you in how to divide the styling of these two pants and how to divide the base styling!

Those who have already got one and are worried about whether to get a different color or buy more in a different shape. Those who are worried about which one to use for the first time.
Let's start by choosing which styling balance you like first!
---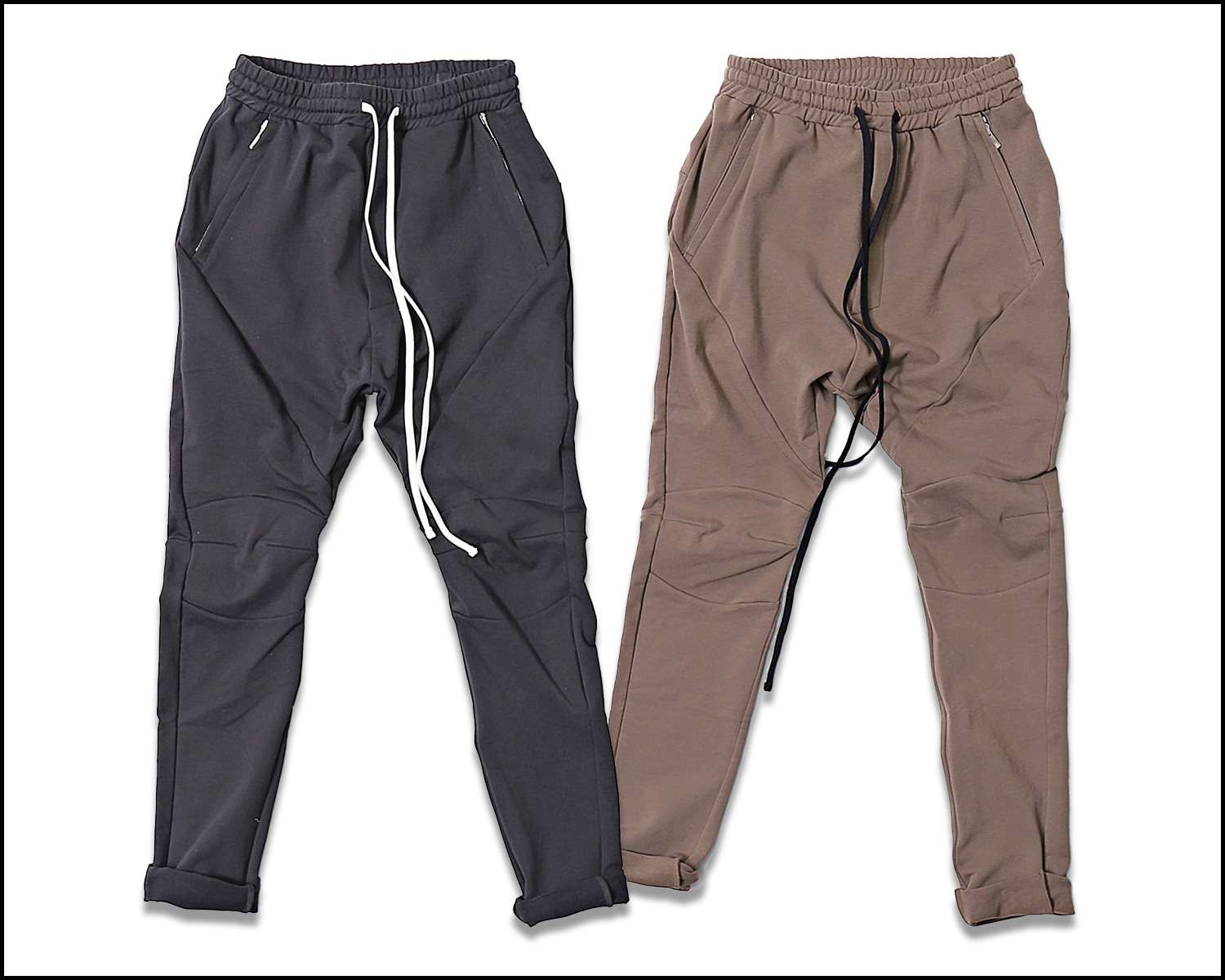 " スッキリボトムスとゆったりトップスのスタイリッシュバランス派にはSLIMで "
ボリュームあるトップスや羽織りを活かしムダを削ぎ落としたスッキリとしたスリムタイプと合わせることで、全体バランスがにまとまり、スタイリッシュな雰囲気に。
今までのスウェットパンツが持つ、カジュアルなイメージを一掃してくれる!
膝まわりの切り替えしが美脚効果をアップしてくれるので、男性でフクラハギ周りが太く、スリムパンツと無縁だった方にも是非トライしていただきたい一本。
" SLIM pants for a stylish balance of neat pants and loose tops "
By combining with a slim type that uses voluminous tops and outer, the overall balance is well-organized and a stylish atmosphere is created.
It wipes out the casual image of sweatpants so far!
Switching around the knees will improve the effect of beautiful legs, so if you are a man and have a thick calf and have nothing to do with slim pants, please try this one.
---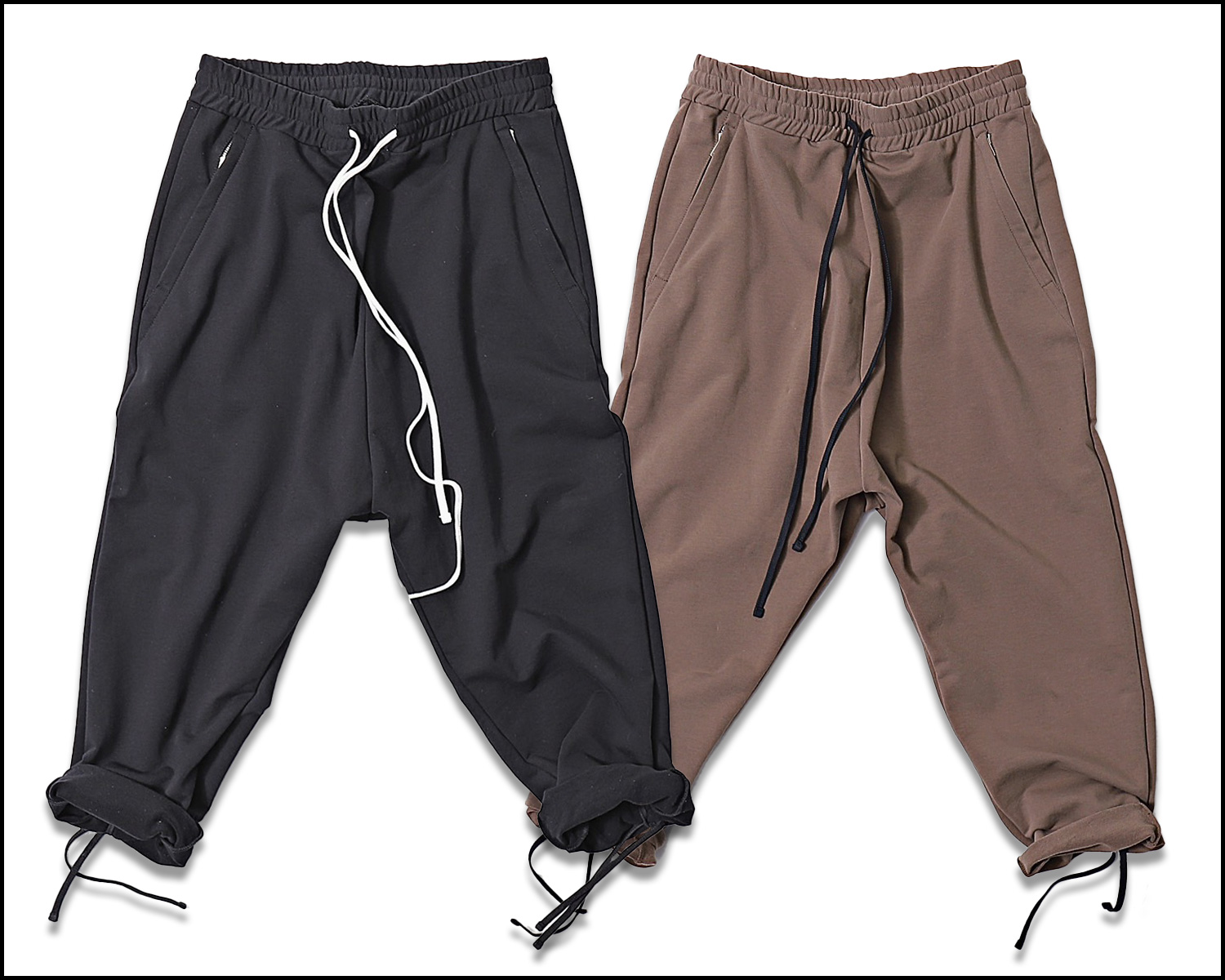 " エッジを効かせたボリュームバランスのCOOLスタイリング派はSARROUELで "
ゆったりとしたサルエルとゆったりトップスや羽織りの上下共にゆったりスタイリングだと、メリハリがなくバランスが難しいかと思いきや、このサルエルなら膝下から足首にかけてのオチ感のラインがキレイで◎
さらに、ブーツや丈高のスニーカーと合わせることでメリハリある雰囲気に。
全体のシルエットにボリュームを出しつつ、足まわりでキュッとまとめてメンズライクなCOOLな印象のスタイリングに!
低身長や細身の方は、ウェストゴムを一折りするだけで間違いなくバランスアップ!
" The volume-balanced COOL styling with an edge is SARROUEL. "
Many one thought that it would be difficult to take a balance with loose sarrouel and loose tops, but this sarrouel can take a good line from below the knees to the ankles is beautiful.
In addition, you can create a sharp atmosphere by combining it with boots and tall sneakers.
While adding volume to the overall silhouette, the styling gives a men's-like COOL impression by putting it together tightly around the legs!
For short stature and slender people, just fold the waist rubber and it will definitely improve your balance!