1月に入り、世間一般ではセールがスタートしている中、QUADRATOではセールに関係なく本当に多くの方々からご購入いただいていることに感謝の気持ちでいっぱいです。
ただ単純に、私たちは、永く愛用できるアイテムですよ!と言って販売しているのに、商品の価値が下がったわけでもないのにセールにしてしまうことへの違和感から、今のところセールをする必要がないと考えているだけです。

そこで今回は、商品価値は一切下がっていない、むしろもう2度と同じのが作れないからこそ、価値があるものとして、実際にワタシが愛用しているアイテムをピックアップ!
リアルに使っているからこそお伝えできることだけをまとめました!

ここでフォーカスしていないアイテムも全てが自信をもっておススメしたいアイテムですが、もう2度と手に入らないからこそ、「絶対にこれだけは持ってた方がいい!即戦力で楽しめる!」という3アイテムに絞りました!
実際に愛用しているからこそ、質問等があれば何でも答えられますので、しっかり納得したうえでお買い上げいただき、着てみたら120%満足していただけるはずです! In January, the sale has started for the general public, and I am very grateful that QUADRATO has been purchased by so many people regardless of the sale.
Simply, we are an item that we can use for a long time! I'm just thinking that I don't need to sell it for now because I feel uncomfortable about selling it even though the value of the product hasn't decreased.

So, this time, I picked up the items that I actually use as valuable because the product value has not dropped at all, but rather the same thing can never be made again!
I've summarized only what I can tell you because I'm using it realistically!

All the items that are not focused here are items that I would like to recommend with confidence, but because I will never get it again, "I definitely should have this! You can enjoy it immediately!" 3 I narrowed it down to items!
Because you are actually using it, you can answer any questions, so if you are satisfied with your purchase, you should be 120% satisfied when you wear it!
---
bajra_UNISEX COTTONE LINEN CARDIGAN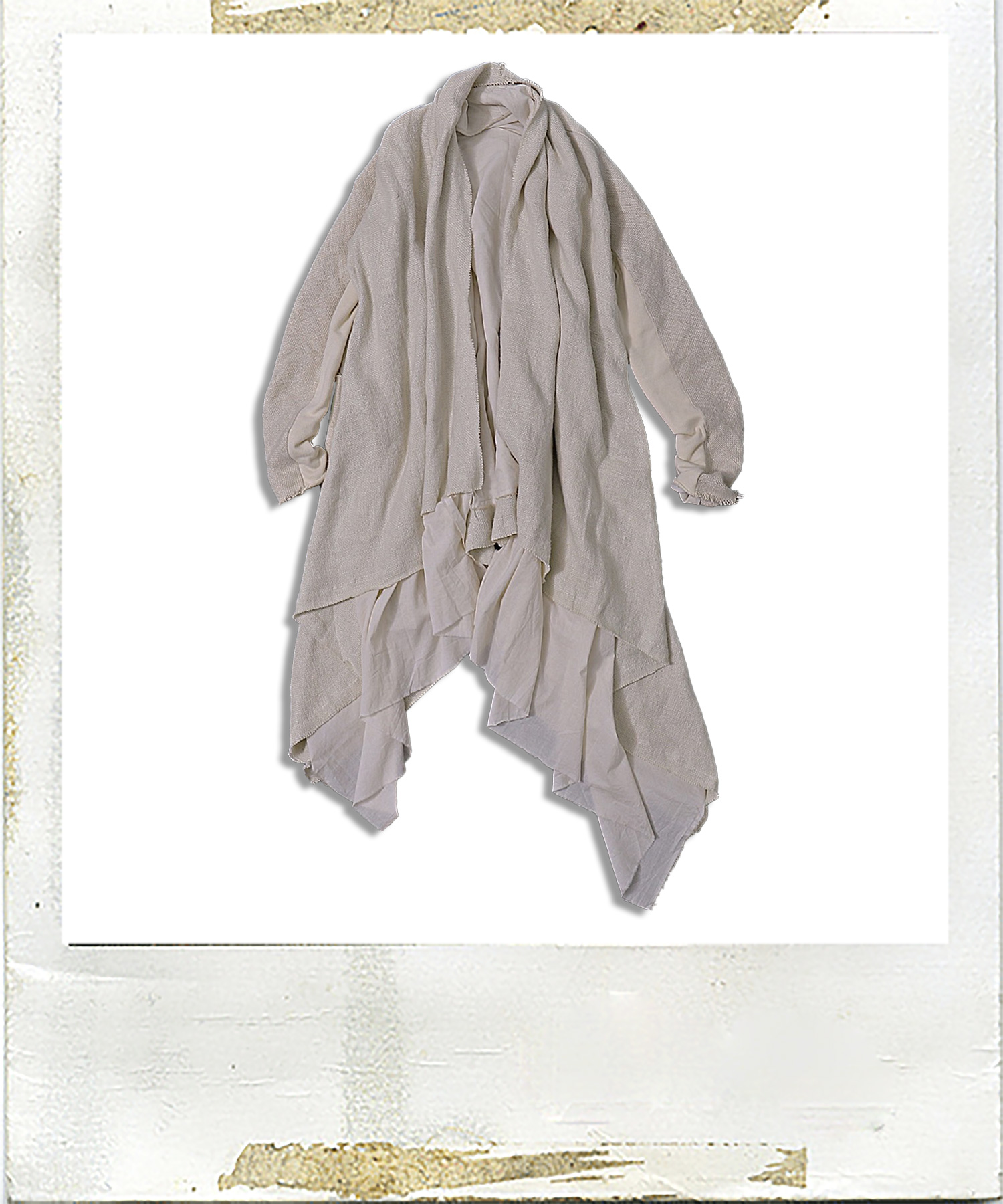 " メガストールから生まれ変わった贅沢なボリュームカーディガン "
すでにご存知の通り、数年前に発売されたメガストールを、コート感覚でクルっと巻くことで暖かさだけでなく、黒ベースになる秋冬スタイリングのスパイスとして愛用していました。
このOFF WHITEの色味と2つの素材のレイヤードが黒スタイリングに合わせやすいので、室内でもサッと着れて、羽織った時に袖があって動きやすく、何ならレイヤードでも楽しみたい!ということから、bajraさんにリメイクしてもらったモノ。
実際、ただ袖をつけたというだけではなく、ボディのゆったりとは正反対にアームはスッキリと、でも内側にはスウェット素材で切り替えしを入れて動きやすさをプラス。
そして、袖に通して着ることでストールとして巻いているときよりも重さを感じないだけでなく、外で着ても意外と暖かい!ということにビックリ!
この時期でも、車で出かける時には首にニット巻いて、このカーディガンを着るだけで十分なくらいです!
" A luxurious volume cardigan reborn from Mega-stole "
I used to use the Mega Stole, which was released a few years ago, as a spice for autumn/winter styling, which is not only warm but also black-based by rolling it around like a coat.
The color of this OFF WHITE and the layered of the two materials are easy to match with the black styling, so you can wear it quickly indoors, and when you put it on, the sleeves make it easy to move, and you want to enjoy layered anything! That's why I had bajra remake it.
In fact, it's not just that the sleeves are attached, but the arm is refreshing, contrary to the looseness of the body, but the inside is switched with a sweat material to add ease of movement.
And not only does it feel less heavy than when you wear it as a stall by putting it through your sleeves, but it's also surprisingly warm when you wear it outside! I was surprised at that!
Even at this time, when you go out by car, it's enough to wrap a knit around your neck and wear this cardigan!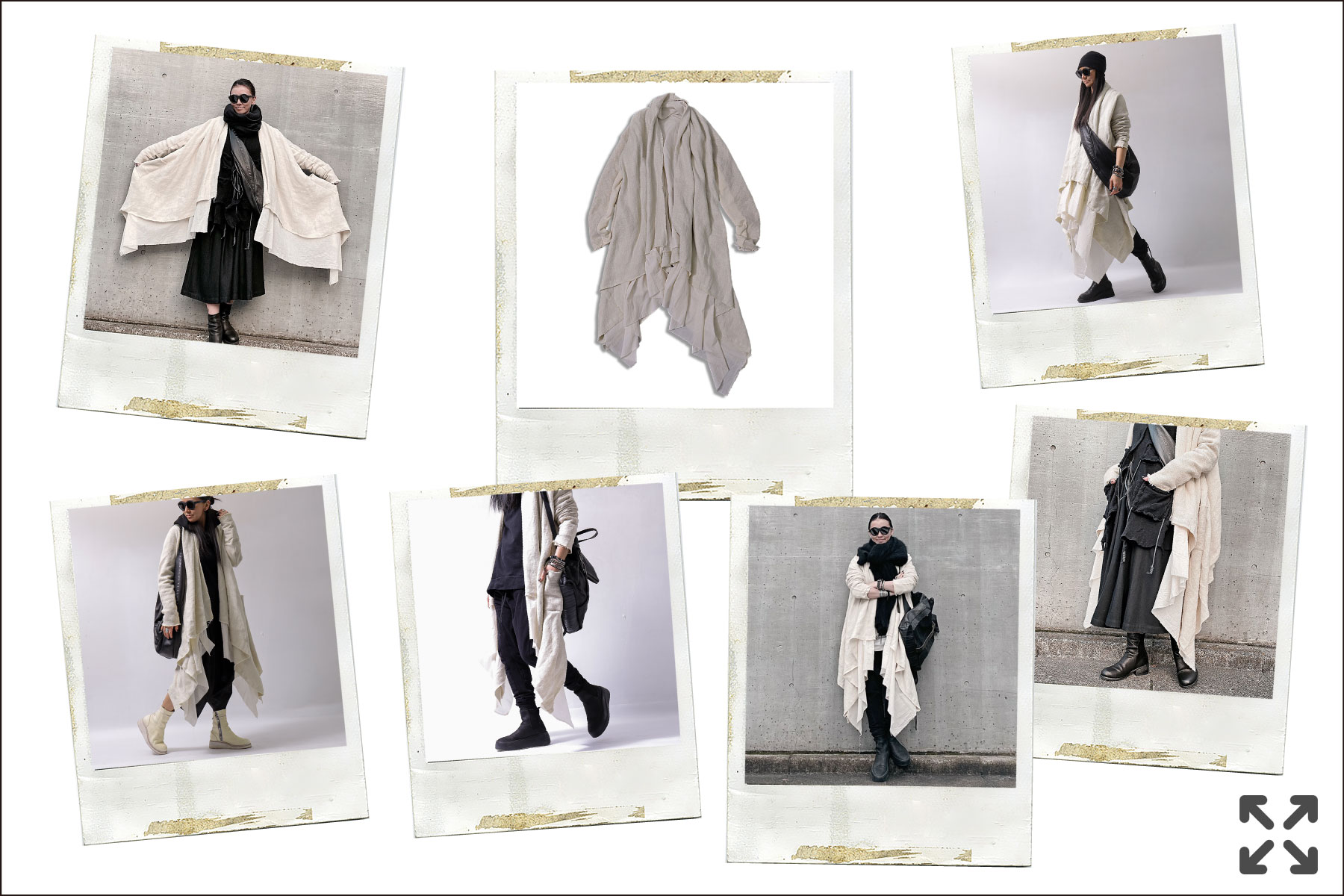 ---
RUNDHOLZ_UNISEX BACK DRAPE MODS COAT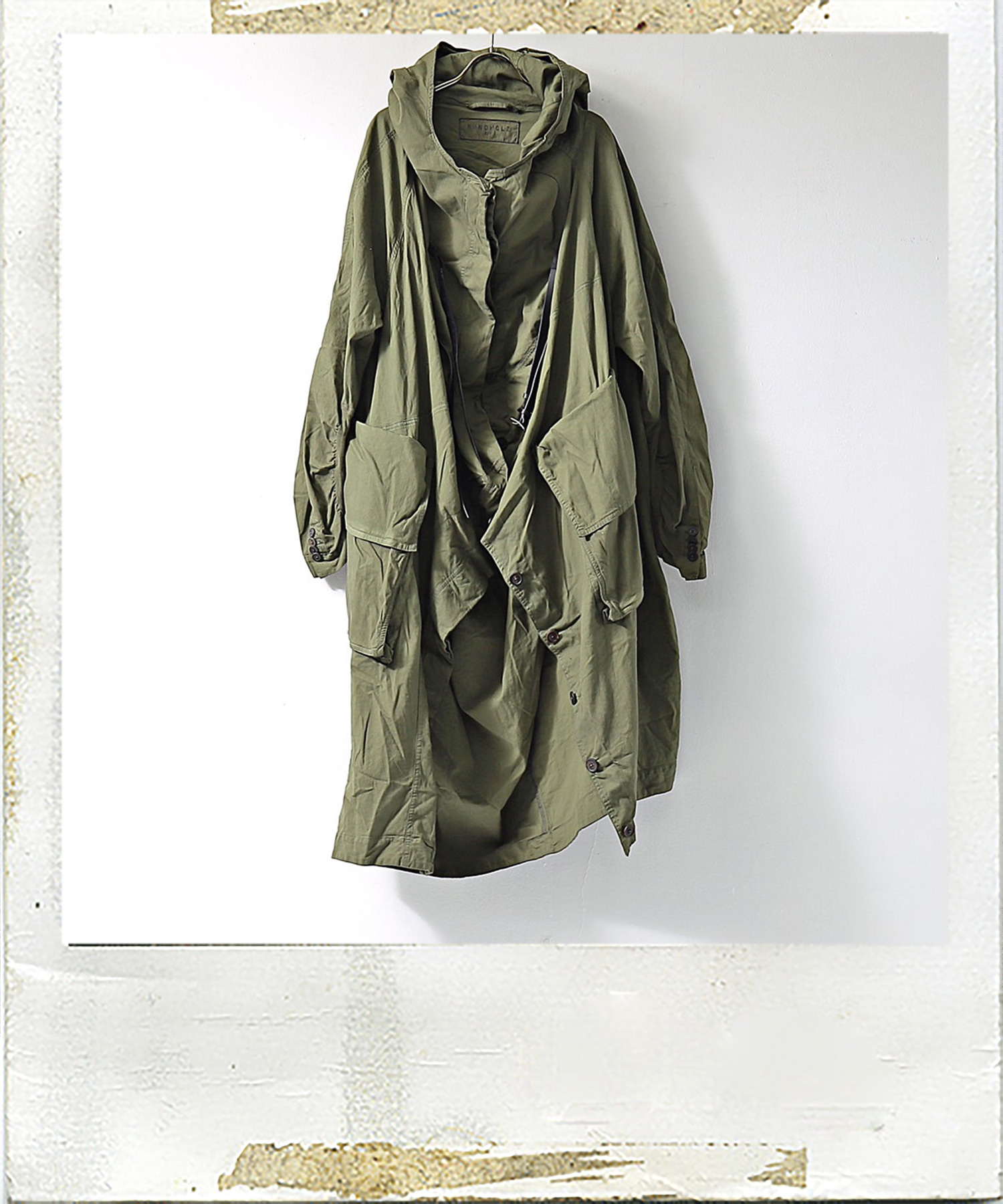 " コレを超えるモッズコートに出会える気がしない!っというくらい本気なやつ! "
シルエット、カーキの色味、生地感、全てがパーフェクトなモッズコートは、発売から一年経った今でも私の中では一軍。
特に寒さが増してきた最近は、着なくなり行き場を失ったバブリーなファージレをインナーにしたら、コートのライニング風に見え、暖かさが倍増しただけでなく、ファージレが新しいカタチで復活!
お洗濯は、レザーベルトを取ってそのままガンガン丸洗いしてます。(あくまでもワタシは…です!)
このコート、ガチガチなアメカジ感は一切ないし、かといってビシッとキメ過ぎな感じでもない、だからこそ印象強いコートでありながらスタリングの幅が広がるから、着回しができるんです。
一般的なコートのほとんどが中に着ている洋服の良さを全てかき消してしまうのに、このコートはちゃんとスタリングの一部としてそれぞれのベースとなる洋服の雰囲気と合わせて見え方が変わる!
買って損するより、買わないでいた方が損する!っと、声を大にして言います、ワタシ!
" I don't feel like I can meet a mod coat that exceeds this! "
The silhouette, khaki color, and texture are all perfect mod coats.
If you use the old-fashioned fur gilet that you no longer wear as an inner, the Phagere will be revived in a new shape!
For washing, take the leather belt and wash it as it is.
This coat has a strong military feel, but it doesn't feel too textured. It's an impressive coat, but it has a wide range of stalling.
As a part of stalling, this coat will look different according to the atmosphere of the clothes that are the base of each!
It's better not to buy than to buy!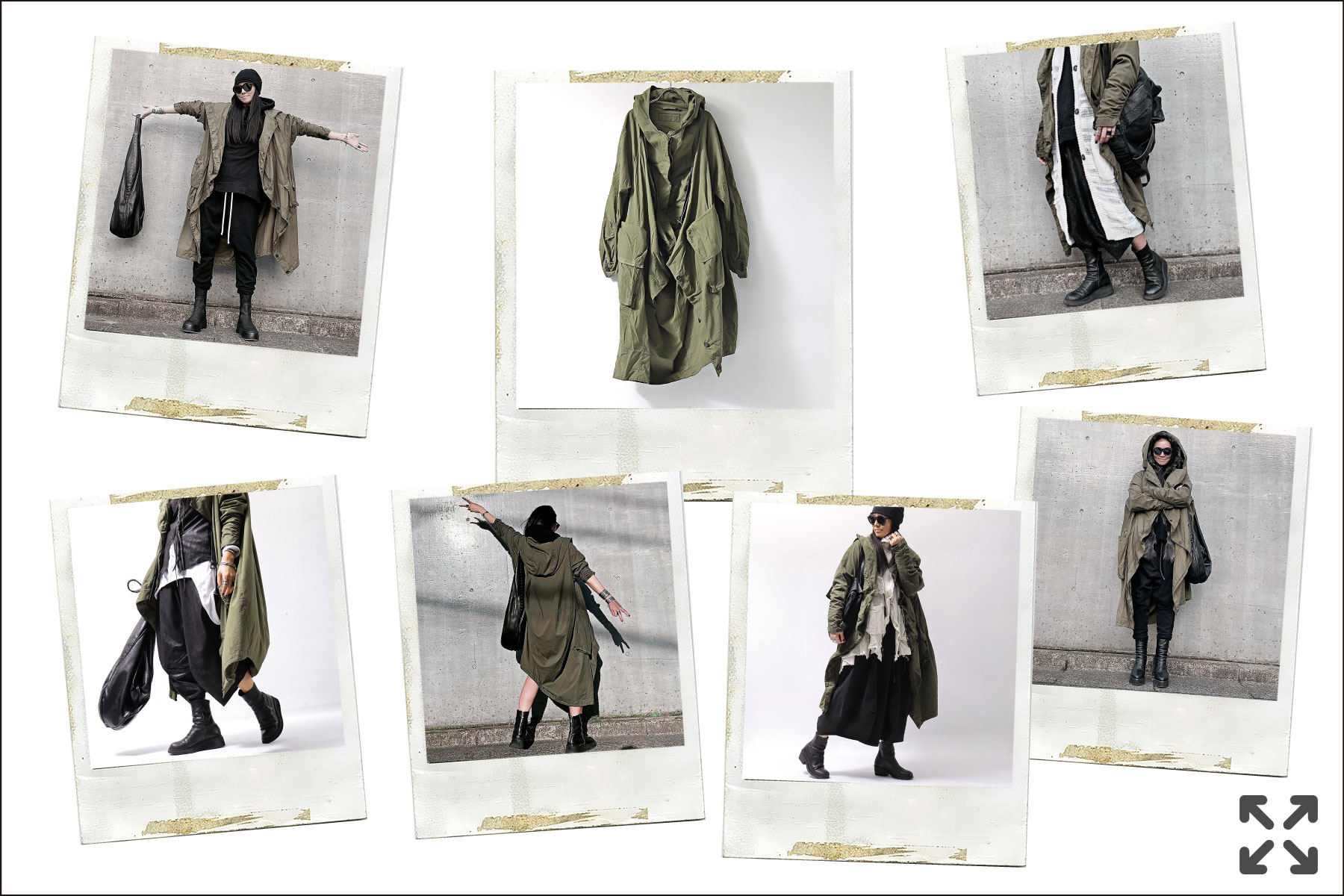 ---
RUNDHOLZ_UNISEX SWEAT ZIPPED JACKET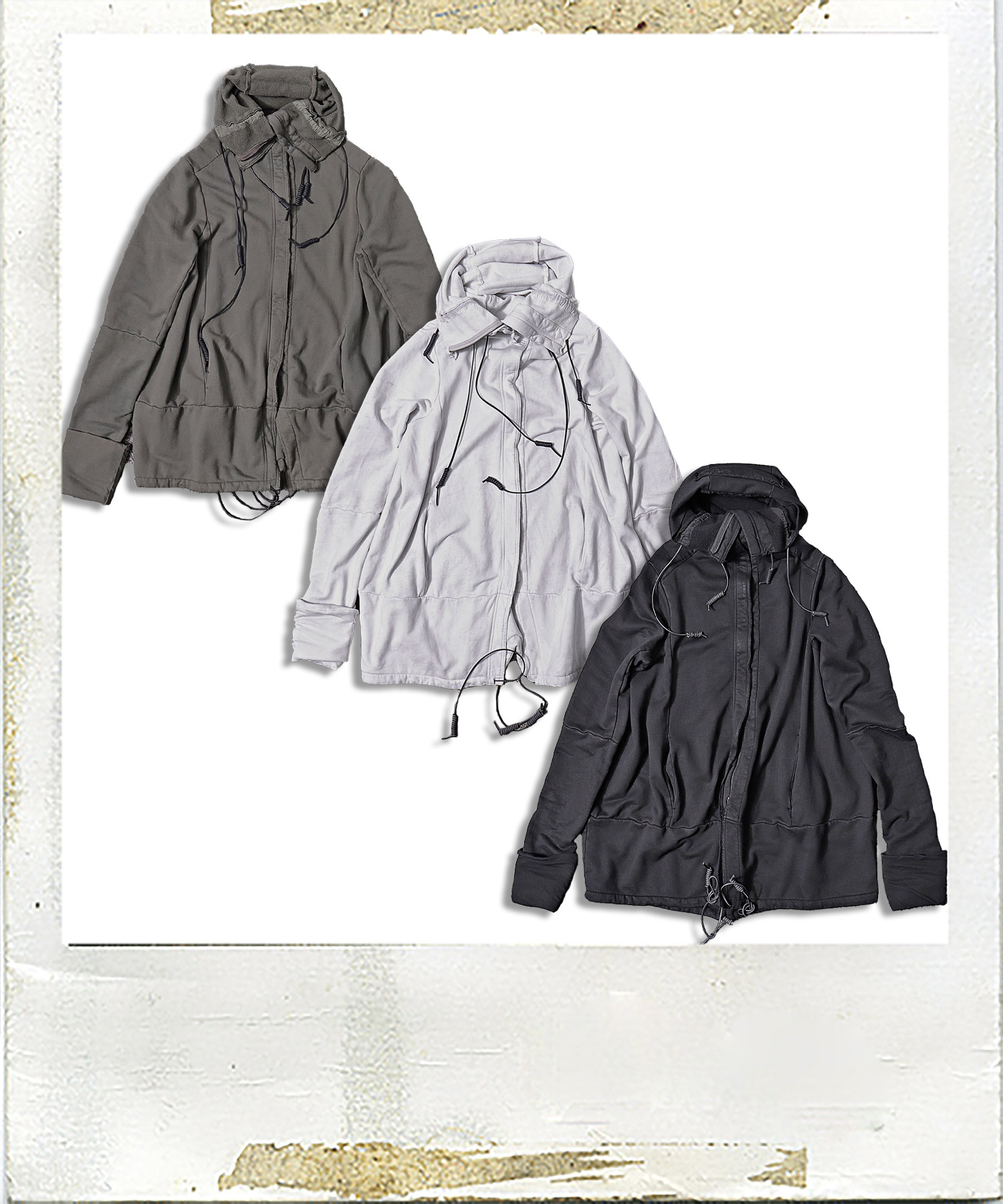 " 今までになかったスウェットアウターは今季、一番人気なアウターアイテムに! "
このスウェットアウター、セレクトの段階で私が一番欲しかったアイテムで、絶対すぐに完売したら困る!っと思い、追加生産できないこのアイテムは完売しないように今までにないくらい相当な数を積んでいたアイテムなんです。
"気にはなってたけど、すぐに完売してないし、追加生産してないから、あまり人気ないのかな?"って考える方々へ、"そんな思惑はムダな考えですよ〜!ワタシ本当に欲しかったアイテムって言ってましたよね?"っていうのを残り僅かになったら言おう!っと思ってましたw
そして、ちょうどこのタイミングでBLACKとDOUGLASは残り5枚をきり、BIRCHも10枚をきりました!
ワタシは、DOUGLASのコートを買ったのでこのスウェットシリーズはBIRCHにまず手を出しました!
でも、今ヤマダのBLACKを見るたびにBLACK欲しさが増してきますが、DOUGLAS on DOUGLASでコートとスウェットのDouble DOUGLASもやりたいのがリアルです♪
" I don't feel like I can meet a mod coat that exceeds this! "
This sweatshirt outerwear is the item I wanted most at the selection stage, and it would be a problem if it sold out soon! This item, which cannot be additionally produced, is an item that has been ordered in an unprecedented number so that it will not be sold out.
To those who think, "I was worried about it, but it wasn't sold out immediately and it wasn't produced additionally, so it's not very popular?" Did you say that you had an item? " I was wondering w
And at this timing, BLACK and DOUGLAS have run out of remaining5, and BIRCH has also run out of 10!
I bought a DOUGLAS coat, so this sweatshirt series started with BIRCH!
However, every time I see Yamada's BLACK, I'm getting more and more wanting BLACK, but it's real that I want to do Double DOUGLAS for coats and sweatshirts with DOUGLAS on DOUGLAS.♪