HOME
HOME
▶
Real USE! Real ON! Real SEASON!
Real USE! Real ON! Real SEASON!
5月も後半に入った今週。 今月に入っても一番問い合わせが多く、注目されているのが羽織りシリーズ。
そのお問い合わせ内容や相談内容で一番多いのが…
✔自宅でお洗濯可能か
✔着心地や動きやすさ
✔スタイリングのしやすさ
✔着用時期は実際どのくらいか
✔サイズ感で迷う

そこで、今回はワタシ達が実際に持っているからこそ、リアルに自信を持ってお応えでき、これからの時期の羽織りスタイリングをご提案!
5月、6月の気温をイメージして、18〜22℃のちょっと肌寒いときには、「Add 1item」として、プラス1アイテムを。 23〜27℃の暑さには、足元を変えて軽さをプラス!
この時期に羽織りを手にすることに迷っている方、まだまだ着る楽しみはありますよ! This week, which entered the second half of May. Even this month, we received the most inquiries, and the haori series is drawing attention.
The most common inquiries and consultations are...
✔Home-Washable or not?
✔Comfortable and easy to move
✔Easy to make styling
✔How long can be actually worn it?
✔About sizing

Therefore, this time we can respond with real confidence because we actually have it, and we propose a haori styling for the coming season!
Imagine the temperature in May and June, and when it's a little chilly at 18-22℃, add 1 item as "Add 1 item". In the heat of 23-27℃, change your feet to add lightness!
If you're wondering about getting a haori at this time of year, there's still more fun to wear!
---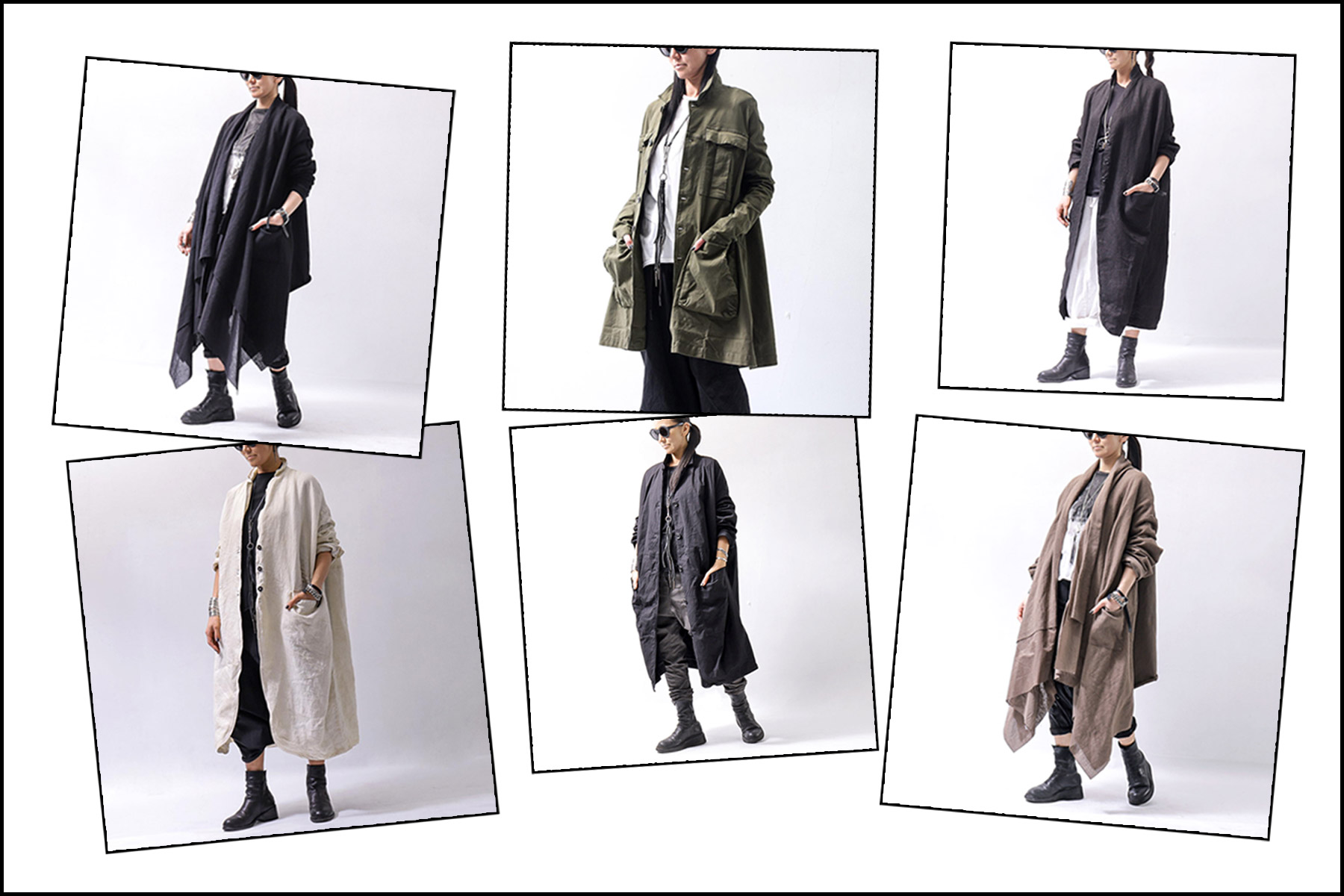 ---
ストレッチの効いたドライな素材感が今時期にはもちろん、梅雨時期にも大活躍すること間違いナシ!
春から初夏はもちろん、秋冬のレイヤードスタイリングでも活躍した、実績あるアイテム!

There is no doubt that the stretchy and dry texture will be a big success not only in this season but also in the rainy season!
A proven item that was active not only in spring and early summer, but also in layered styling in autumn and winter!
---
リラックス感あるシルエットとオチ感を活かして、フラットサンダルでヌケ感をプラス! さらに腕まくりでスッキリさも!
全体的に、シンプルにまとめることでカーディガンコートの良さが惹き立つ! Taking advantage of the relaxed silhouette and punch line, flat sandals add a feeling of lacking! Furthermore, it is refreshing by rolling up your arms!
Overall, the goodness of the cardigan coat stands out by simply putting it together!

半袖トップスだけでは肌寒い時に、コートの上からストール感覚でスウェットをONでスウェット黒との相性の良さを実感! 中に着るのと同じくらい暖かさをKEEPしてくれるのが◎

When it's chilly with just short-sleeved tops, you can turn on the sweatshirt from the top of the coat as if you were stall, and feel the good compatibility with sweatshirt black! It keeps warmth as much as you wear inside ◎
---
---
---
---