HOME
HOME
▶
UPGRADE NEW COAT!
UPGRADE NEW COAT!
遂に本格的に始まった新シーズン。
毎シーズン人気のRUNDHOLZのアイコン的素材を使用したロングコートがさらにアップグレードして今年も登場!
もちろん、シルエットもカラーも全く今までとは異なる今季のコート。
どの色にするか悩んでいる方も、これから手にする方も、アップグレードしたポイントと、それぞれの色選びのポイントとなるスタイリングをご紹介!
今季RUNDHOLZからロングコートはこの一型のみ。
すでに、完売してしまっているLAVA。他のDUNEもBLACKも残りわずかに…
再入荷は一切ないのでお早めに! The new season has finally started!
A long coat that uses the iconic material of RUNDHOLZ, which is popular every season, has been upgraded and is now available again this year!
Of course, this season's coat is completely different in both silhouette and color.
For those who are wondering which color to choose and those who are planning to get it, here are the points that have been upgraded and the styling that will help you choose each color!
This is the only long coat from RUNDHOLZ this season.
LAVA has already sold out. There are only a few other DUNE and BLACK left...
There will be no restock, so hurry up!
---
RUNDHOLZ
UNISEX ZIPED POCKETS&HOOD LONG COAT JACKET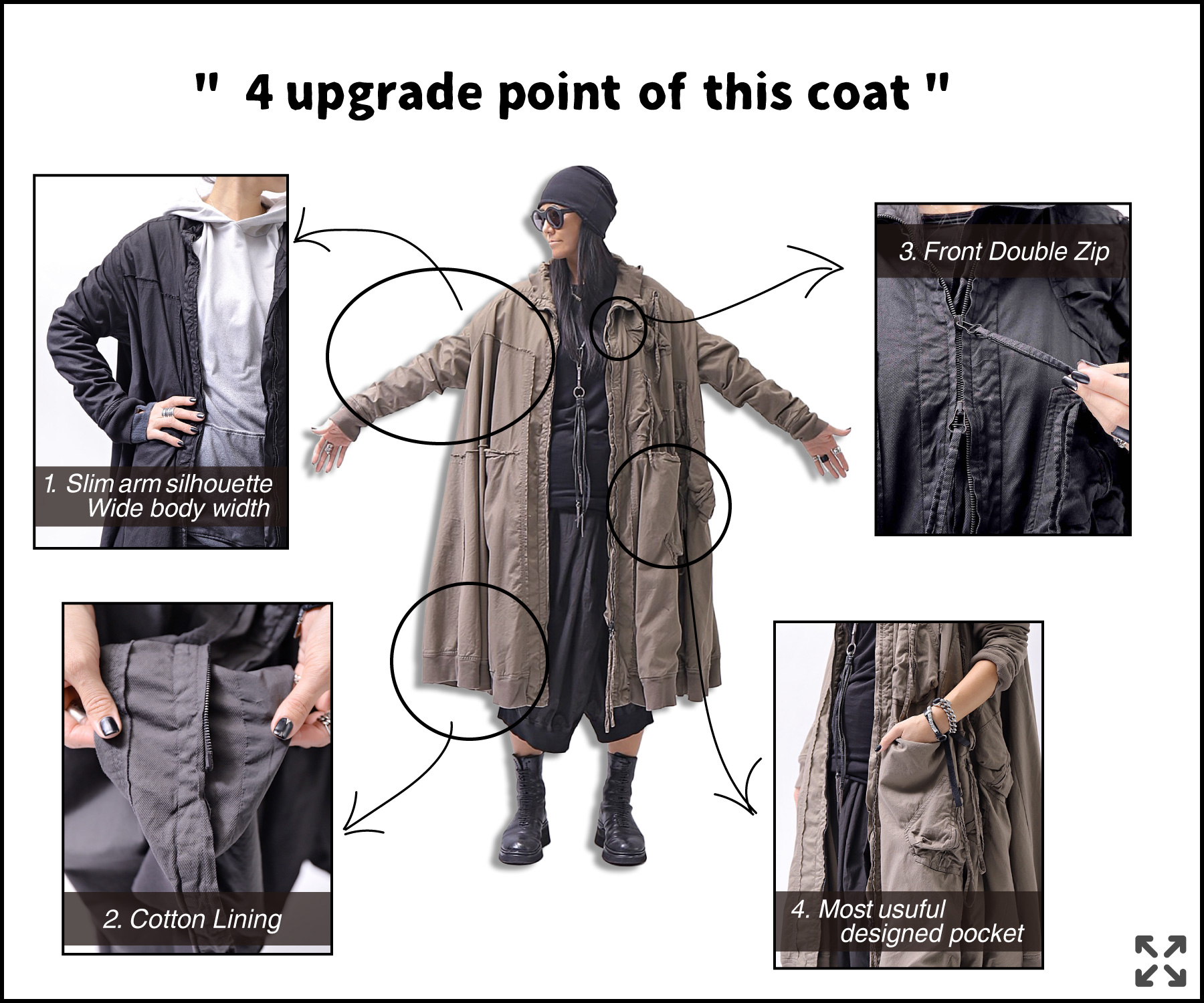 1. スッキリ細めのアームでも、身幅はしっかりと!
今回、多くの方が一番心配していたアームのサイズ感。
今までのゆったりとしたアームの感覚とはサイズ感やフィット感が全く異なるシルエット。
そこは、デザインを活かしつつストレスフリーな着心地を!っということで、サイズXSからの展開ではなくサイズSからの展開に。
この1サイズアップのサイズセレクトをしたことで中にスウェットを着ても問題ナシ!
1. Slim arm silhouette Wide body width
This time, many people were most worried about the size of the arm.
A silhouette that is completely different in size and fit from the relaxed arm feeling of the past.
There is stress-free comfort while making the most of the design! So, instead of expanding from size XS, to expand from size S.
With this one size up size selection, there is no problem wearing a sweatshirt inside!
2. コットンのライニングでWフェイスに!
今までの一枚仕立てから、インナーにコットン100%の素材がプラスされW仕立てに。
このライニングがついたことで、一枚でもあったか初冬仕様に!
とは言え、ライニングは"253"シリーズでも使用されているコットン100%で通気性も良いので、秋にも快適に!
2. Cotton Lining
100% cotton material has been added to the inner layer, making it a double-layered style.
With this lining, even one piece is warm and early winter!
However, the lining is made of 100% cotton, which is also used in the "253" series, and has good breathability, making it comfortable even in autumn!
3. Wフロントジップで、開け閉めしやすく実用性がプラス!
今まではフロントボタンやフロントベルトがメインだったロングコート。
今回、フロントジップにすることでスッキリとしたシルエットにふさわしくスッキリとしたフロントのラインに!
また、Wジップ仕様でバランス良く開閉できるのも◎
3. Front Double Zip
Until now, long coats have mainly had front buttons and front belts.
This time, by making it a front zip, it has a clean front line that is suitable for a clean silhouette!
In addition, it is possible to open and close in a well-balanced manner with the W zip specification.
4. デザインポケットだけじゃない!実用性ある縦型ベストサイズポケット!
コートや羽織のポケットの重要度はかなり高い!っということから、今季のポケットはまさに実用性ある使いやすさ!
とはいえ、もちろん今季のアイコンでポケットのミニジップもアクセントとして◎
実用性ある縦型ベストサイズポケット!
4. Most usuful designed pocket
The importance of coat and haori pockets is quite high! So, this season's pockets are practical and easy to use!
However, of course, the mini zip on the pocket is also an accent for this season's icon.
Practical vertical best size pocket!
---
白スウェットにサッと羽織ってカジュアルスタイリッシュに!
白パンツも黒コートと合わせることでどちらも相乗効果で映える!

Wear it over a white sweatshirt for a casual and stylish look!
By combining white pants with a black coat, both will shine with a synergistic effect!
---
ジャンプスーツをパンツにしてとことんボリュームパンツに。
Aラインのコートからチラッと見せてバランス良く!

Wear the jumpsuit as a voluminous pants.
The A-line coat gives you a glimpse of the balance!
---
もちもちスウェットの上からコートをON!
アクティブに動きやすい白のプリントパンツで軽さをプラス!

Turn on the coat over the sticky sweatshirt!
Add lightness with white print pants that are active and easy to move in!