柔らかく、どんな敏感肌の方でもストレスフリーなコットン生地を使用した今までにありそうでなかったWレイヤードトップス。
発売からすでにメガヒットしているこのトップス、ちょっと長いかも?って感じている人もいるはず。
それもそのはず、あえて長めに作ってもらいました。
実はこのトップス、最初のサンプルの段階でもう少し短いほうがいい、このままの長めがいい、前後アシメがイイなど、その都度考えが変わってしまうほど使い勝手がよかったから。
そこで、考えたのがカットしても解れることもないし、だったら着る人の好みに合わせられるように最初は長いままで!っということで、カットできる前提で販売スタ―トしました!

その後、ワタシのインスタ動画でカットの様子や、WebStoreのスタイリングページではカットした私物を着用していると、そのカットにしたい!という声をたくさんいただいたので、今回はワタシの私物と同じカットのやり方をご紹介!
もちろんカットなしのそのままの方がスタイリングしやすい場合もあるので、カットなしとありを比較! A never-before-seen W layered top made of cotton fabric that is soft and stress-free even for people with sensitive skin.
This top, which has already been a mega hit since its release, may be a little long. There must be some people who feel that.
That should be it, I dared to make it longer.
In fact, at the first sample stage, this top was so easy to use that I changed my mind each time, such as if it was a little shorter, or if it was longer as it is, or if the front and back asymmetrics were good.
So, I thought that even if I cut it, it wouldn't come loose, so I decided to keep it long at first so that it would suit the taste of the person who wears it! So, we started selling on the premise that we can cut it!

After that, on my Instagram video, I saw how I was cut, and on the styling page of the WebStore, I saw that I was wearing a cut personal item, and I wanted to make that cut! I've heard a lot of people say that, so this time I'll introduce how to cut it in the same way as my personal belongings!
Of course, there are cases where it is easier to style without a cut, so compare the one with and without a cut!
---

しっかりとお尻の丈まであるトップスの後面の丈感はそのままに、
前面をレイヤード分の丈だけそっくりそのまま短くカットして前後のアシメに! The length of the back side of the top that reaches the length of the buttocks is kept as it is,
and the front is cut just like the layered length to make it asymmetrical in the front and back!
---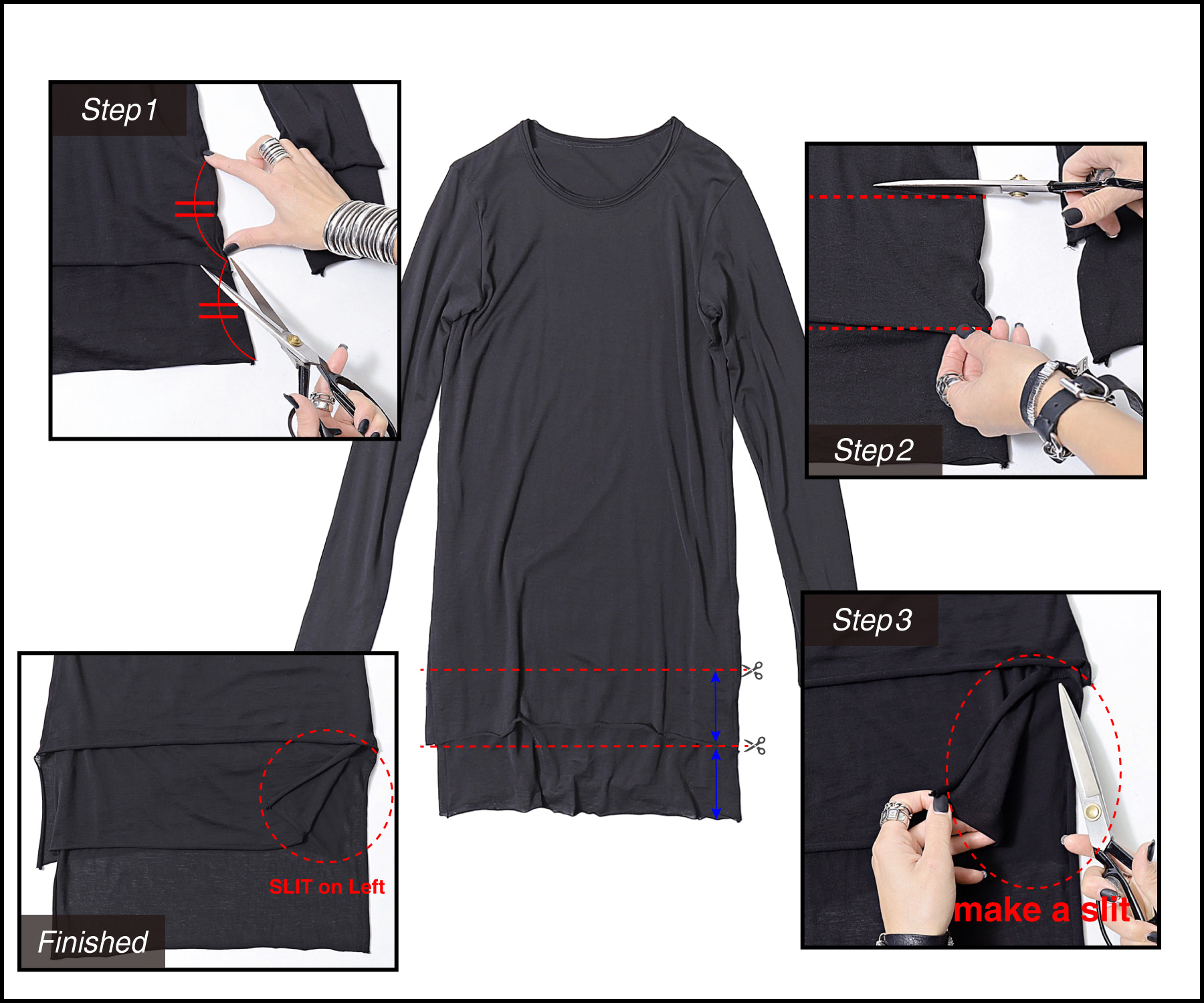 Step1 "レイヤードになった段差と同じ分だけサイドに切り込みを入れる"
まずは、端と端をあわせて、平置きの状態に。
レイヤードになった段差の分だけ、サイドに切り込んでいく。
Step2 "サイドの切り込みから左右へまっすぐカット!"
この時、曲がったりガタガタとなっても切りっぱなしの部分が洗うとクルっと丸まってくれるので、気にせず勢い良くカット!
Step3 "レイヤードの下地の片サイドに切り込み入れてスリットに!"
あえてスリットをさらに深く入れても上地がカバーする感じになるので問題なし!
むしろ、下地のスリットのカットが深いほど、動きのあるラインでキレイなシルエットに!
Step1 "Make a cut on the side for the same amount as the layered step"
First, align the edges and lay it flat.
Cut to the side for the layered steps.
Step2 "Cut straight from the side notch to the left and right!"
At this time, even if it bends or rattles, if you wash the cut part, it will curl up, so don't worry about it and cut it vigorously!
Step3 "Cut into one side of the layered base to create a slit!"
Even if you dare to make the slit deeper, it will be covered by the top, so there is no problem!
Rather, the deeper the cut of the base slit, the more beautiful the silhouette with a moving line!
---
長めのトップスを着たときにチラッとWレイヤードトップスが見えるだけでもメリハリあるスタイリングに!
長めの長さでも、スッキリとしたシルエットなのでゴワつきもなくバランスも◎

Even if you can see the W layered tops when you wear the long tops, it will give you a sharp look!
Even with its long length, it has a clean silhouette and is not stiff and well-balanced.
---