HOME
HOME
▶
Must Buy! Must Need! Must for ALL!
Must Buy! Must Need! Must for ALL!
シャツ好きでシャツなら何枚あってもイイというシャツ狂いのヤマダと、シャツが似合わなくて敬遠してしまうワタシ。
シャツに関しては全くの正反対のワタシ達が、「最強シャツ!」っとして大絶賛したのが今季のアレスから登場した中綿ロングシャツ!
そこで今回は、シャツ好きさん&ニガテさん関係なしに、「とにかく一人一枚は必須でしょ!」と言うからには、しっかりと発売の時点でこの中綿ロングシャツの良さにフォーカスし、合わせてスタイリングをご紹介! Yamada is a shirt freak who loves shirts and would like any number of shirts, and I shy away from them because they don't suit me.
When it comes to shirts, we are the complete opposite, but this season's Ales's padded long shirt has been praised as "the best shirt!"
Therefore, this time, regardless of shirt lovers and haters, we will focus on the goodness of this puffed long shirt at the time of its release, and introduce the styling. !
---


シャツ好きにはたまらない新しい感覚で楽しめるシャツ、シャツが苦手という人にはついに出会えた念願のシャツ!
皆さん!絶対必須買い!と言ってしまうほどのイチマイは2サイズ展開!

A shirt that you can enjoy with a new sensation that is irresistible for shirt lovers, and a long-awaited shirt for those who are not good at shirts!
everyone! An absolute must-buy! Ichimai is available in 2 sizes!

サイズSは通常XSからM、サイズLはMからXLのサイズ感。
スッキリとしたシルエットならサイズS。
ゆったりとライトアウター感覚で着るならサイズLをおススメ!
Size S is usually from XS to M, and size L is from M to XL.
Size S for a clean silhouette.
If you want to wear it loosely like a light outerwear, we recommend size L!
---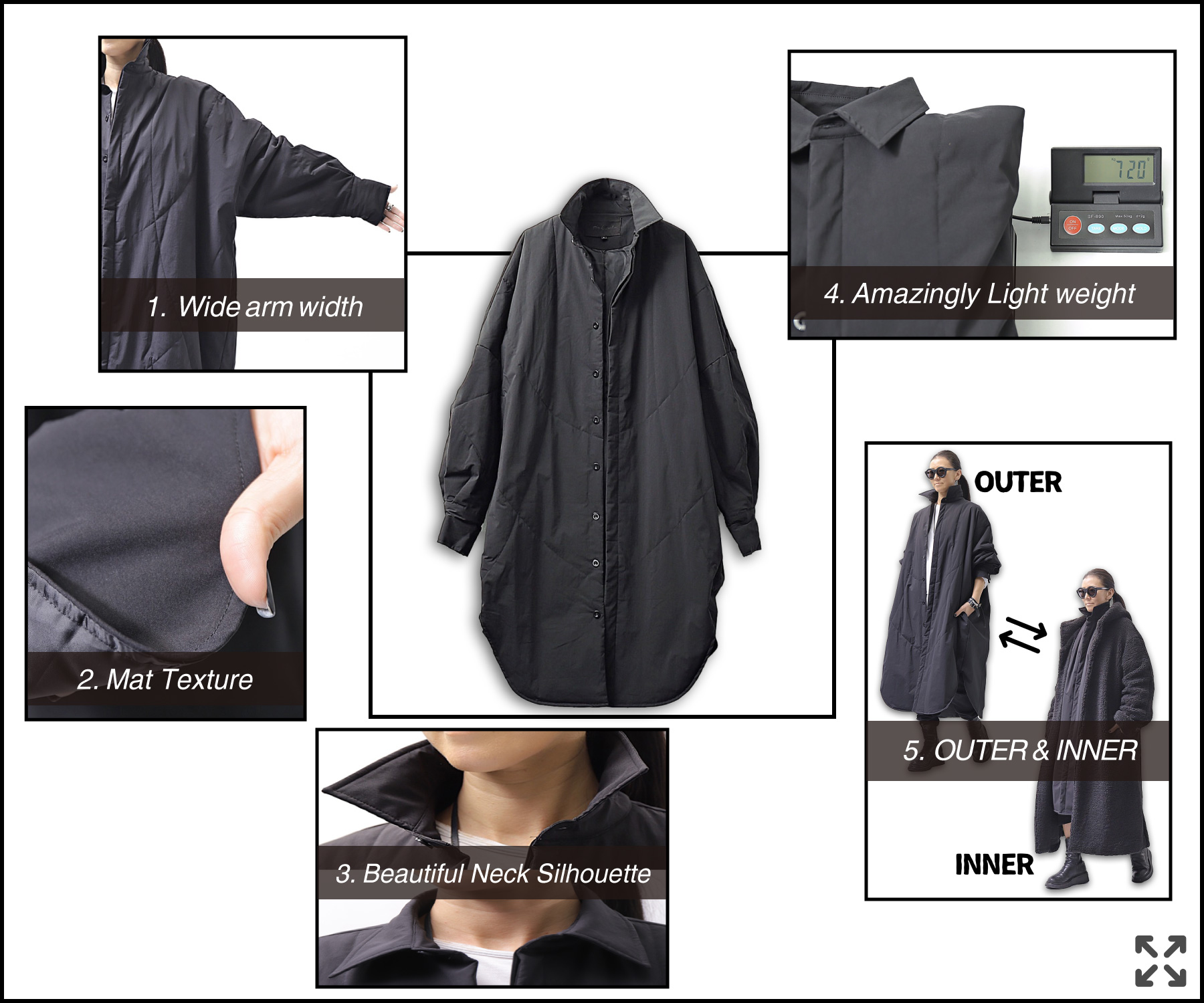 1. " ゆったりとした肩と腕周り "
中にゆったりドルマンスリーブのトップスやスウェット素材のトップスも着れるのが◎

1. "Comfortable shoulder and arm circumference"
You can also wear tops with loose dolman sleeves or tops made of sweatshirt material.

2. " マットな表情でスタリングも合わせやすい生地感 "
落ち着いた雰囲気のマットな表情は、どんな素材のアイテムとも合わせやすく馴染む◎

2. "The fabric has a mat look and is easy to match with styling"
The mat expression with a calm atmosphere is easy to match with items of any material.

3. " キレイな襟のカタチ "
襟を立てても寝かせたままでも、キレイな形で自分に合う方が見つかる!

3. "Beautiful collar shape"
Whether you wear it with the collar up or lying down, you can find the one that suits you beautifully!

4. " スウェットよりも軽いロングシャツ "
中綿と言ってもゴワつかない薄手のシートタイプを使用。
もちもちスウェットが約800gに対して、中綿ロングシャツは720g!

4. "A Long shirt lighter than a sweatshirt"
Uses a thin sheet typed pad that is not stiff even if it is filled.
The mochimochi sweatshirt weighs about 800g, while the padded long shirt weighs 720g!

5. " IN&OUT どちらでもスタイリング "
シャツとしてはもちろん、ライトアウター感覚で一枚で羽織っても、コートの中にInしても◎

5. "Both IN&OUT styling"
Not only can it be worn as a shirt, but it can also be worn alone as a light outerwear, or worn inside a coat.

---