HOME
HOME
▶
Main wear, Main styling, Main season!
Main wear, Main styling, Main season!
ついに3月がスタートする今週末のコンテンツは、2月に入ってからお問合せの多かったRUNDHOLZのスウェットジップアップにフォーカス!
中綿シャツに続いて、春に着たい羽織アイテムとして今一番人気に!

その理由として…
①以前から気にはなっていたが、スウェット素材の羽織りで他にはない良さがやはりある
②RUNDHOLZの羽織りとしては手が出しやすいプライス
③急に寒くなってもこれイチマイあれば大丈夫
④袖口が長いことが心配だったけど、カットすれば問題ないと分かったから
⑤今までのスタイリングを見ていて合わせやすいのが分かったから
ということで、残りわずかとなりサイズ欠けもしているので、今回はサイズ感も合わせてフォーカス! This weekend's content, which will finally start in March, will focus on RUNDHOLZ's sweat zip-up, which has received many inquiries since the beginning of February!
Following the padded shirt, it is now the most popular haori item that you want to wear in spring!

As a reason that...
①I've been interested in it for a long time, but there's something unique about wearing a sweatshirt material
②Value for money for RUNDHOLZ haori
③Even if it suddenly gets cold, it's okay as long as it's cool
④I was worried about the cuffs being too long, but I knew they were fine if I cut them
⑤ Because I found it easy to match by looking at the styling so far
So, there are only a few left and the size is missing, so this time we will focus on the size!
---

" 着丈はS〜Lまで1cmずつでほとんど変わらない!
身幅は元からゆったり!アームのサイズ感で選ぶのがポイント! "
3カラーともにサイズ欠けしていることで、多くの方からサイズ感についてのお問い合わせが多く、今回は各サイズそれぞれ着比べ!
" The length is about 1 cm longer from S to L, but there is almost no difference!
The width of the body is loose from the beginning! The point is to choose based on the size of the arm! "
Some sizes are sold out in all three colors, so many people have asked about the size, so this time we will compare each size!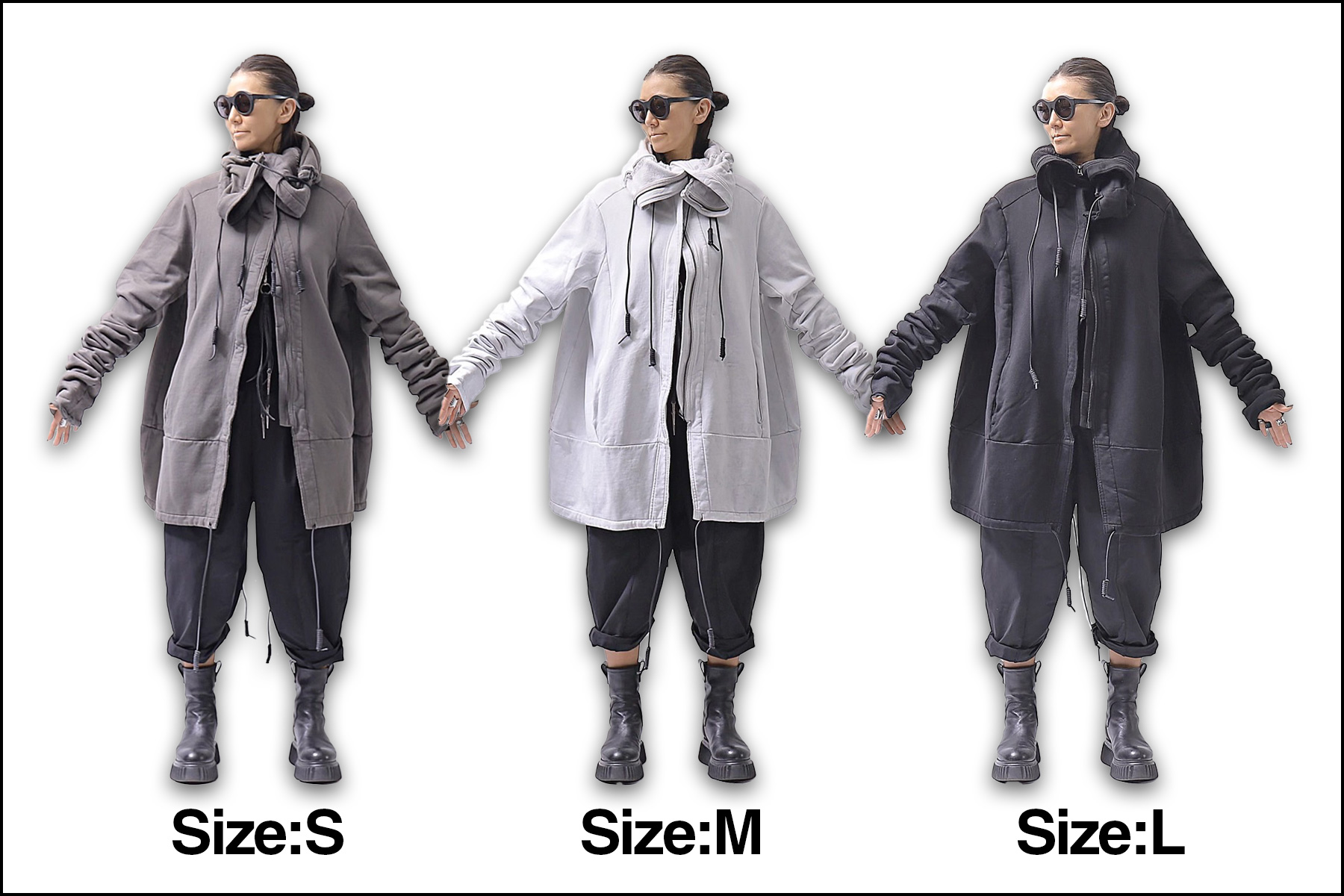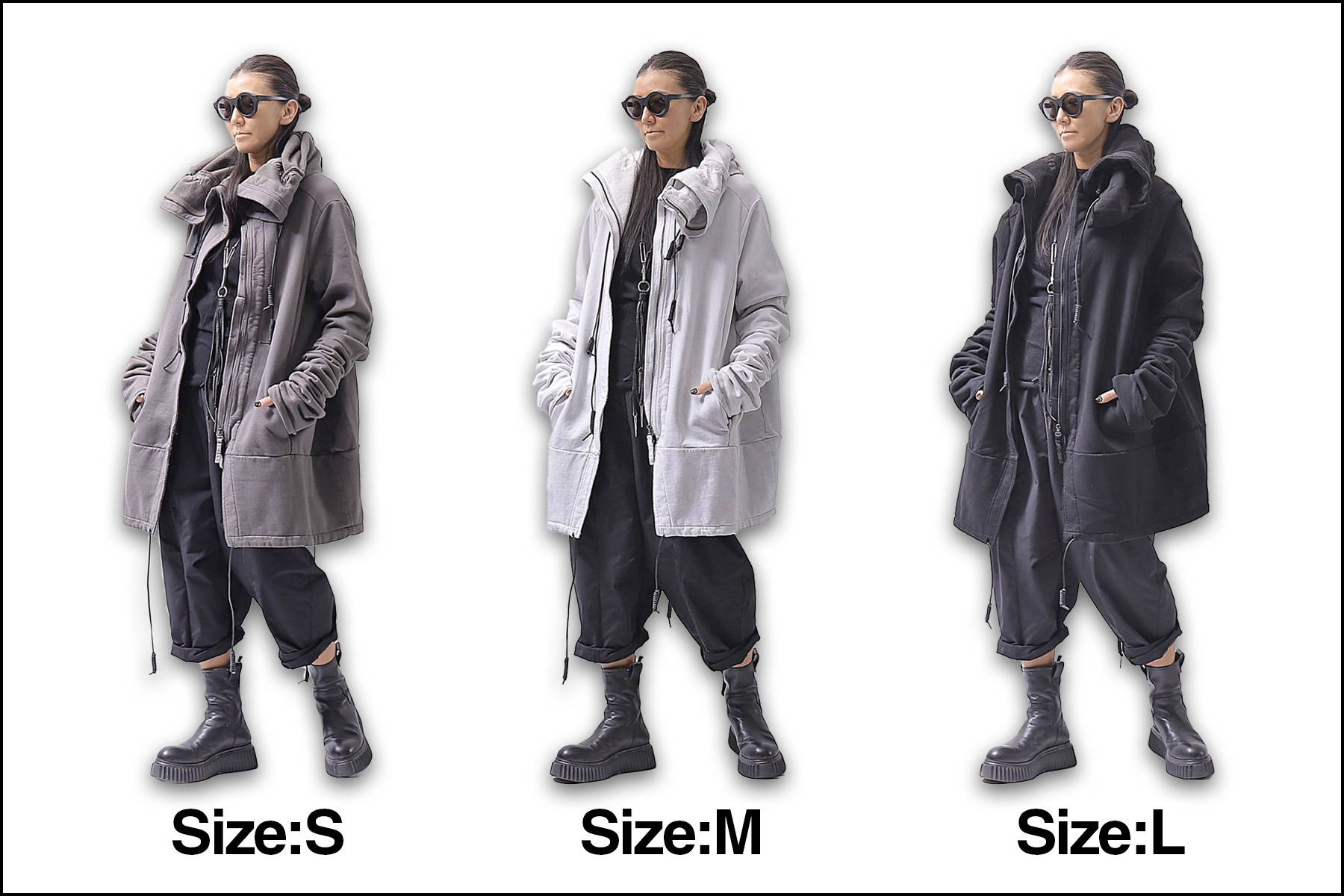 ---

" 袖口をカットするだけで、長めの袖のデザインはそのままにアームと二の腕周りを快適に! "
クシュっとさせた長めの袖口のデザイン。
このシルエットが魅力な的な半面、腕まくりができないデメリットも。
そこで、肘の切り替えしから20-25cmの位置でカット!
カットした部分はアームカバー的にまた手首に通せば、元のシルエットに元通り!
そして、カットするだけで手首周りだけでなく二の腕周りもかなりのゆったり感が出て、ゴワツキのない快適さに!
" Just by cutting the cuffs, you can keep your arms and upper arms comfortable while keeping the design of the long sleeves! "
The design of the long cuffs.
While this silhouette is attractive, it also has the disadvantage of not being able to roll up your sleeves.
Therefore, cut at the position of 20-25 cm after switching the elbow!
If you put the cut part on your wrist again like an arm cover, you can restore the original silhouette!
And just by cutting it, not only around the wrist but also around the upper arm, it feels quite loose and comfortable without being stiff!
---
---
---

---
---