HOME
HOME
▶
Good CAFÉ LATTE SPRING
Good CAFÉ LATTE SPRING
春のトップスが揃った時点で絶対にやりたかった今週のコンテンツは、もちもちスウェットパンツのCAFÉ LATTÉカラーにフォーカス!
もちもちスウェットシリーズはすでに持っていて、その生地の良さなどすでに知っている方も多いのがこのもちもちシリーズ。
CAFÉ LATTÉカラーも気になるけど、合わせやすさを考えるとつい無難な黒に手を出してしまう方々に是非、手にして欲しいのがこのCAFÉ LATTÉカラー。
そこで、今回は春のトップスが揃っているこのタイミングで、どんなトップスにも合わせやすく、スニーカーからヒールまで足元のバランスも決まりやすいというのを徹底的にご紹介!
この春、無難な黒パンツに手を出すよりCAFÉ LATTÉパンツ一本あるだけで、今お持ちのトップスのまま、気分もスタイリングも新鮮にしてみては? This week's content, which I absolutely wanted to do when the spring tops were ready, focused on the CAFÉ LATTÉ color sweatpants!
Many people already own the Mochi Mochi Sweat Series, and many people already know about the quality of the fabric.
If you are interested in the CAFÉ LATTÉ color, but think about how easy it is to match with black, then this CAFÉ LATTÉ color is the one for you.
So, this time around, when spring tops are all available, we will thoroughly introduce you to how easy it is to match with any top, from sneakers to heels!
This spring, rather than picking up safe black pants, why not just have a pair of CAFÉ LATTÉ pants and keep the tops you have now to freshen up your mood and style?
---

元からゆったりとしたシルエットのサルエルパンツは、サイズ2でも3でも見た目はあまり変わらないのが正直なところ。
サルエルの中でも特に膝周りから下をスッキリで履きたいなら、1サイズ下げて履くのがおススメ!
通常サイズLの男性が、あえてサイズ1にしてスッキリサルエルで履く方もいるほど! To be honest, the sarouel pants, which have a loose silhouette from the beginning, don't look much different whether you're a size 2 or a size 3.
If you want to wear sarouel pants especially from the knees down, we recommend going down one size.
Some men, who are usually size L, dare to wear size 1 and wear it with a refreshing sarouel!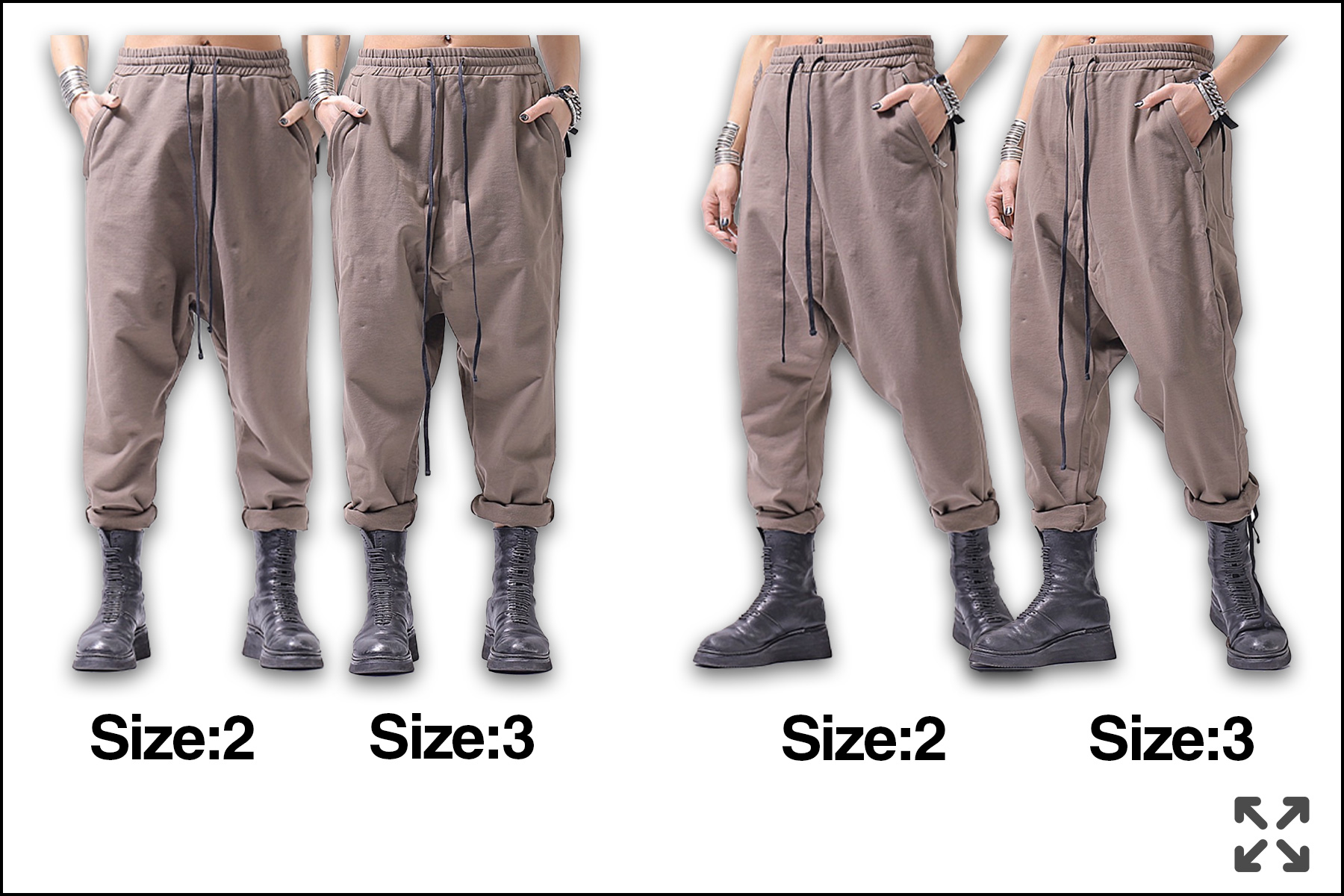 ---

このスウェットサルエルパンツ、裾後ろのアクセントにもなる黒ヒモをキュッと結ぶ時と、折り返した時とは全く違った雰囲気が楽しめるのもポイント!
ロールアップすることで、スッキリとした膝下のラインに。
紐をキュッと縛ることで裾口に溜まるので、ロールアップと比べてスウェットパンツでありながらカジュアルの中にもスタイリッシュさが◎ The point of this sweat shirt sarouel pants is that you can enjoy a completely different atmosphere when you tie the black string that accentuates the back of the hem and when you fold it back!
By rolling it up, you can create a clean line below the knee.
By tying the string tightly, it will accumulate at the hem opening, so compared to roll-up pants, it's sweatpants, but it's also stylish even in a casual setting.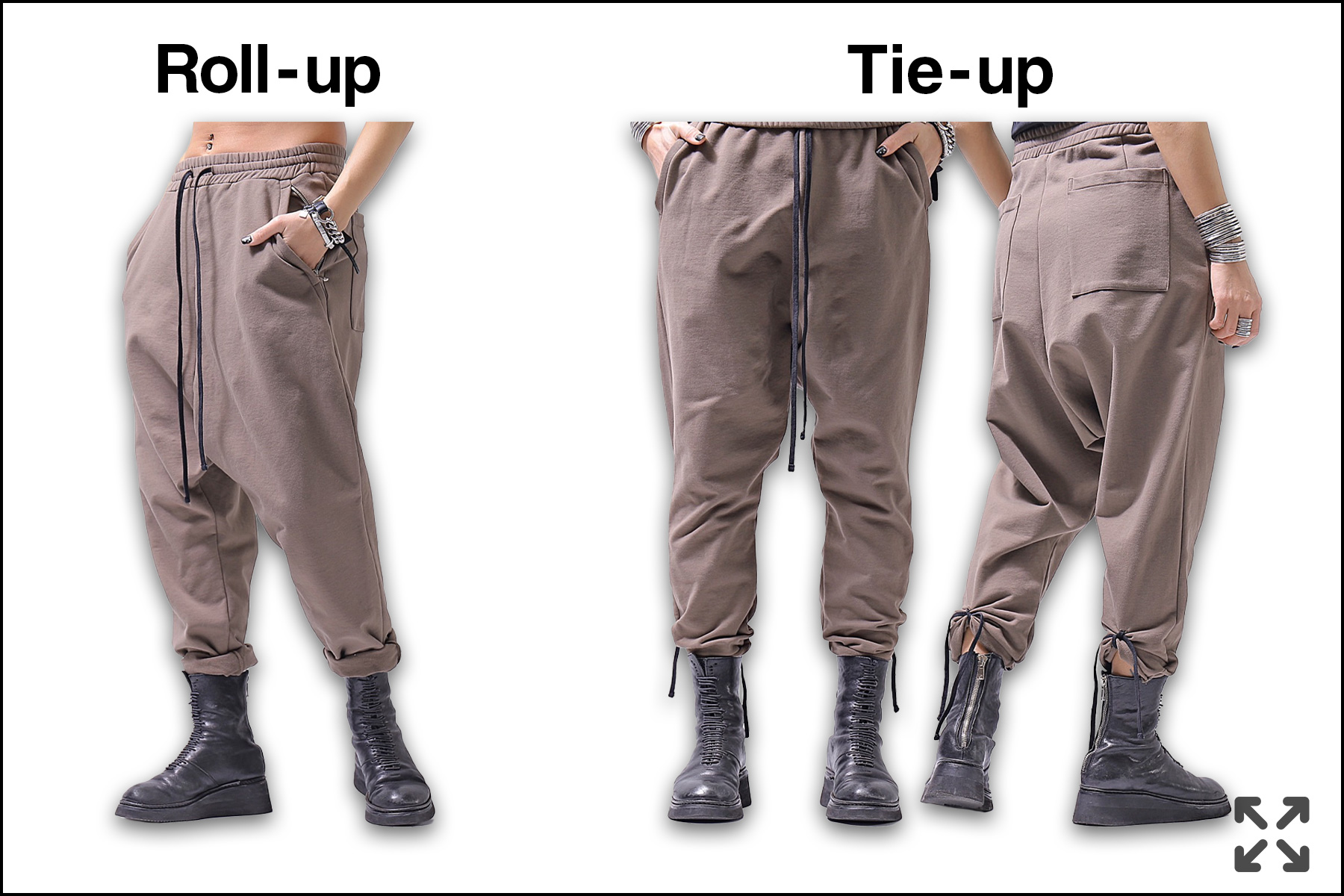 ---

パンツは、合わせる靴次第で印象や雰囲気が変わるもの。
中でも合う靴が限定してしまうのがスウェットパンツ。
そんなスウェットパンツでもこのCAFÉ LATTÉパンツは、スニーカーからブーツ、さらにはヒールブーツまでバランス良く合う!
足元とのバランス次第で、カジュアルからキレイ目、エッジまで楽しめる! Pants change the impression and atmosphere depending on the shoes you wear them with.
Sweatpants are the only shoes that fit well.
However, these CAFÉ LATTÉ pants are well-balanced with sneakers, boots, and even heel boots!
Depending on the balance with your feet, you can enjoy it from casual to neat and edgy!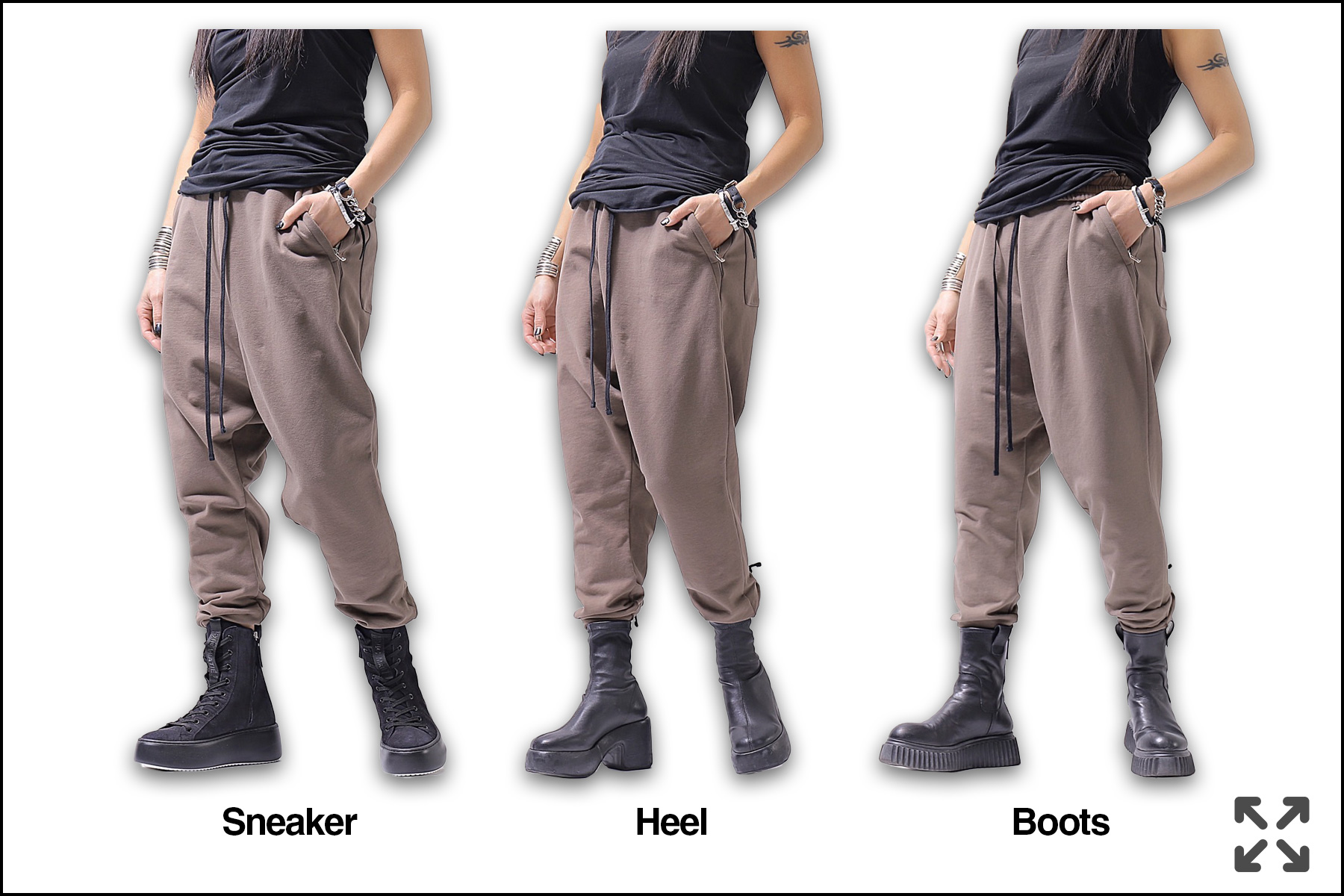 ---

使える6型のトップスをCAFÉ LATTÉパンツでそれぞれスタイリング!
デイリーカジュアルから、スタイリッシュカジュアルまで幅広くスタイリングが楽しめるのが◎ Style each of the 6 types of usable tops with CAFÉ LATTÉ pants!
You can enjoy a wide range of styling from daily casual to stylish casual◎
---

春の暖かさを感じ始める3月。とは言えまだまだ朝晩の寒暖差はかなりアリ。
そこで、トップスの上から羽織れるカーデやブルゾンは必須!
そんな"NOW"から、半袖が着れるようになるちょっと先の5月をイメージしながらご紹介! March begins to feel the warmth of spring. However, the temperature difference between morning and evening is still quite ant.
Therefore, a cardigan or blouson that can be worn over tops is a must!
From such "NOW", we will introduce it with an image of May, when you will be able to wear short sleeves!
ロングの羽織りからチラッと見えるCAFÉ LATTEカラーのバランスが◎
シンプルなロング羽織りの時こそ、CAFÉ LATTEカラーを!

   

The balance of the CAFÉ LATTE color that can be glimpsed from the long haori is ◎
Choose the CAFÉ LATTE color when wearing a simple long haori!
---
オーバーサイズの半袖トップスとあわせても重い印象にならないのは、CAFÉ LATTEカラーのチカラ!

   

The power of the CAFÉ LATTE color makes it not look heavy even when paired with an oversized short-sleeved top!