HOME
HOME
▶
Don't forget your favorite items!
Don't forget your favorite items!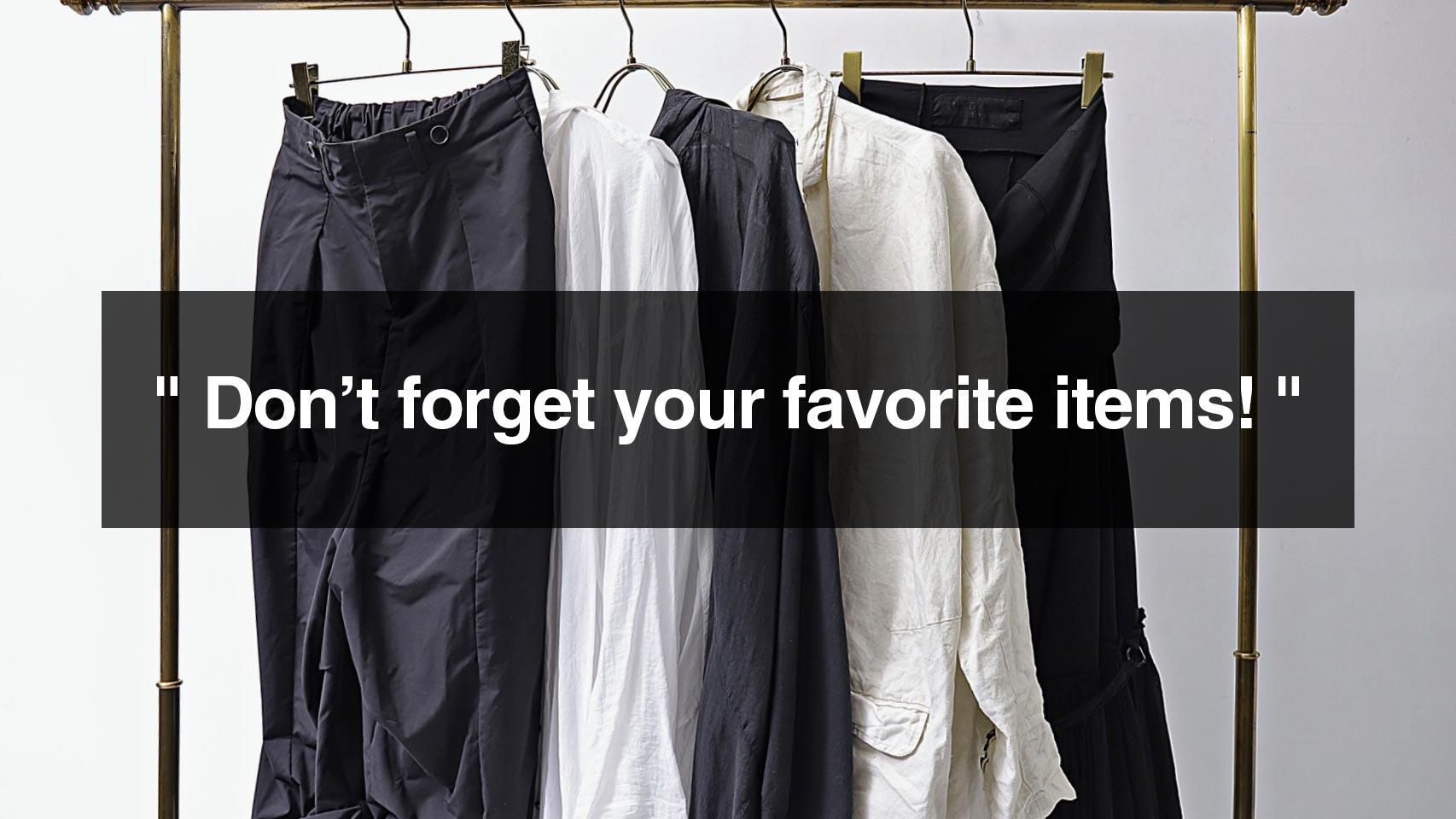 今回は、遂にSOLD OUTになっているアイテムを使ったこれからのスタイリングが登場!
去年手にしたアイテムも、秋冬に手にしたアイテムも、これからの時期にだって一軍として活躍するアイテムですよ!と、ご紹介していても完売することで、インスタやコンテンツ内では登場することがなくなり、 お持ちの方が着なくなってしまうことがスゴクもったいないな…と感じていました。
そこで、今回は完売してしまったアイテムの中から4つピックアップして、これからの時期の新しいスタイリングとしてご紹介! This time, we will introduce new styling using items that are finally sold out!
The items you got last year, the items you got in the fall and winter, and the items that will be active in the coming season! I felt that it would be a waste if the person who had it stopped wearing sold out items.
So, this time, we picked up 4 items from the sold out items and introduced them as new styling for the coming season!
---

bajra
UNISEX SHAPE MEMORY SHOULDER SARROUEL PANTS

メンズパンツをユニセックスとして男女ともに大人気だったメモリーパンツ。
ナイロンではなくポリのマットな質感とサラッと感でこれからの時期にも◎

Memory pants were very popular with both men and women as unisex pants.
The matte texture and smooth feel of poly instead of nylon make it comfortable for the coming season.

トムの風合いある染め感がパキっとし過ぎず、自然にパンツの素材感とも馴染むのが◎
肌寒くなったらプリモのカーディガンジャケットで。
暑い時にはアクセントとして肩掛するのも◎

Thom's textured dyeing is not too crispy, and it naturally blends in with the texture of the pants.
Wear a Primo cardigan jacket when it gets chilly, or throw it over your shoulder as an accent when it's hot.

ヒラヒラトップスとの相性もイイのが、このパンツがスタイリングしやすいという証拠!
アクセントとしてインナータンクにカラーを持ってきても、マットな質感のパンツとトップスの中で自然なバランスに!

It goes well with fluttering tops, which is proof that these pants are easy to style!
Even if you bring color to the inner tank as an accent, it will be a natural balance in the matte textured pants and tops!
---
RUNDHOLZ
UNISEX OVERSIZED COCOON LINEN CARDIGAN COAT

今までになかったこの色味のリネンカーディガンコートは、多くの方々に手にしていただいたアイテム!
黒との相性の良さは、持っている人全員が実感したはず!

This never-before-seen linen cardigan coat is an item that many people have gotten!
Everyone who owns it should have realized how well it goes with black!

オールブラックにサッと羽織ることで、一気に軽い印象に◎
そしてカチッとし過ぎない雰囲気の中にも、カジュアルではなくスタイリッシュな印象にまとまるのは、このシルエットと生地感だから!

By putting it on all black, it gives a light impression at once.
And it's the silhouette and the texture of the fabric that makes it look stylish rather than casual, even though it's not too neat!
---
RUNDHOLZ
OVERSIZED HOODIE COTTON BLOUSON SHIRT

シャツが苦手という方にはブルゾン感覚で。
暑がりさんでも陽には当たりたくないという方だけでなく、多くの方に手にしていただいたシャツブルゾンは、今年の真夏も必須アイテム!

For those who don't like shirts, feel like wearing a blouson.
Not only for those who are sensitive to heat but don't want to be exposed to the sun, many people got their hands on the shirt blouson, which is a must-have item for this summer!

パンツのシルエットとシャツブルゾンのシルエットがリンク。
シンプルなのにバランス良くまとまる組み合わせ。
ボリュームあるサンダルでまとめると◎

The silhouette of the pants and the silhouette of the shirt blouson are linked.
A simple yet well-balanced combination.
Combined with voluminous sandals ◎
---
RUNDHOLZ
COTTON COMBI MERMAID LONG SKIRT

コットン素材のマーメードスカート。
シンプルでメリハリのないスタイリングになりがちな春夏のスタイリングで是非活用したいアイテム!

Mermaid skirt in cotton.
An item that you definitely want to use for spring and summer styling that tends to be simple and lacking in sharpness!

白のアシメトップスと白ソールのサンダルなら、ロングスカートも快適に見た目も軽く◎
足元をブーツで合わせても白トップスなら見た目の軽さはキープ!
アシメの動きのあるトップスとスカートの動きで気分もアガル!

White asymmetrical tops and sandals with white soles make long skirts comfortable and light looking.
Even if you wear boots, you can keep the look light with a white top!
The asymmetrical top and skirt make you feel high!

黒のタンクとの全身黒でも、羽織にショート丈のIVORYを持ってくることで暑苦しい印象にならない!
足元のポイントは、艶のある表革のブーツよりスニーカーでマットなスウェード革の方が洋服と馴染み暑苦しくならない!

Even with a black tank and a full body black, wearing a short IVORY over a haori will not make you look hot!
The point of the feet is that sneakers with matte suede leather are more comfortable with clothes than boots with glossy leather and don't get hot!