HOME
HOME
▶
Now switch to Autumn Linen
Now switch to Autumn Linen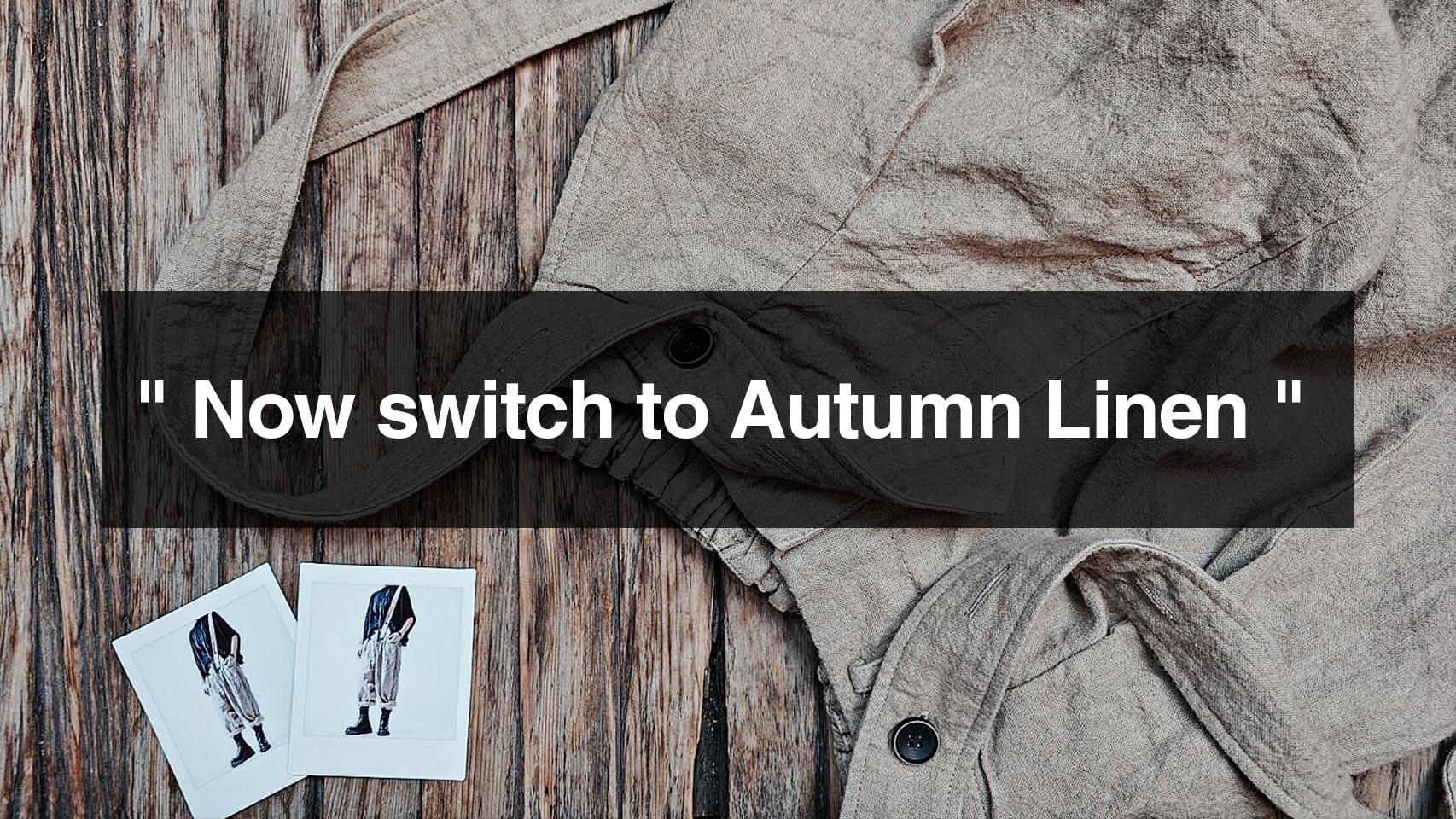 8月最後のコンテンツは、ずっとずっと温めてきたbajraのリネンパンツにフォーカス!
リネン素材と言ったら、夏のジメッとした暑さでもサラッと快適に過ごせることから、夏素材のイメージで夏のみという限定したイメージを持っている人がほとんど。
そこで今回は、このbajraのリネンパンツを使って秋スタイリングを楽しみつつ、「リネン=夏」のイメージから「リネン=春夏秋+初冬」という新しいイメージをご紹介!
リネン素材と言っても、今回ワタシ達が提案するリネン素材はしっかりとした生地厚で風合いあるリネン素材を使用していること、そして着込む度・洗う度にシワ感や表情が出るリネン素材であることが絶対条件!

秋スタイリング自体はアリでも、スタイリングの中で素材どうしが違和感なくマッチしているかを心配する方もいるということで今回は合わせてチェック!
ちなみにRUNDHOLZのリネンカーディガンコートも、この条件をクリアしたリネン素材ということで、今後益々注目となるのがリネン素材です!


The last content of August focuses on bajra's linen trousers, which have been warming up for a long, long time!
Most people have a limited image of linen as a summer material because it is smooth and comfortable to wear even in the summer heat and humidity.
So this time, while enjoying autumn styling with these bajra linen trousers, we are introducing a new image of "linen = spring, summer, autumn + early winter" instead of the image of "linen = summer"!
The linen material we are proposing this time is a linen material with a firm fabric thickness and texture, and it must be a linen material that wrinkles and shows every time it is worn or washed!
Even if autumn styling itself is possible, some people are concerned about whether the materials match each other in the styling without feeling uncomfortable, so we have checked this time together!
Incidentally, the RUNDHOLZ linen cardigan coat is also made of linen material that meets these requirements, so linen material will be the focus of more and more attention in the future!



---
bajra
UNISEX LINEN SHOULDER PANTS
148QP03



" シルエットやデザインだけじゃない!素材の風合い・カラーも、全てが秋にもベスト! "

今年の秋は、残暑の出口が見えず…と言われているほど例年と比較しても、まだまだこの暑さは続きそうな9月。
とは言え、気持ちは早く秋のスタイリングをしたい!っという方も多いはず。
だからこそ、このリネンパンツが今年はアタリ年に!
サンダルからブーツまで、バランス良くスタイリングできるパンツとして今のスタイリングを楽しみつつ、秋のスタイリングにも愛用できるこのパンツは、黒のロングスリーブや羽織りと合わせるとカラーとの相性からも秋らしさがグッと際立つのは一目瞭然! "It's not just about silhouette and design! The texture and colour of the material, everything is also best in autumn!"

This September is said to be the hottest of every year, with no exit from the summer heat and compared to previous years, this heat is still likely to continue in September.
However, the feeling is that you want to get into autumn styling as soon as possible! There must be a lot of people who want to start styling for autumn as soon as possible.
That's why these linen trousers are a good choice this year!
From sandals to boots, you can enjoy the current styling as trousers that can be styled in a well-balanced way, but you can also use these trousers for autumn styling!
---

リネンパンツをメインに、羽織りやシューズ・サスペンダーを使ったトップスのアレンジだけで印象の違うスタイリングに!
4つにスタイリングで見る、秋のリネンパンツスタイリングをご紹介!
Styling with linen trousers as the main focus, with different impressions only by arranging the tops with jackets, shoes and belt!
Linen trouser styling for autumn, seen in four different styling styles!
" リネンパンツとリネンコートで始める秋スタイリング! "

" Autumn styling starting with linen trousers and linen coats!"

左右のスタイリング、全て同じアイテムでも足元をサンダルとブーツに変えるだけでもパンツの印象も変わる!
秋の始まりはどちらも楽しめるのが◎ Both stylings, all the same items, just changing the footwear between sandals and boots changes the impression of the trousers!
The start of autumn is the perfect time to enjoy both!
---
" 秋も活躍するショートジャケットとパンツの組み合わせをベースにスタイリングを広げる! "

" Expand the styling based on the short jacket and trouser combination! "

ロンT感覚で楽しめるプリモのショートジャケットがゆったりしたパンツとの相性良し!
デニムジャケットをONしても良し、シンプルにまとめたメリハリスタイリングも◎ Primo's short jacket, which can be enjoyed like a long T, goes well with loose-fitting trousers!
You can also wear it with a denim jacket or with simple, neat styling.
---
---
---