HOME
HOME
▶
New Sensation Sandals!
New Sensation Sandals!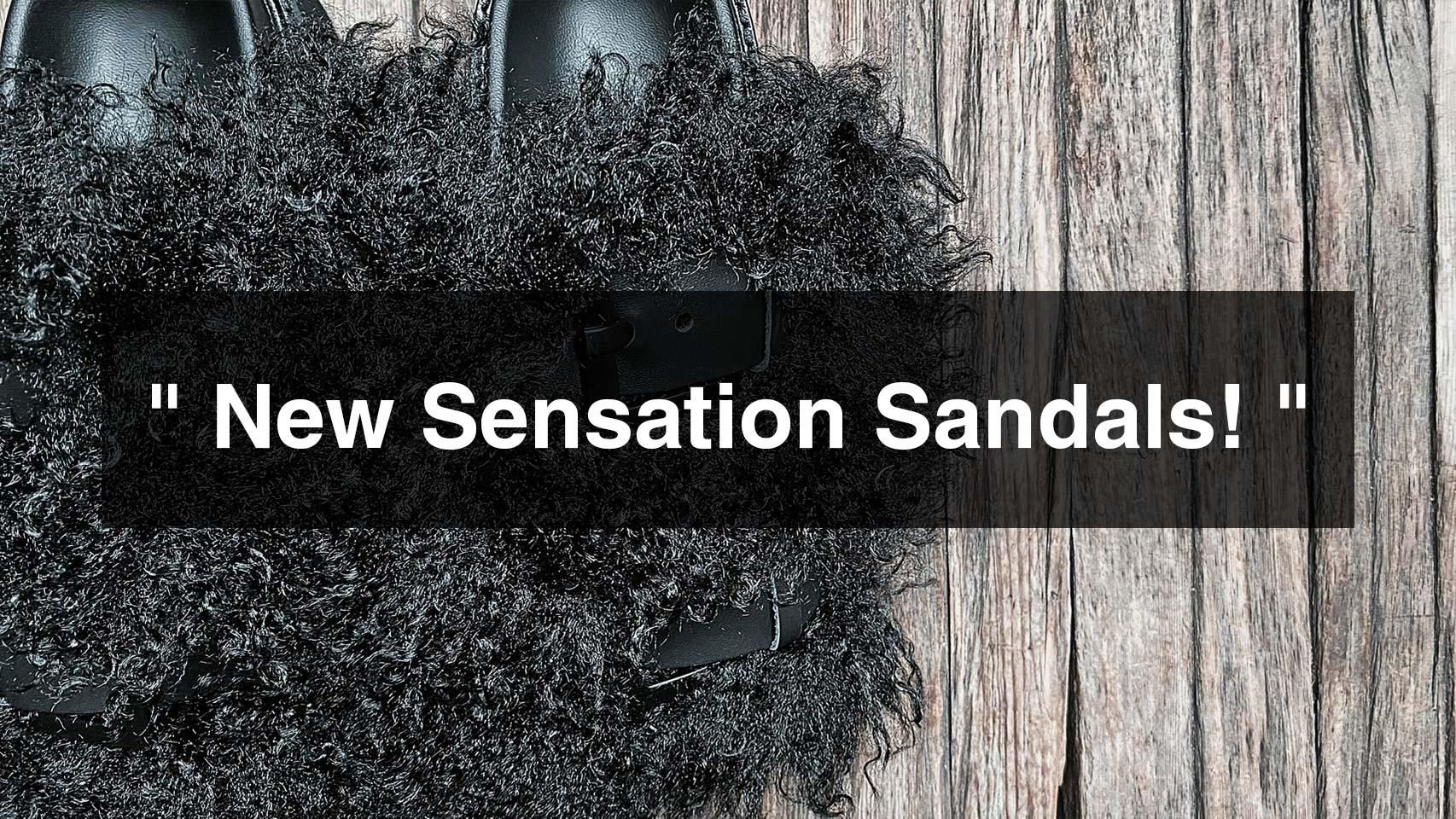 スタイリングページではすでに使用し、目にした多くの方からお問合せをいただいていた、ファーサンダルがついに今週解禁!
いくらファーがついているとは言え、この時期にサンダル?っと思う方もいらっしゃると思います。
でも、ブーツだって数年前までは、夏に履くのに抵抗があった方がほとんど。
それが今では夏も含めてブーツを一年中履くのがクアドラ―トでは当たり前に。
そう、その同じ感覚でサンダルだって夏だけじゃなく秋冬も楽しめるという新しいスタートに!
The fur sandals, which have already been used on the styling pages and have been inquired about by many who have seen them, are finally being released this week!
Even though they have fur on them, sandals at this time of year? Some of you may be thinking: "But boots were also resistant to summer wear until a few years ago.
But until a few years ago, most people didn't feel comfortable wearing boots in summer.
Nowadays, it's commonplace for people to wear boots all year round, including summer in Quadrato.
Now, sandals can be enjoyed not only in summer but also in autumn and winter, just as they were back then!

---

冬に履くサンダルとして絶対にマストになるのがニットソックスやレッグウォーマー。
とは言え、サンダルのバランスやボリューム、素材感に合うモノって意外とありすぎて難しいかも...っということで、
このプードルサンダルにベストなレッグウォーマーを先着限定50足でプレゼント! Knitted socks and leg warmers are an absolute must for winter sandals.
However, it may be difficult to find something that matches the balance, volume and material of the sandals... So we are giving away the best leg warmers for these poodle sandals in a limited edition of 50 pairs on a first-come, first-served basis!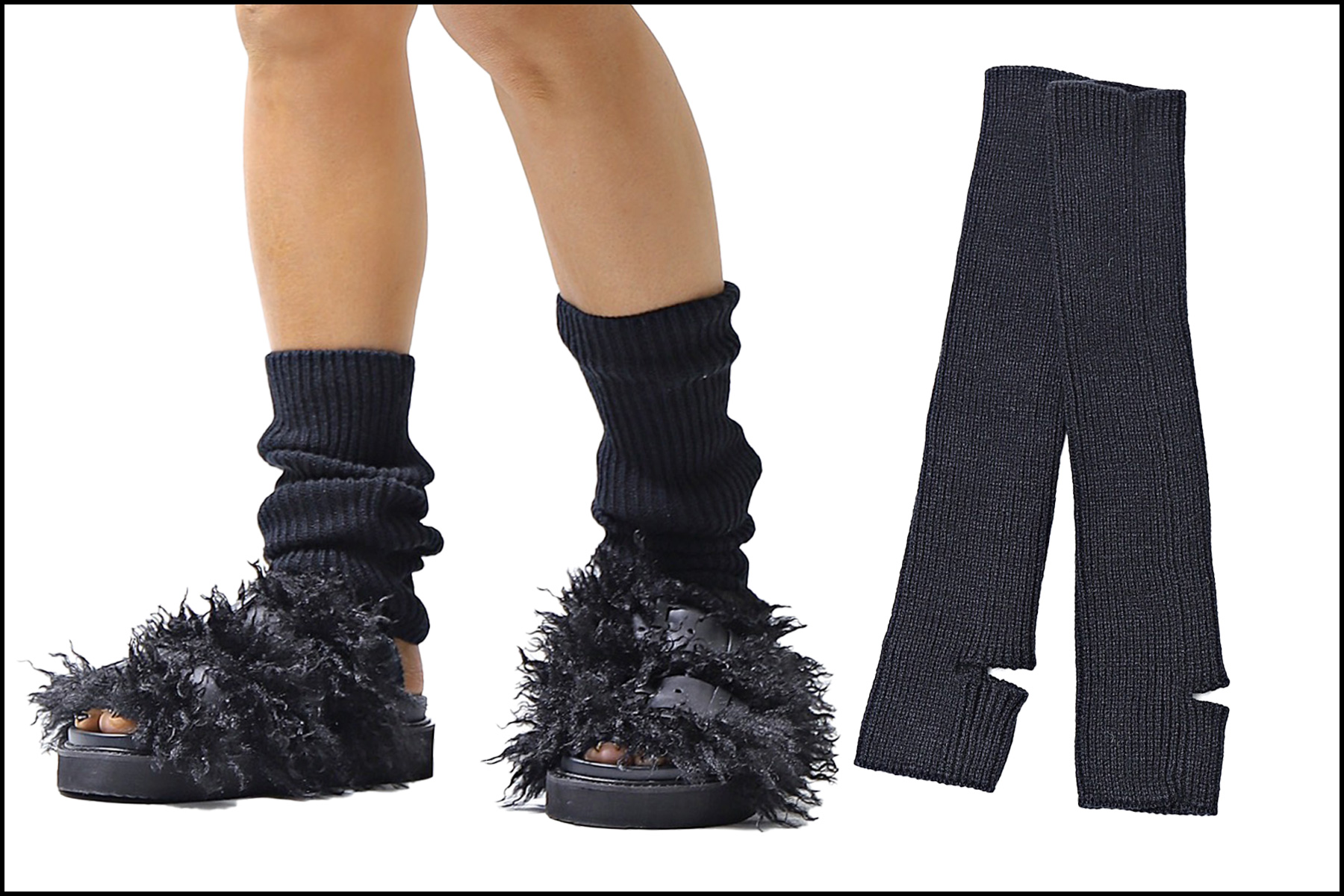 あえてソックスタイプではなく、レッグウォーマーにしたことで、いつもの靴下を履いたままその上からONできるので、余計な心配もなくストレスフリーに!
By daring to use leg warmers instead of sock-type warmers, they can be turned on over them with the usual socks on, making them stress-free without any extra worries!
✔ファーサンダルのボリュームにバランス良く合う生地感と厚み

✔安心感ある暖かさ

✔スパンデックスが混合され、伸縮性が良いのに型崩れしにくい

✔毛玉になりにくい!
✔Fabric and thickness to balance the volume of fur sandals

✔Secure warmth

✔Spandex blend, good elasticity but does not lose its shape

✔Resistant to pilling!

---

サンダルだって、ブーツ同様にガッツリこだわりのポイントアリ!
新感覚のサンダル、4つのポイントをしっかりご紹介! Sandals, like boots, have their own special points of interest!
Introducing the four key points of the new sensation of sandals!
Alès Dacchia
POODLE SANDAL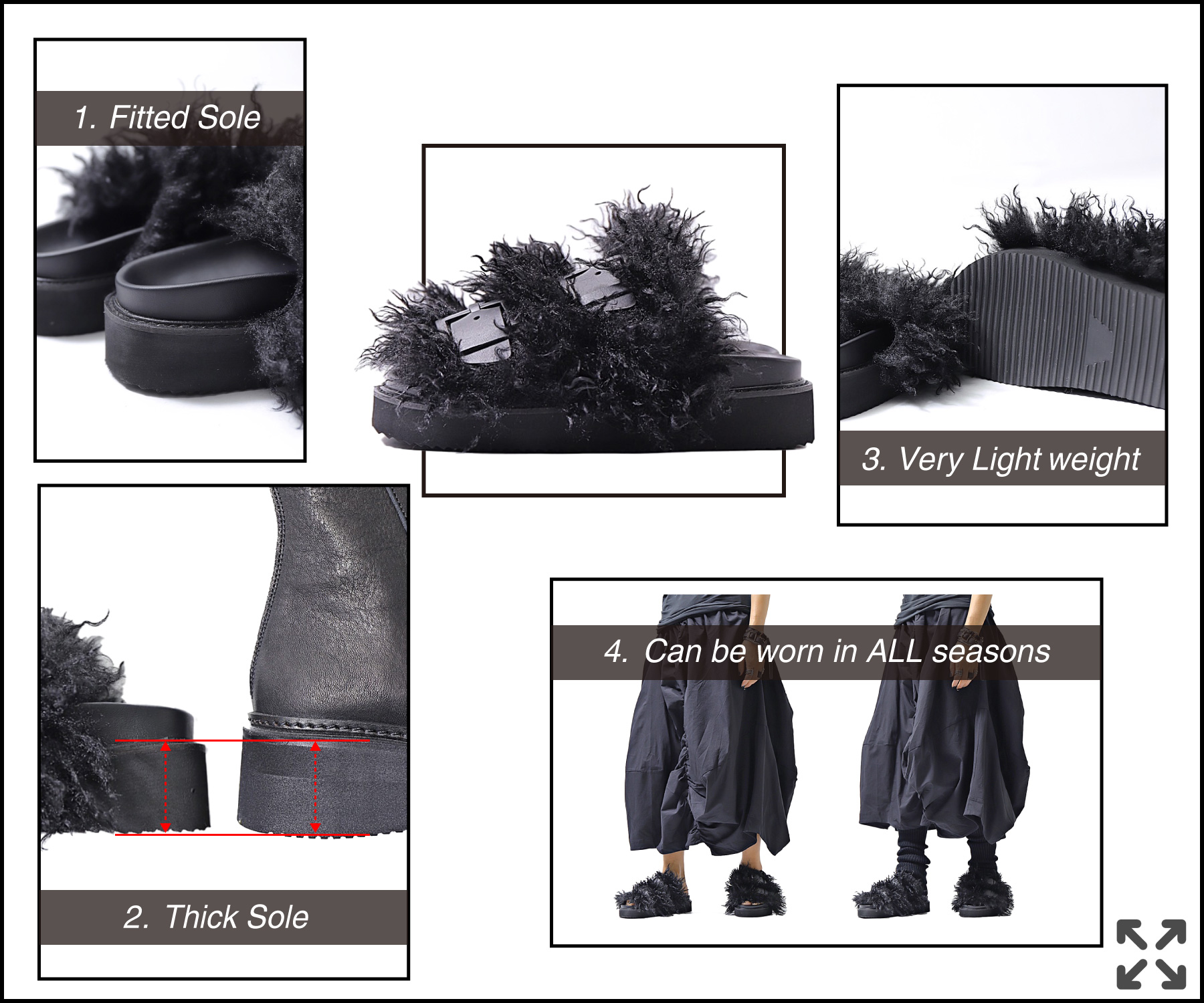 1. " フィットするソール "
直接足に面するインソール部分は、足裏を包み込むようにインソールの外側が盛り上がったカップインソールタイプ。
そのソールタイプにすることで、カカトが逃げにくく◎
1. "Fitted Sole"
The insole part that directly faces the foot is a cup insole type with the outside of the insole raised so that it wraps around the foot.
The sole type prevents the foot from escaping from the insole.
2. " 馴染みのある厚みと高さのソール "
フラットサンダルだと盛れない、ソールのボリューム感が足りないという心配なし!
QUADRATOで指定したあのPortailleブーツの高さと、偶然にもほぼ変わらない!
2. "Familiar thickness and height sole"
No need to worry that flat sandals would not be enough to make you look more attractive or that the sole would not be voluminous enough!
The height is coincidentally almost the same as the height of that Portaille boot specified by QUADRATO!
3. " 驚くほどの軽さ "
厚みのあるソールでもEVAソールを使用することで、ゴムソールよりもはるかに軽いのが特徴。
また、EVAソールはゴムソールと比較しても紫外線や風雨を浴び続けても劣化しにくいのも◎
3. "Remarkably lightweight"
Even with a thick sole, EVA soles are much lighter than rubber soles.
EVA soles are also less likely to deteriorate under continuous exposure to UV rays and the elements than rubber soles◎
4. " オールシーズン使える "
春夏に素足で履くのはもちろん、レッグウォーマーや靴下と合わせることで、温かさを保ちつつ秋冬のスタリングでも楽しめるのが◎
4. "Can be worn in all seasons"
Wear them barefoot in spring and summer, or match them with leg warmers and socks to keep them warm and enjoy them in autumn and winter styles.
---

ゆったりパンツから、ワンピースまでブーツと同じ感覚で足元を変えるだけで◎
しっかりボリュームあるこのサンダルなら、秋冬スタリングとのバランスもマッチ!
今回は全く異なるバランスとシルエットのスタイリングに合わせてご紹介! From loose-fitting trousers to dresses, simply change your footwear as you would with boots.
These sandals with a solid volume will match the balance of your autumn/winter styling!
This time, we introduce a completely different balance and silhouette to match the styling!