メンズ・レディース共にカジュアルにもスタイリッシュにも着れる一枚として、入荷後即完売となったRUNDHOLZのバックドレープモッズコート。 追加生産を一切しないRUNDHOLZへ50枚限定で追加生産を交渉。 "ONLY FOR YOU!"ということでQUADRATO Boutique限定の追加生産で再入荷に! さらに、新しくMOSSが加わり、2カラー展開。

今まで取り扱いをしてきたトップスやボトムス、羽織りともスタイリングしやすく、また今後の入荷予定のアイテムとも相性が良いこのモッズコート。 そこでモッズコートの3大ポイントにフォーカスし、秋から冬、そして冬から春へのリアルスタイリングをピックした今回のコンテンツ。 すでに持っている方は寒くなるこれからの時期にも着れるように、まだ持ってなくて気になっている・悩んでいる方は今回のコンテンツを決め手に、手にしてみては? RUNDHOLZ's back-drape mods coat, sold out immediately after arrival, is a piece that can be worn both casually and stylishly by men and women. Normally, RUNDHOLZ doesn't allow to reproduce any their items, but this time we asked them to reproduce only limited 50 coats. And they said "Only for You!", so at all, they are back in store limited to QUADRATO Boutique! In addition, MOSS was newly added.

This mods coat is easy to style with any tops, bottoms, and outers that we have been dealing with up until now, and goes well with the items that will be in stock in the future. This content focuses on the three main points of mods coat and focuses on real outfit from autumn to winter, and from winter to spring. If you already have it, why don't you use it as a guide for how to wear it in the upcoming cold season, and if you don't have it yet, why don't you use this content as a deciding factor?
---
RUNDHOLZ
BACK DRAPE MODS COAT 260 1211_BLACK

BACK DRAPE MODS COAT 260 1211_MOSS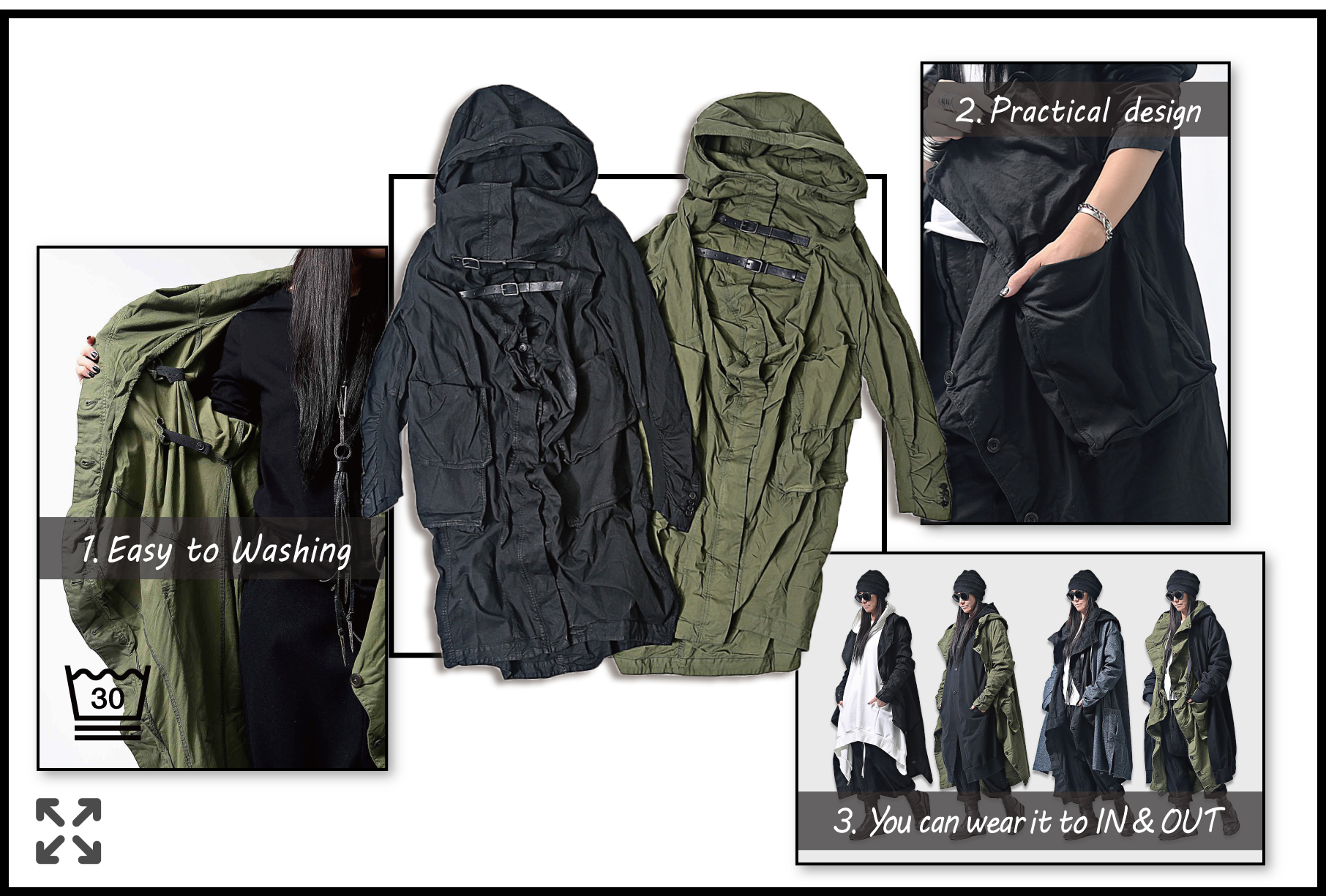 1. 自宅で簡単丸洗いできるからこそ、気兼ねなく!
着心地も良く、スタイリングしやすいオールシーズンアイテムを気兼ねなくデイリーに着る中、自宅で簡単にお洗濯できるのは、かなり重要なポイント! フロントのレザーベルトの内側にはボタンがあり簡単に取り外せるので丸洗いが可能。 また、洗う度にアタリや風合いが増してくるのも楽しみのひとつ!
1. Easy to washing
While wearing it as a daily basis because it's comfortable and easy-to-style in all-season, so the one of most important point is washing it at home easily! There are buttons on the inside of the front leather belt that can be easily removed from the body for machine washing. It's also fun to see the texture after every time you wash it!
2. デザイン性だけじゃない!実用性も兼ね備えるバッグポケット
フロントの大きなフラップポケットは、ちょっとしたバッグ並みの大きさ。 一見主張しすぎかと思うこのポケット、バックドレープのボリュームとのバランスが絶妙に。 また、さっとバッグなしでもお財布・携帯をしっかりと収納でき、大きめのフタ付きなので、落とす心配がないという実用性もアリのなくてはならない存在!
2. Practical design
The large flap pocket of the front is almost same size as a small bag. At the first glance, this pocket seems to be over-assertive, and the balance with the volume of the back-drape is superb. Also, you can store your wallet and cell phone securely without a bag, and it comes with a large lid, so you don't have to worry about dropping it!
3. 秋→冬→春と寒暖に合わせてスタリングもリアルに
オールシーズンアイテムだからこそ真冬に一枚で寒いのは当たり前。 でも、手持ちのライトアウターをプラスするだけで寒さ対策もしっかりとできる上、 INでもOUTでも、スタイリングと寒さ対策ができる優秀コート。 これで、真冬には一枚では着れなかったお手持ちの他のライトアウターも活かしながら スタイリングの幅がさらに広がるのが最大のポイント!
3. You can wear it to IN&OUT
It's an all-season item, so it's quite natural that you feel cold and freezing in the middle of winter. However, just by adding your own light outerwear, you can also protect yourself from the cold. An excellent coat for styling and protection against the cold as well as innerwear. You can use other light outerwear that you can't wear in the middle of winter. The biggest point is that it's wider the your styling!
---

" BLACK&DENIMで見せる、スタイリッシュカジュアル for Winter! "


12月からのリアルスタイリングとして、BLACKをベースにデニムカラーのライトアウターで寒さ対策もしっかりと。 カジュアルな雰囲気になりがちなスニーカーとデニムカラーの組み合わせも、スタイリッシュな雰囲気なのは、ゆったりシルエットのロング丈だからこそ。 プラス、白を足すことで軽さもでて、ベストバランスに!

" Attract with BLACK&DENIM, stylish casual for Winter! "


As a real styling starting in December, the black base and denim-colored light outerwear will also provide a thorough protection against the cold. The combination of sneakers and denim colors, which tend to have a casual outfit, but this one has a stylish feel because of the long silhouette. Plus, by adding white, the total outfit balace is lighter and making it the best!
---

" Cool KHAKI + Warm BLACKのパーフェクトスタイリング! "


ノストラの黒スウェットカーディガンコートを最大限に活かし、INにしたりOUTにしたり楽しめるのがこのコンビ。
どちらをINにしてもしっかりと暖かさをキープできるこのスタイリングは、足元はいつものブーツではなく、あえてWHITEスニーカーをもってくることで、脱・ガッチリミリタリーに!

" Cool KHAKI + Warm BLACK is a perfect outfit! "


Make the best use of Nostra's black sweat cardigan coat, and enjoy the combination of IN and OUT. Regardless of which one is IN, this styling keeps the warmth strong, and instead of the usual boots, wearing white sneaker can makes a casual military!