HOME
HOME
▶
"Just change your SHOES, make NEW feel!!!"
"Just change your SHOES, make NEW feel!!!"

1月も残りわずかとなり寒さが一層増してくるこの時期、無理して春夏モノに手を出しても、実際に着れるのはまだまだ数ヶ月先.... でも、今のスタイリングにちょっと飽きてきている方々が多いのも現実。 そこで、洋服はそのままに足元をブーツからスニーカーにチェンジするだけで一気に印象を変えて楽しむのが今回のコンテンツ!
ザ・カジュアル的なイメージのスニーカーではなく、普段ブーツ派の方でも履ける、スタイリッシュでスッキリとした印象のスニーカーを"Casual stylish"と"Active Feminine"の2つのスタイリングでチェンジ!
是非、春に向けてスニーカーデビューしてみては?
At this time when half past January and getting colder, so if you buy some spring and summer things, but you can wear after a few months.... But you are getting a little tired of the current styling. Therefore, the content of this time is to change the impression at once by simply changing the feet from boots to sneakers while keeping the clothes as they are! Instead of the casual impression of sneakers, we show you the stylish and neat impression sneakers with two stylings "Casual stylish" and "Active Feminine"! Why don't you make your sneaker debut for spring?
---
PURO
STRETCH LEATHER PLATFORM SNEAKER 4930181_BLACK/WHITE

STRETCH LEATHER PLATFORM SNEAKER 4930182_WHITE/WHITE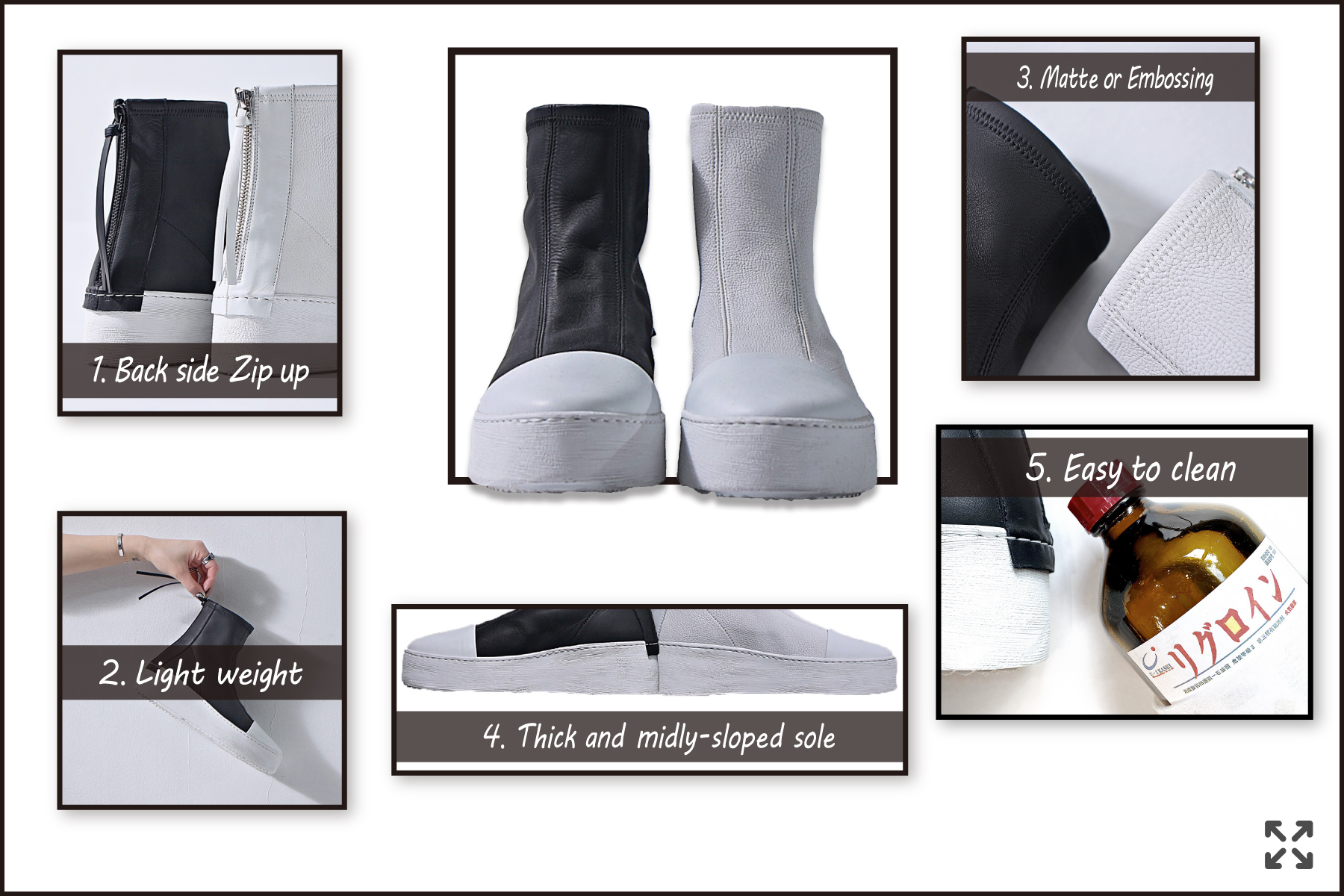 1. バックジップでムダを省いたスッキリした印象に
つま先のレザーキャップが印象的なこのスニーカー。 とにかく、フロントとサイドから見た時のスッキリ感にこだわり、バックジップタイプに。 見た目だけではなく、サッと脱着できるのも◎
1. Back side Zip up
These sneakers have an impressive leather cap on the toes. Anyway, sticking to the refreshing feeling when viewed from the front and side, it is a back zip type. Not only looks, it can put on and take off quickly and easily.
2. 見た目に反した、驚きの軽さ!
厚みのあるゴムソールのスニーカーでありながら、驚くほどの軽さで、ファッション性だけではなく、履きやすさ・歩きやすさもあるのがPUROのポイントのひとつ!
2. Light weight
It's amazingly light weight even it has thick rubber sole. One of the points of PURO is that it is not only fashionable but also easy to wear and walk!
3. 色によって、あえてストレッチレザーの種類を変えたセレクト
ストレッチレザーでも表情の加工が違うタイプのモノを、それぞれに。 黒は、マットな表情がブーツにはない雰囲気で◎ 白は、ノッペリ感が出ないよう目の細かいエンボスタイプで。 また、目の細かいエンボスタイプなので、汚れも目立ちにくくお手入れしやすく◎
3. Matte or Embossing
Each type of stretch leather has a different expression. Black has a matte look that boots don't have. White is a fine embossed type so as not to give a feeling of flat. In addition, because it is a fine embossed type, dirt is not noticeable and easy to clean.
4. やりすぎない程よい厚さのソールと、自然な傾斜でスッキリ、オトナの厚底スニーカー
何度ものPUROとの話し合いを元に生産してもらったのが、絶対にこだわりたかったこの傾斜のタイプのソール。 見た目のスッキリ感はもちろん、このほんの数ミリだけの傾斜があることで、逆に長時間歩行しても足への負担が軽減される!
4. Thick and midly-sloped sole
I absolutely wanted to stick this inclined type sole, which was produced based on many discussions with PURO. Not to mention the neat appearance, the inclination of only a few millimeters reduces the burden on your feet even if you walk for a long time!
5. リグロインさえあれば、白レザー・白ソールの汚れを気にして履く必要はナシ!
多くのお問合せをいただくのが、白レザー・白ソール汚れた時のケア問題。 QUADRATO Boutiqueでは、消しゴムで消したり、アルコールでこすったりするのではなく「リグロイン」をオススメ。 たっぷりとコットンにしみ込ませ、一気に汚れをこすると、ビックリするほど一気に真っ白に! もちろん取り扱いにはご注意して頂きたので、使えるタイプのレザー、ソールなどのお問合せはお気軽に!
5. Easy to clean
We receive many inquiries about care issues when white leather and white soles get dirty. At QUADRATO Boutique, we recommend "ligroin" instead of erasing it with an eraser or rubbing it with alcohol. Soak it in cotton and rub it all at once, and you'll be surprised at how white it becomes! Of course, we took care in handling it, so feel free to inquire about usable types of leather and soles!
---
---
---