HOME
HOME
▶
Did you get boots for Summer?
Did you get boots for Summer?

ようやく暖かい日が続き、新しく手にした春夏の洋服を着る機会が増えてきた今、これからの足元の靴を迷う方々が毎年多いのがこの時期。 つま先や足の甲を出したくない方も多く、サンダルはちょっと・・・・という方も実際多いことも。
今はブーツで全く問題ないけど、夏に履けますか?という相談が多く、答えは「即答でYES!」
そこで、今回は自信をもっておススメできる3つのブーツをそれぞれの使い分けし、夏のスタイリングと合わせてご紹介! 夏にブーツがNGという古い固定概念より、ブーツで夏も楽しむというスタイリングに!
似ているようで、全く違う感覚の3足。是非、サイズが揃っている今揃えて欲しい3ベストBUYブーツ Now that the warm days have finally continued and the opportunities to wear new spring and summer clothes have increased, it is this time of year that many people are wondering what shoes to wear in the future. There are many people who do not want to put out their toes and insteps, and there are actually many people who say that sandals are a little ...
I have no problem with boots now, can I wear them in the summer? The answer is "Immediate answer YES!"
Therefore, this time we will introduce three boots that you can recommend with confidence, using each one properly, along with summer styling! From the old stereotype that boots are NG in summer, for styling that you can enjoy summer with boots!
Three pairs that look similar and have completely different sensations. By all means, the 3 best BUY boots that you want to have now in all sizes!
---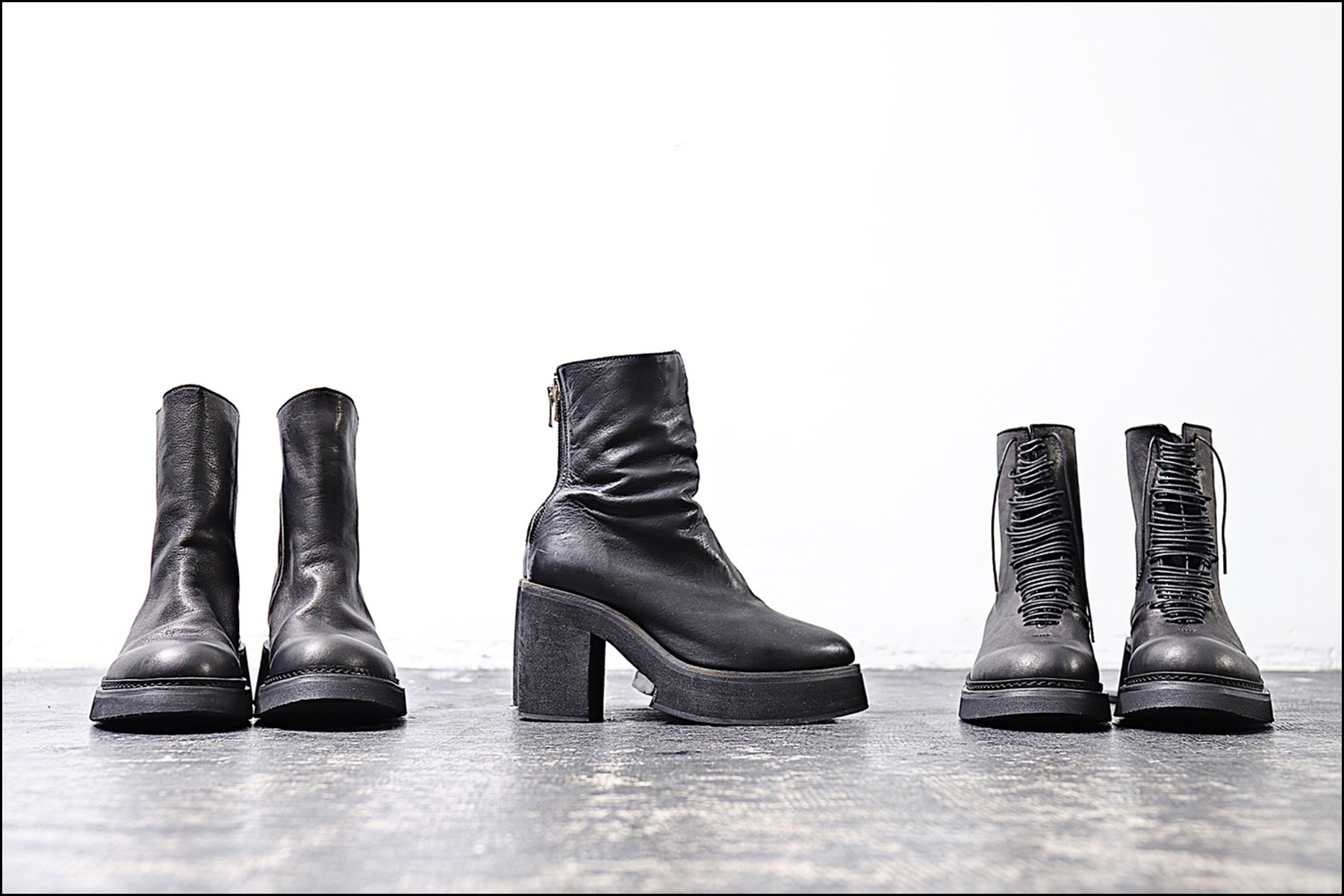 " 1.シンプルになる春夏のスタイリングこそブーツでまとめる! "
レイヤードスタイリングが楽しめていた秋冬とは対照的に春夏は、シンプルなスタイリングになるからこそ、足元をブーツにするだけで一気にまとまり、COOLな印象に!
ベーシックでも素材とカタチにの良い春夏の洋服の足元こそ、スッキリボリュームのブーツが必須!
" 2.ブーツが暑い?!足を覆うスニーカーだって同じ! "
サンダルと比較したらブーツもスニーカーも暑さに差ほど違いはナシ!
むしろ、質の良いレザーアッパーと内張りを使用していることで蒸れにくく、通気性があるので一日の終わりに差がつく!
" 3.個性派ブーツの時代は終わり。時代はとっくにシンプルブーツ! "
ブーツ単体で見た時に洋服と同じくデザイン性あるものが、他にはない!っと手にしていた7-8年前。
そのブーツ、果たして今までどれだけ履きましたか?っと言われると考えて込んでしまう今、やはりはシルエットがキレイで足をキレイにみせてくれるブーツこそ、洋服と同じくリアルに使える!
" 4.黒ブーツだからこそ、カラーボトムスが楽しめる! "
今まで黒ボトムスしか手にしてこなかった方も、黒と相性の良いカラーボトムスを黒のブーツと合わせることで、120%抵抗感なくスタイリングを楽しんでいるのが現実!
さらに、全身黒の夏スタイルよりカラーボトムスと黒ブーツなら、見た目の暑苦しさも軽減!
" 5.ブーツマジック!膝下の肌がチラッと見えても気にならない! "
普段、膝下の肌が見えてしまうことに抵抗がある方も、不思議とサンダルを履いた時に膝下の肌が見えるのと、ブーツを履いた時では抵抗感に違いが! 同じ膝下の部分が見えても、抵抗感だけでなく自信も変わってくる!
" 1.Spring and summer styling that becomes simple is put together with boots! "
In contrast to autumn and winter, when you enjoyed layered styling, spring and summer have a simple styling, so you can get a cool impression just by putting your feet in boots!
Even if it is basic, the boots with a volume are indispensable at the feet of spring and summer clothes that are good in material and shape!
" 2.You think boots are hot?! The same goes for sneakers that cover your feet! "
Compared to sandals, boots and sneakers are not so different in heat!
Rather, the good quality leather upper and lining make it harder to get stuffy and breathable, which makes a difference at the end of the day!
" 3.The era of individual boots is over. The times already shifted to simple boots! "
When you look at the boots alone, there is nothing else that has the same design as clothes! 7-8 years ago I had it.
How long have you ever worn those boots? Now that I think it's said, boots with a beautiful silhouette and beautiful legs can be used as realistically as clothes!
" 4.Because it is black boots, you can enjoy color bottoms! "
Even if you have only got black bottoms, you can enjoy styling with 120% resistance by combining color bottoms that go well with black with black boots!
In addition, color bottoms and black boots reduce the heat of appearance compared to the black summer style!
" 5.Boots magic! It doesn't matter if you glance at the skin below your knees! "
Even if you are reluctant to see the skin below your knees, there is a difference between the fact that you can see the skin below your knees when you wear sandals and the feeling of resistance when you wear boots! Even if you can see the same part below the knee, not only the feeling of resistance but also the confidence will change!
---
---
---
---