HOME
HOME
▶
Now! Summer! Autumn! with Long Sleeve!
Now! Summer! Autumn! with Long Sleeve!

急に夏のような日が続いたり、雨が降って肌寒い日が来たりと毎年これからの時期は、温度調整に困る...サラッとした長袖があると便利だけど、 夏を前に長袖を買い足すのはちょっと・・・という方の為に、間違いなく使える2つの長袖トップスにクローズアップ! 「現在」「夏」そして「秋」をイメージして、それぞれのアイテムをスタイリング。 この時期にロングスリーブの買い足しに迷っている方は、是非この2つで迷ってみては?
Suddenly summer-like days continue, or it rains and chilly days come, so it's difficult to adjust the temperature every year from now on ... It's convenient to have long sleeves that are smooth. For those who don't want to buy more long sleeves before summer, we have a close-up of two long sleeve tops that you can definitely use! Each item is styled with the image of "present", "summer" and "autumn". If you are wondering about buying more long sleeves at this time, why not try these two?
---
RUNDHOLZ
UNISEX OVERSIZED TOPS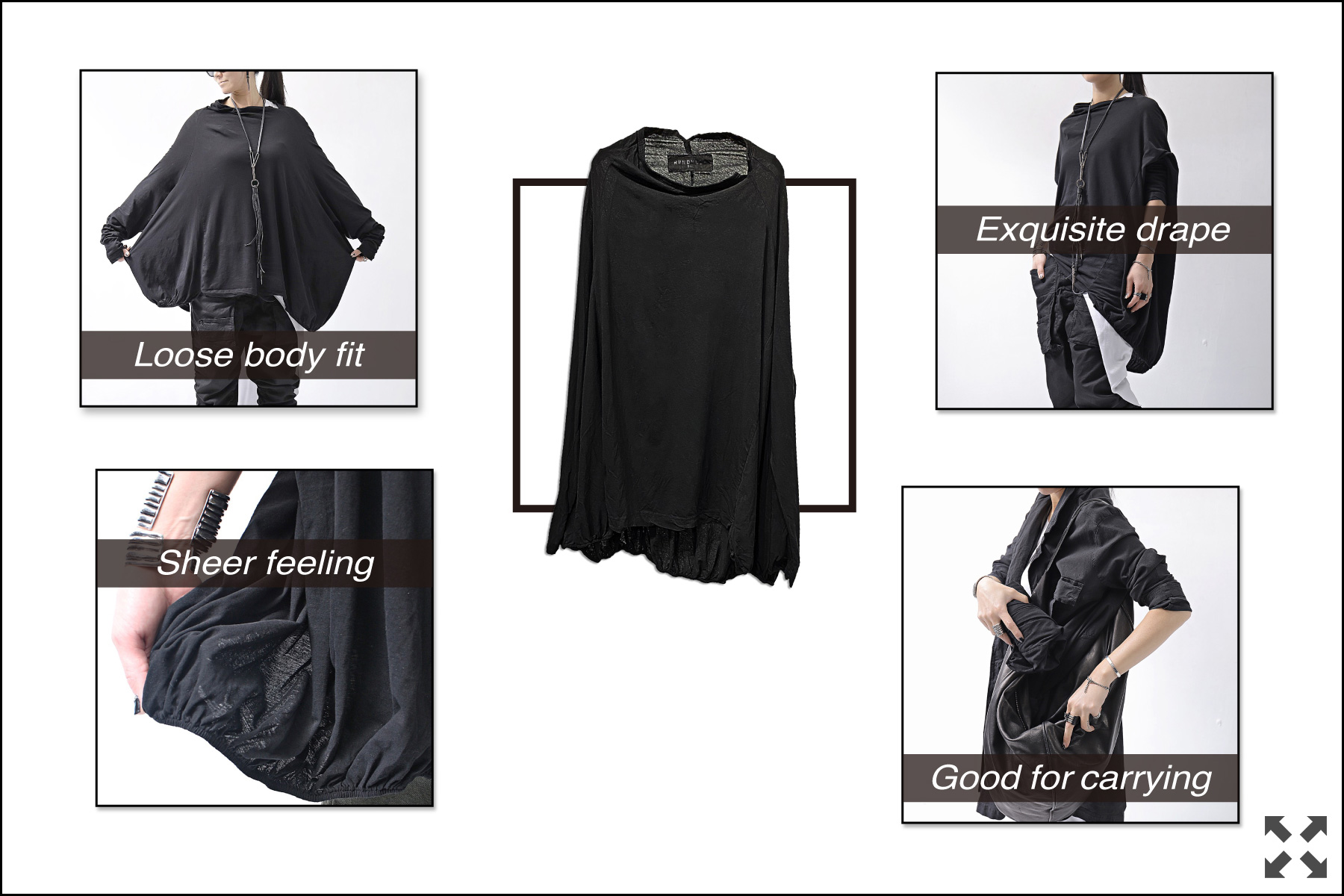 コットン100%でありながら、サラッとした肌ざわりと、程よい伸縮性でお洗濯しても全く型崩れしないということで、 QUADRATOでは一度着たらその良さに、ハマってしまう方がほとんどなのがRUNDHOLZの強撚綿。 今では色々なブランドでも使われているこの強撚綿。 特に、RUNDHOLZの強撚綿に関しては、見た目の生地感も風合いも全てがパーフェクト!
今回の強撚綿トップスは、ゆったりとしたシルエットでありながらアームがスッキリとしたシルエット。 着る方のカラダのラインを上手くカバーしつつ、キレイなオチ感が生まれるのはさすがRUNDHOLZだからこそ! 被りタイプのトップスでありながらサッと着ることができるので、夏の冷房対策や、日差し対策としても◎
Although it is made of 100% cotton, it has a smooth texture and moderate elasticity, so it will not lose its shape even when washed. At QUADRATO, most people are addicted to the goodness of wearing RUNDHOLZ's strong twisted cotton. This strong twisted cotton is now used by various brands. Especially for RUNDHOLZ's strong twisted cotton, the texture and texture are all perfect!
The strong twist cotton tops this time have a loose silhouette but a clean arm. It is because of RUNDHOLZ that a beautiful punch line is created while covering the body line of the wearer well! Even though it is a top, you can wear it quickly, so it can be used as a summer cooling measure or as a sun protection measure.
---
---
RUNDHOLZ
W LAYERED CARDIGAN TOPS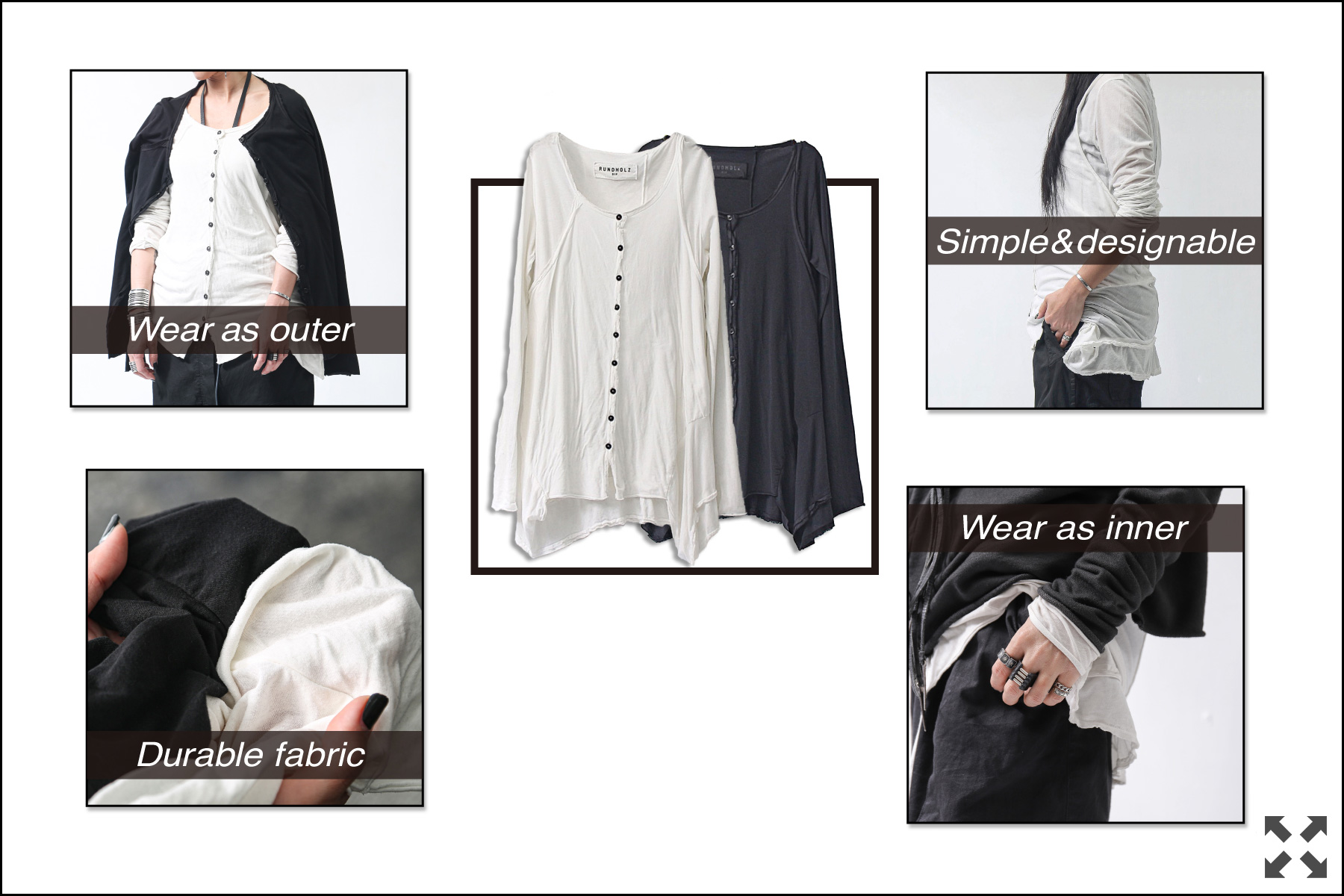 フロントのボタンが、さりげなくアクセントとなっているこのロングスリーブ。 普通のカーディガンのボタンを閉めた時とは全く違う雰囲気になるのは、ボタンをアクセントとしてだけでなく、絶妙なバランス間隔で配置されているこそ!
そのキレイなシルエットを活かし、カーディガンとしてだけでなく、トップスとしても使え、スタイリング幅が広いのがポイント!
襟元がゆったりとした開き具合なので、インナータンクをチラッと見せることで、バランスがよくなるだけではなく、コントラストがレイヤードのように見え◎
また、袖は長めでボディはスッキリとしたシルエットなのでインナー感覚でも◎
This long sleeve has a casual accent on the front buttons. The atmosphere is completely different from when you close the buttons on a normal cardigan, not only because the buttons are accented, but also because they are arranged at exquisite balance intervals!
Taking advantage of its beautiful silhouette, it can be used not only as a cardigan but also as a top, and the point is that it has a wide styling range!
The collar has a loose opening, so by making the inner tank look glancing, not only will the balance be improved, but the contrast will look like a layered ◎
In addition, the sleeves are long and the body has a neat silhouette, so it feels like an inner ◎
---
---