HOME
HOME
▶
Great item never get OLD
Great item never get OLD

発売から数年、QUADRATOでは珍しいストライプ柄のアイテム。 一際目を惹くアイテムとしてたくさんの方々から注目され、安定の人気アイテムとなったノストラのストライプスカート。 今回の登場分で最後のとなる為、改めてこのストライプスカートにフォーカス。 ずっと前から気にはなっていたこのストライプスカート、でもストライプとなると着回しができないのでは...と思っていた方に是非見ていただきたいのが今回のコンテンツ! 絶妙なカラーと、風合いある生地感、そしてこのシルエット。 今回は、それぞれのシチュエーション別にスタイリングを組んでご紹介。
この全てパーフェクトなストライプスカートを超えるのはなかなか出会えなかったからからこそ数年に渡るロングセラーに! 迷っている方も、すでにお持ちの方も今回のコンテンツで今までのストライプスカートへのイメージが変わります! A few years after its release, this item has a striped pattern, which is rare in QUADRATO. Nostra's striped skirt has become a stable and popular item, attracting attention from many people as an item that stands out. Since this is the last appearance, we will focus on this striped skirt again. This striped skirt has been a concern for a long time, but if you're thinking that you can't mix and match when it comes to stripes, this content is definitely for you! Exquisite color, textured fabric, and this silhouette. This time, we will introduce the styling for each situation.
It's hard to meet all of these perfect striped skirts, so it's a long-selling product for several years! Whether you are wondering or already have one, this content will change your image of striped skirts!
---
NOSTRASANTISSIMA
STRIPE ASYMMETRY SKIRT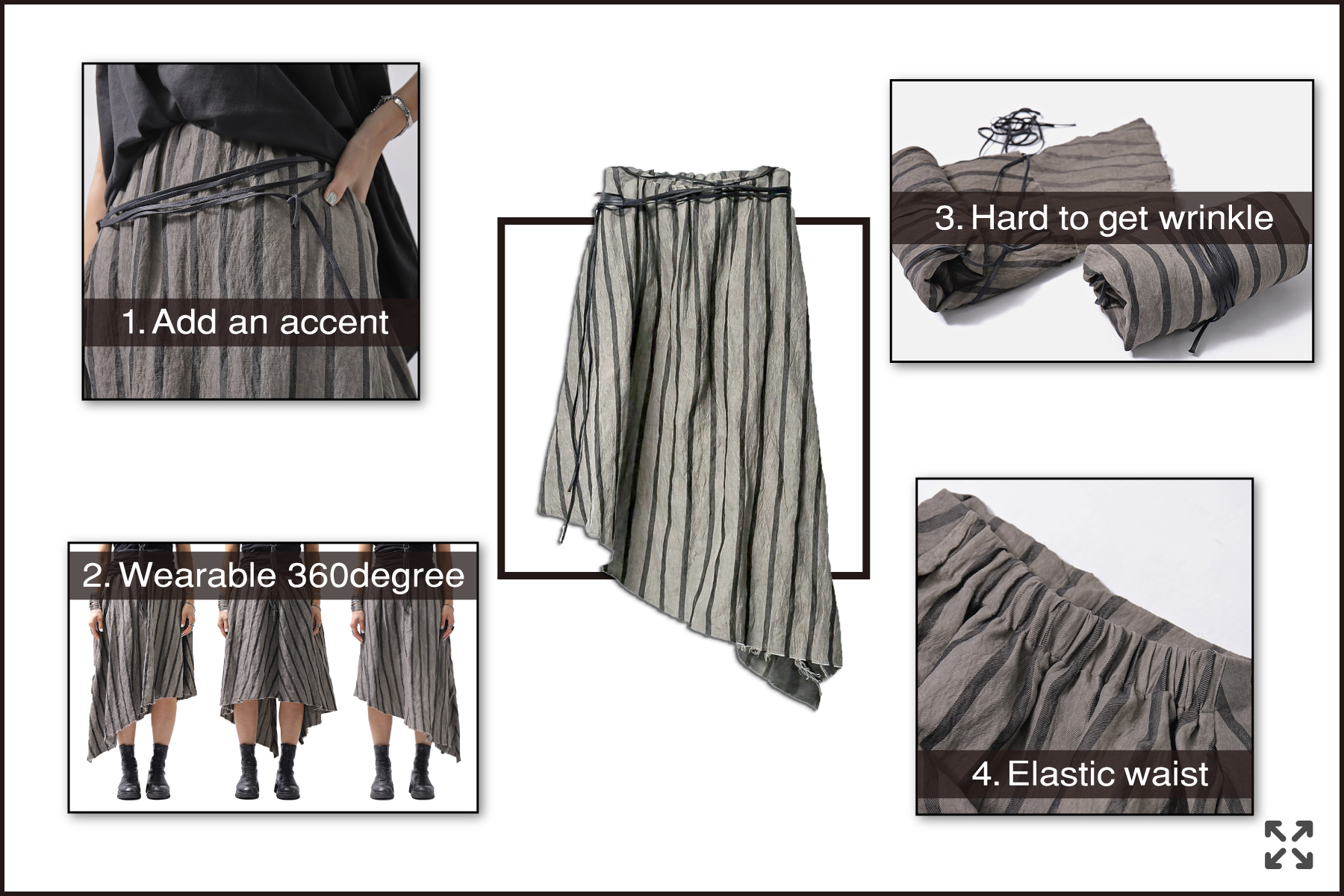 " 1. Add an accent "
柔やかな優しいトーンでありながら、風合いある生地感がCOOLな印象のスカート。 ウェストの内側には、長い平ヒモがついているので、それをグルッグルとベルトのように巻くだけで、締まった印象に! 使わないときには、それぞれ両サイド内側で結んで中にしまっておけば◎
" 2. Wearable 360°degree "
片側アシンメトリーとなったこのシルエット。ウェストゴムを活かし、クルっと回してアシメの位置を変えてもまた違った印象に。 アシメの位置を変えることによって合わせるトップスのシルエットとのバランスがパーフェクトに!
" 3. Hard to get wrinkle "
製品染め洗いされたこの生地は、コットンとカナパと呼ばれる大麻が混合された素材。 この大麻は、通常の麻と比べて耐久性、吸収性が高いのが特徴。 そしてざっくりとした見た目に反して、独自の肌ざわりが気持ち良いのが◎ その大麻の特性を活かした風合いある生地ででクルクルっと丸めてしまえば、シワにもなりにくく扱いやすいのが◎
" 4. Elastic waist "
以前のゴムと比較して、しっかりとしたタイプに変更されたことによって、最大ウェストサイズはそのままにXSの方でもしっかりとゴムウェストでさらにバランスが取りやすい仕様に! 履く腰の位置調整したり、トップスをフロント部分に挟めたりと、一度ゴムウェストタイプを履くとその良さを実感するほど!
" 1. Add an accent "
A skirt with a soft and gentle tone, but with a cool texture. There is a long flat string on the inside of the waist, so just wrap it like a belt and it will give you a tight impression! When not in use, tie them inside both sides and store them inside.
" 2. Wearable 360°degree "
This silhouette is asymmetric on one side. Taking advantage of the waist band, even if you turn it around and change the position, it will give a different impression. Perfect balance with the silhouette of the tops that match by changing the position!
" 3. Hard to get wrinkle "
This dyed and washed fabric is a mixture of cotton and hemp called canapa. This is characterized by its higher durability and absorbency than regular hemp. And contrary to the rough appearance, the unique texture is comfortable ◎ If you roll it up with a textured fabric that makes the best use of the characteristics of cannabis, it will not wrinkle easily and it is easy to handle.
" 4. Elastic waist "
Compared to the previous one, it's been changed to a solid type, so even the XS can firmly balance with the rubber waist while keeping the maximum waist size! By adjusting the position of the waist you wear and putting the tops in the front part, once you wear the rubber waist type, you will realize its goodness!
---
---