HOME
HOME
▶
Only 4, but enough 4!!
Only 4, but enough 4!!

タイトルの通り、「4つだけ、でも4つで十分!」というのが今季のTシャツ。 今からTシャツが活躍するこの時期、余計なものをセレクトせず、絞ったのがこの4型。
ということで、4型それぞれ全く雰囲気もカタチも特徴も違うので、この4型さえあれば間違いなく、十分夏を乗り切れマス! As the title suggests, this season's T-shirts say, "Only four, but four is enough!" At this time when T-shirts are playing an active role from now on, these 4 types are narrowed down without selecting extra ones.
So, the atmosphere, shape, and characteristics of each of the 4 types are completely different, so if you have this 4 type, you will definitely be able to survive the summer!
---
bajra
UNISEX PRINTED TEE 140QK05

WHITEべースに、黒のプリント。 「プリント=カジュアル」というイメージを一掃してくれる、COOLなTシャツとして◎
ジャストサイズで着ても、オーバーサイズで着てもアリ。 また、デザインだけでなく生地薄なのに、黒プリントのおかけで透けにくいのも◎

Black print on WHITE base. As a cool T-shirt that wipes out the image of "print = casual"
You can wear it in just size or oversize. In addition to the design, the fabric is thin, but the black print makes it difficult to see through.

夏の重くなりがちな黒パンツも白ベースのTシャツなら暑苦しい印象にならずに◎ また、黒プリントが全体のカラーバランスを馴染ませてくれるので 黒パンツにはもちろん、白パンツでも相性ヨシ!

Black pants, which tend to be heavy in summer, don't look hot with a white-based T-shirt. ◎ Also, the black print blends in with the overall color balance, so it goes well with white pants as well as black pants!
---
bajra
UNISEX OVERSIZED COTTON TOPS 136QK02

通常のTシャツよりもしっかりとした生地感のオーバーサイズトップスはあえて白ではなくうっすらとIce Greyで。 120%透ける心配も、カラダのラインが出る心配もないこのトップス、一見、生地がしっかりとしている分、暑いのでは?っと思いがちでも、実際はゆったりとしているのでカラダとの間に風を通してくれるのが◎

The oversized tops, which have a firmer texture than regular T-shirts, are not white but slightly Ice Gray. There is no need to worry about 120% see-through or body lines. At first glance, the fabric is solid, so it's hot, isn't it? Even if you tend to think it, it's actually spacious, so it's good to let the wind pass between you and your body.

メンズの方でもパンツとのバランスでサイズ1をチョイスされる方が多いのが このIceGreyのトップス。 ヒザ丈のハーフパンツの相性も良く、オーバーサイズでもまとまった印象に!

This Ice Grey top is the one that many men choose size 1 in balance with their pants. The knee-length shorts go well together, giving the impression of being oversized!
---
bajra
UNISEX OVERSIZED SQUARE TEE 140QK07

人気のIceGreyの型に続いて、BLACKは薄手のTシャツ素材で。 オーバーサイズで黒となると、見た目の暑さも重視し、生地薄に変えただけで、生地のオチ感が変わるので、真夏でも◎

Following the popular Ice Gray model, BLACK is a thin T-shirt material. When it becomes black due to oversize, the heat of appearance is also emphasized, and just changing the fabric to a thinner one will change the punch line of the fabric, so even in the middle of summer ◎

薄手のTシャツ素材で、パンツのフロントに挟んでもゴワつき感がないのがこのトップスの良いところ。 袖もクルっと折り返して、ピン止めしたらオーバーサイズでもスッキリした印象に!

The good thing about this top is that it is made of a thin T-shirt material and does not feel stiff even when sandwiched between the front of the pants. Fold back the sleeves and pin them to give a refreshing impression even if you feel it oversize!
---
bajra
UNISEX OVERLOCK STITCTHED TEE 140QK06

「バジュラ史上、最高の生地のTシャツ」として、今季イチオシのこのTシャツはOFF WHITEで。 伸縮性と肌触りの良さは、手にしたら間違いなく実感できるほど。 シルエットは、スッキリとしたラインで着丈は少し長めに。 さりげない、オーバーロックスティッチが◎

As "the best fabric T-shirt in the history of bajra", this season's recommended T-shirt is OFF WHITE. The elasticity and softness are so good that you can definitely feel it in your hand. The silhouette has a clean line and the length is a little longer. Casual overlock stitch is◎

COOLなパンツの雰囲気を活かすべく、トップスはスッキリとしたシルエットで生地感の良いシンプルTシャツがベスト! 秋冬スタイリングとは対照的に、シンプルにスッキリとさせるのが夏スタイリング!

In order to take advantage of the atmosphere of COOL pants, the best tops are simple T-shirts with a neat silhouette and a good texture! In contrast to autumn / winter styling, summer styling is simple and refreshing!

カジュアルになりがちなハーフパンツも、スッキリとしたシルエットのTシャツと合わせることで、カジュアルな中にもスタイリッシュさも見え◎ 洋服がシンプルな分、足元はブーツや丈感・ボリューム感あるスニーカーでしっかりとまとめるのがQUADRATO世代的にマスト。

Half pants, which tend to be casual, can be paired with a T-shirt with a clean silhouette to make them look stylish even in casual clothes. It is a must for the QUADRATO generation to put together.
---
Primordial is Primitive
ASYMMETRY COTTON TEE 253RO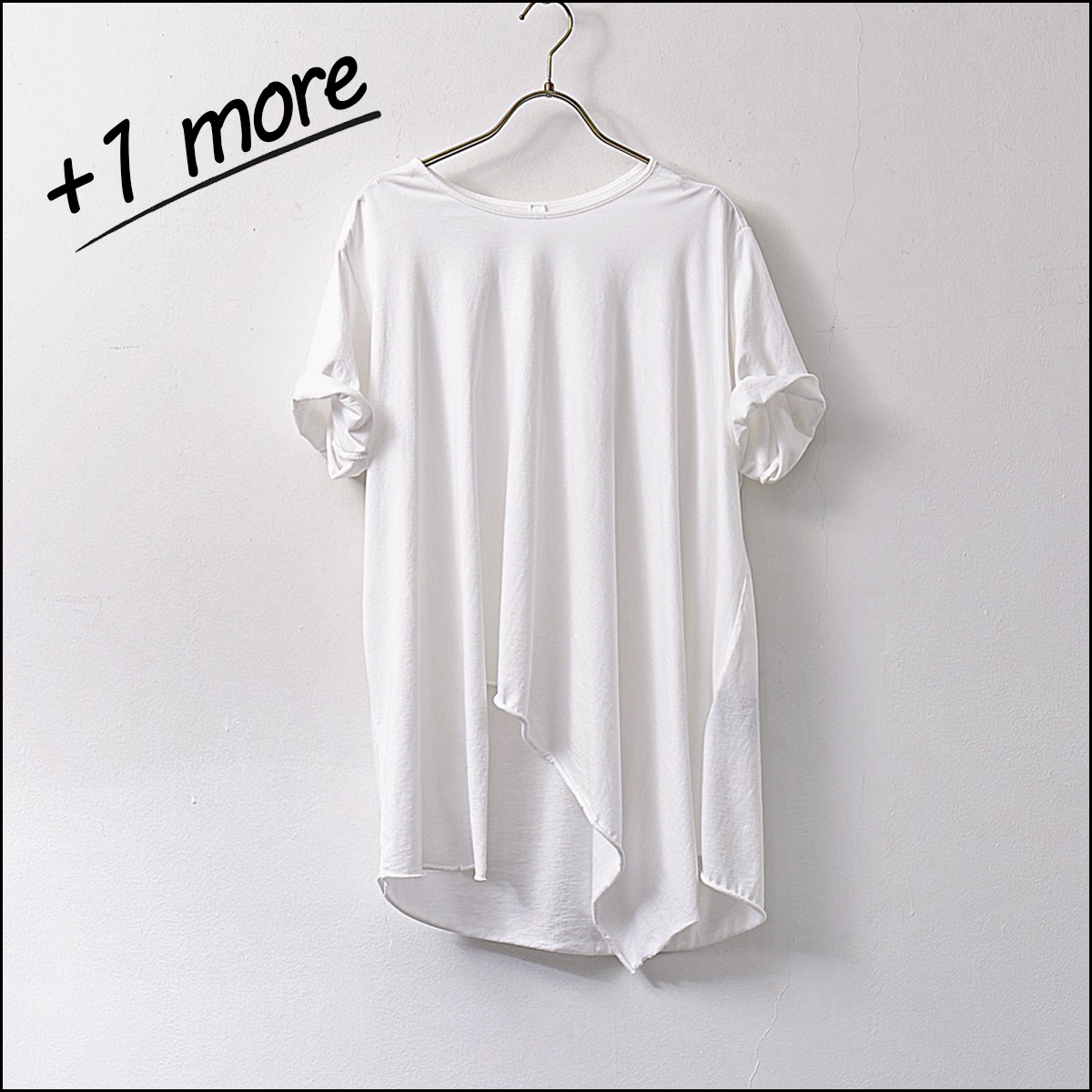 プラスもう一枚!っということならPrimoのアシメTシャツ。ゆったりとした身幅も、サイドへのオチ感がキレイで胸やお腹周りが気になる方でも、問題なく着れるのが◎
Add 1 more! Primo's T-shirt. Even those who are worried about the chest and abdomen with a loose width and a beautiful punch line to the side can wear it without problems◎