HOME
HOME
▶
Easy! Light!! Comfort!!!
Easy! Light!! Comfort!!!

履きやすさとスタイリングのしやすさから夏でもガンガン履くブーツ。 ただ、秋冬もさらに履きたいからこそ、少し使用頻度を下げて休ませるもの長く愛用できるポイントの一つ。 そこで、ブーツの代わりとしてブーツ同様に、レザーの質感と履きやすさ、スタイリングのしやすさから、今季セレクトしたのがPUROのサンダル。 すでに履き始めている方からは、ブーツ同様に履きやすさとスタイリングのしやすさのあるサンダルが、「代打」的存在ではなく夏の一軍バッター的な存在に!という声も!
Boots that can be worn even in the summer because of their ease of wearing and styling. However, because I want to wear it even more in the fall and winter, it is one of the points that I can use habitually for a long time, even if I use it a little less frequently. Therefore, instead of boots, this content focuses on PURO sandals, which were selected this season from the texture of leather, ease of wearing, and ease of styling! Like boots, sandals that are easy to wear and style are not a "pinch hitter", but a summer regular item!
---
PURO
UNISEX LEATHER PUFF VELCRO BELT SANDAL 99740_BLACK/BLACK

UNISEX LEATHER PUFF VELCRO BELT SANDAL 99740_BLACK/WHITE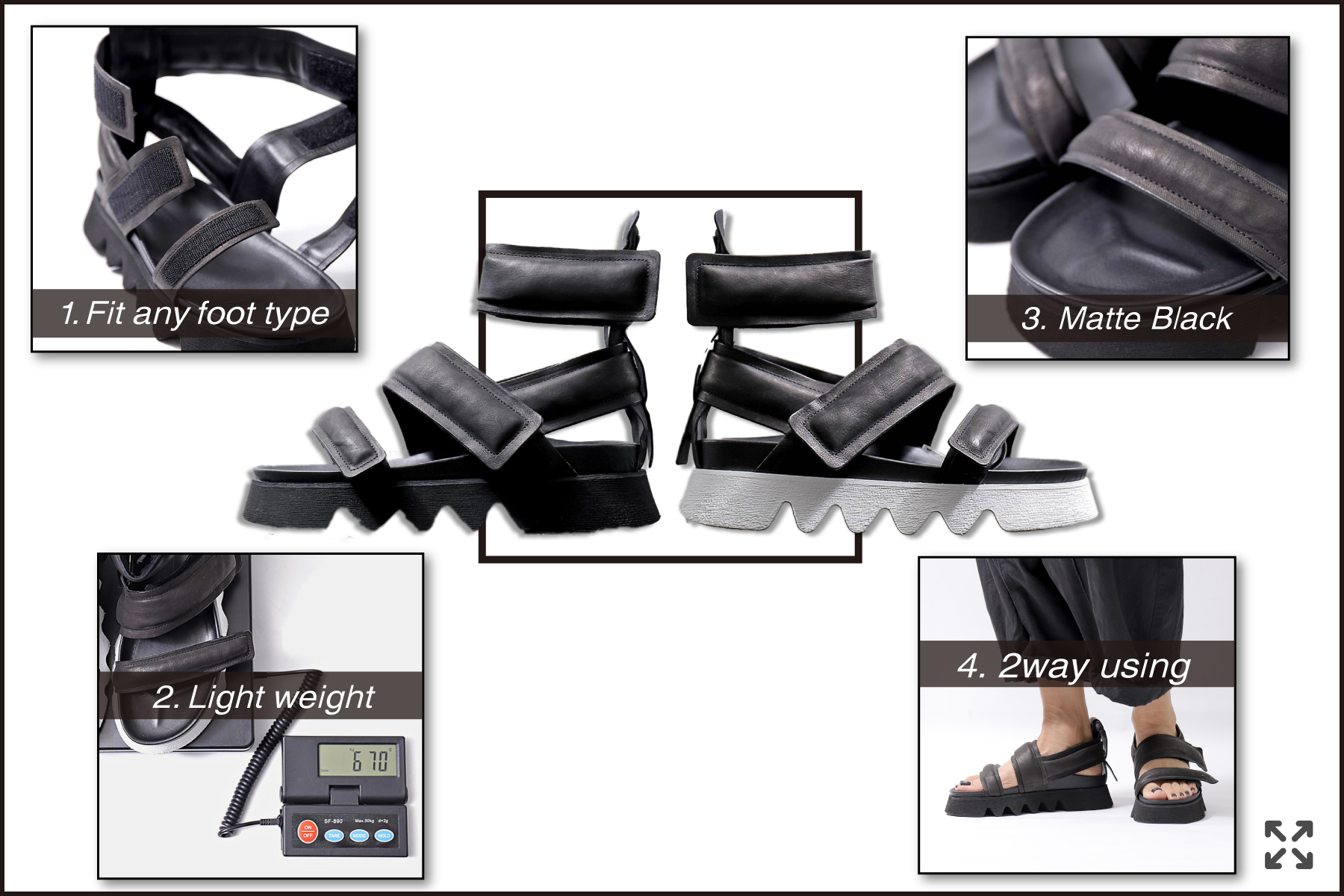 1. どんな足のカタチの方でもフィットするベロクロタイプ!
甲高さん、甲低さんでも、足首ゾウさんでも問題なく履く人の足に合わせて簡単に調整して フィットしてくれるのがベロクロタイプ!
1. Velcro type that fits any shape of foot!
Easy to adjust according to the foot of the person who wears it, whether it is high or low, or thich ankle. The Velcro type fits you anyway!
2. しっかりソールと見た目のボリューム感では想像できない軽量!
すでにご購入いただいた方々から、まずビックリされるのがその軽さ。 一般的に有名コンフォートサンダルブランドのモデルで800-900g(両足)という中、見た目に反してPUROのサンダルは、大きく下回る670g!!!
2. Lightweight that cannot be imagined with a solid sole and a voluminous appearance!
The first thing that surprises people who have already purchased it is its lightness. Generally, the model of the famous comfort sandals brand weighs 800-900g, but the PURO sandals weigh much less than 670g!!!
3. カジュアルすぎない雰囲気は、マットな質感のBLACKレザーにあり!
薄く柔らかく鞣されたレザーは、マットな質感。 そのレザーを活かして、レザーとレザーの間にパフのようなボリューム感あるデザインだからこそCOOLな印象に!
3. The atmosphere that is not too casual is in BLACK leather with a matte texture!
The thin, soft and tanned leather has a matte texture. Taking advantage of the leather, it gives a cool impression because it has a voluminous design like a puff between the leathers!
4. 簡単ストラップをOFFして2wayサンダルにも!
足首のベルトストラップをスッと抜いて、スリポン感覚で履けるサンダルにも早変わり! 足首のベルトを通していたカカトの部分は、内側に折り入れ込むとバランス良し!
4. Turn off the strap and use it as a 2-way sandal!
You can quickly pull out the ankle belt strap and turn it into a sandal that you can wear like a slip-on! The heel part that passed through the ankle belt is well-balanced when folded inward!
---


---


---