HOME
HOME
▶
Switch to DENIM!!!
Switch to DENIM!!!
「いつものトップスやスタイリングアイテムと違和感なく合うウォッシュのデニム」をテーマにbajraと一年以上かけ、何度も何度も加工やシルエットを追求してきたデニム。
発売開始後、すぐに完売となり今回再入荷に合わせて、こだわったデニムのポイントと、いつものアイテムにONして見せるスタイリングをご紹介!
ジャストサイズでスッキリと履くもアリ、ゆったりとしたシルエットで履くも良し。 どのサイズを選んでも、違和感なくいつものスタイリングアイテムとマッチするこのデニムパンツは、ウェストのサイズで選んでた昭和のジーパンから、足周りのシルエットで選ぶ令和のデニムパンツとして永く愛用していただける自信作デス! Denim that has been processed and silhouetted over and over again over a year with bajra under the theme of "washed denim that fits comfortably with the usual tops and styling items".
Introducing the points of denim that we were particular about and the styling that you can turn on to your usual items when it is restocked this time because it is sold out immediately after its release!
You can wear it in just the right size, or you can wear it in a loose silhouette. No matter which size you choose, these denim pants will match your usual styling items without any discomfort, and you can use them for a long time as Reiwa denim pants that you can choose from the Showa jeans that you chose for your waist size and the silhouette around your legs!
---
bajra
UNISEX WASHED STRETCH DENIM PANTS 141QP01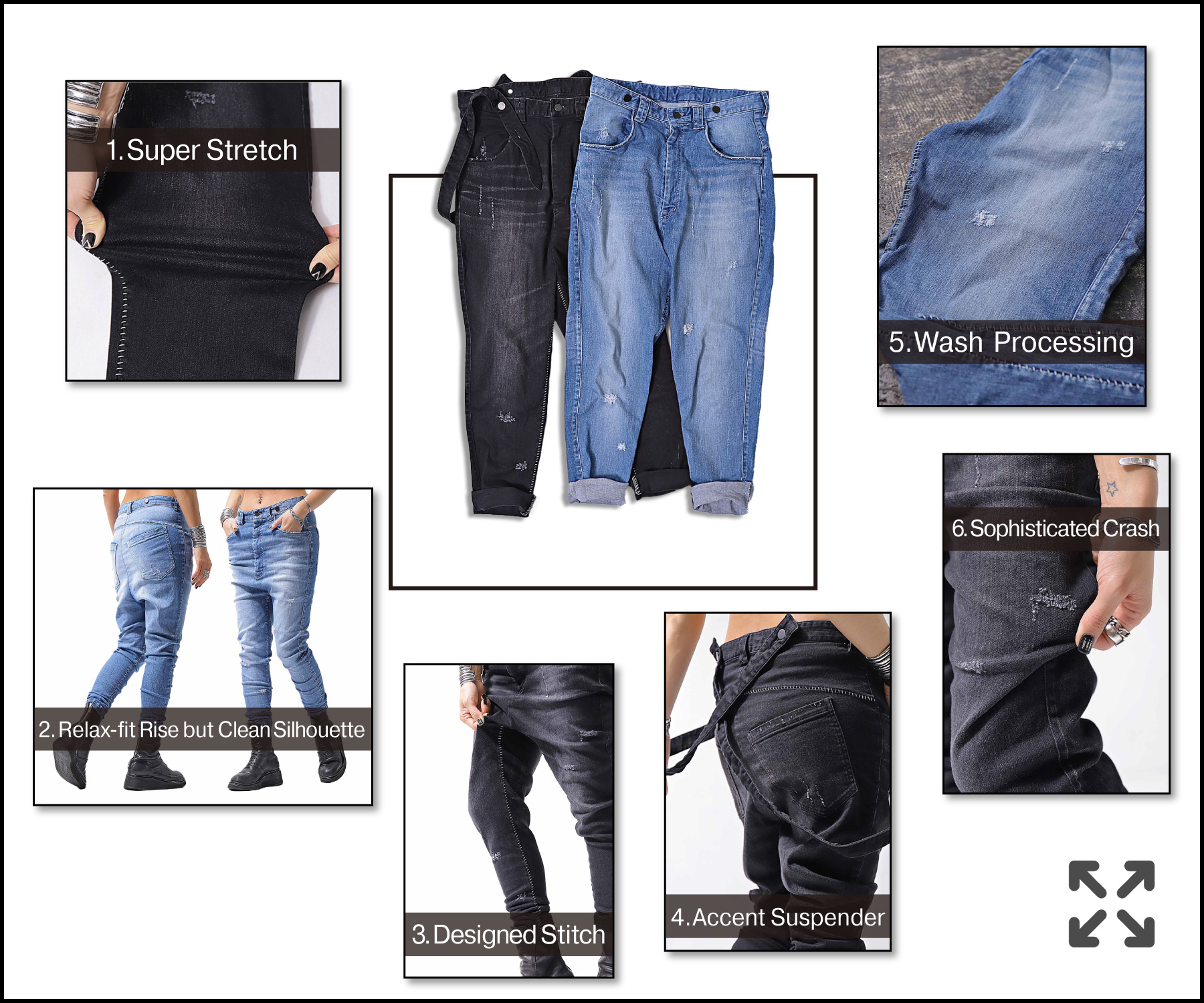 1. " スーパーストレッチ "
ストレッチの効いていないボトムスでは、履き心地や動きやすさが心配となるのはデニムでも同じ。
今回は絶対に譲れなかった一つに、見た目は通常のデニム生地でありながら、しっかりストレッチのあるデニムということ!
1. "Super Stretch"
With non-stretch bottoms, you're worried about comfort and ease of movement.
One of the things I couldn't give up this time is that it looks like a normal denim fabric, but it has a firm stretch!
2. " 程よくサルエルで、スッキリシルエット "
ピタッとした股上や普通の深さでは、ひと昔前の昭和感になってしまい、お気に入りのいつものトップスやアウターとのバランスが良くい理由の一つ。程よいサルエル感が必須条件!
2. " Relax-fit Rise but Clean Silhouette "
With a tight rise and normal depth, it feels like a long time ago, which is one of the reasons why it is well-balanced with your favorite tops and outerwear. A good sense of sarouel is a prerequisite!
3. " デザインの一つにオーバーロックステッチ "
デニムに映えるオーバーロックスティッチは、ありがちなデニムと差をつけるポイントの一つに。 足の内側に沿うようなラインと、ヒップラインにあるのでチラッと見えるアクセントに◎
3. " Designed Stitch "
Overlock stitch that looks good on denim is one of the points that sets it apart from common denim. The line along the inside of the foot and the hip line make it a glimpse of the accent.
4. " アクセントサスペンダー "
取り外し可能なサスペンダー。W使いでも、ワンショルダーでも合わせるトップスとのバランスと合わせて楽しめるのが◎
肩にかけずに垂らしておくだけでもチラッと見えた時の雰囲気は、アリとナシでは一目瞭然!
4. " Accented Suspender "
Detachable suspenders. Even if you use W, you can enjoy it with the balance with the tops that you can match with one shoulder ◎ The atmosphere when you glance at it just by hanging it without hanging it on your shoulder is obvious with or without it!
5. " まさにこの色落ち感!ウォッシュ加工と生地のバランス "
理想の色落ち感が出るデニムと生地として、ジンバブエコットンの12オンスを使用。
このジンバブエコットン、通常のストレッチ生地よりもタテムラ感がキレイに出やすいのが特徴。 そして、岡山の有数の工場の中でも理想のウォッシュ加工を施してくれる工場に出会い完成した色合い!
5. " Wash processing and fabric balance "
12 ounces of Zimbabwe cotton is used for the ideal discolored denim and fabric.
The feature of this Zimbabwe cotton is that it is easier to get a feeling of vertical unevenness than normal stretch fabric. Then, I met a factory that gives the ideal wash processing among the leading factories in Okayama, and the color was completed!
6. " やり過ぎないオトナクラッシュだからこそ、アリ "
カッコイイ履きこなした感がでるクラッシュ。やりすぎたらただの小僧デニムに。 そんな、絶妙なクラッシュを施してオトナクラッシュに!
6. " Sophisticated crash that does not overdo "
A crash that gives you a cool feeling. If you overdo it, it's just a kid's denim. Make such an exquisite Sophisticated crash!
---
" バックドレープのカーキコートとウォッシュデニム。 いつものスタイリッシュな雰囲気のまま、デニムONして作るカジュアルスタイリッシュはまさに合わせたかった組み合わせ! "
" Back drape khaki coat and wash denim. The casual stylish style that you make with denim on while keeping the usual stylish atmosphere is exactly the combination you wanted to match! "

---
" ALL BLACKのスウェットからデニムにシフトすることで、同じ黒アイテムも新鮮な印象に! 楽チンさは、そのままに印象を変えて楽しむ! "
" By shifting from ALL BLACK sweatitems to denim, the same black items will have a fresh impression! Enjoy changing the impression as it is! "

---
" デニムとニット。この組み合わせはいつの時代も間違いナシ! ニットスタイリングのON&OFFとしてデニムは簡単絶対のマストアイテム★ "
" Denim and knit. This combination is always pear! Denim is an easy must-have item for knit styling ON & OFF★ "

---
" スカートでちょっとしたお出かけスタイリングに。 そのままデニムにスイッチしてデイリースタイリングに。 これぞ、ありそうでなかったデニムの使い方! "
" For a little outing styling with a skirt. Switch to denim as it is for daily styling. This is how to use denim, which was unlikely! "