HOME
HOME
▶
Must get! Must need! Nothing is more perfect!
Must get! Must need! Nothing is more perfect!
ついに登場した、強撚綿の半袖トップス。
先シーズンの巨神兵トップス、今季のタンクトップと続き、強撚綿の良さを多くの方に実感していただくことができたこのタイミングで、まさに、集大成的なアイテムとして欲しかった半袖タイプが登場!
今回の半袖タイプは、RUNDHOLZと共に何度もサンプル制作、妥協しないで徹底的にこだわった、今までにありそうでなかった、こんなの待ってた!っという自信しかない、QUADRATO限定の半袖トップスに!
そこで今回は、商品ページでは伝えきれなかったこだわりポイントと合わせて、どんなスタイリングにも合う、コレさえあれば春夏も余裕!というくらい、黒白の両方をゲットして、毎日交互に着て欲しいというくらい印象が変わる様子を同じベースのアイテムにONしてスタイリング印象を比較! The short-sleeved tops made of strong twisted cotton are finally here.
Continuing from last season's God Warriors tops and this season's tank tops, at this time when many people were able to realize the goodness of strong twisted cotton, the short sleeve type that I wanted as a culmination item appeared. !!
For this short-sleeved type, I made many samples with RUNDHOLZ, and I was particular about it without compromise. It was unlikely until now, I've been waiting for this! QUADRATO limited short-sleeved tops with only confidence!
Therefore, this time, along with the particular points that could not be conveyed on the product page, it suits any styling, and if you have this, you can afford spring and summer! So, get both black and white, and compare the styling impressions by turning on the same base item to change the impression that you want to wear it alternately every day!
---
RUNDHOLZ
UNISEX OVERSIZED BACK DRAPE STRONG TWIST COTTON HALF SLEEVE TOPS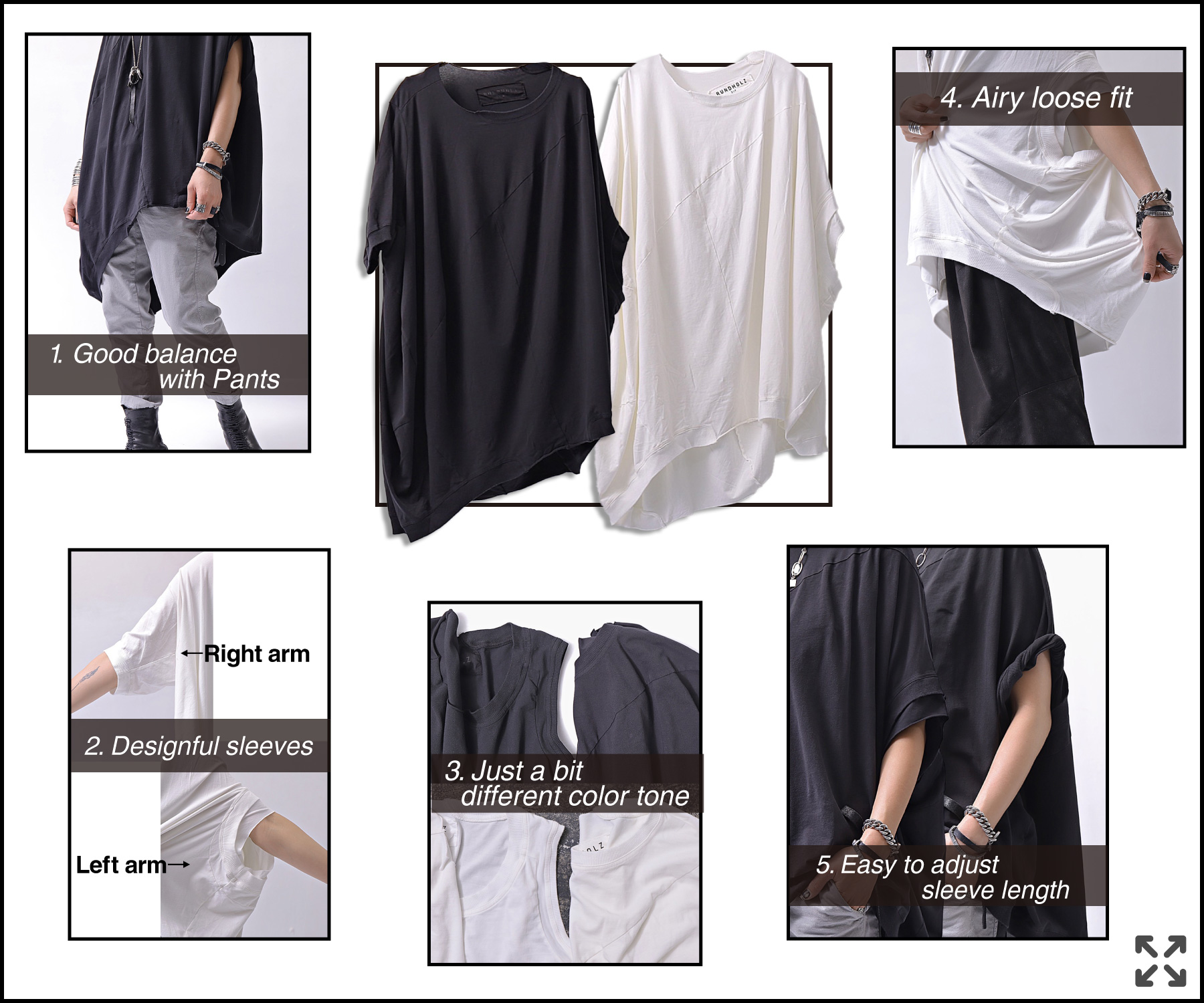 1. フロントのアシメがパンツスタイリングにもバランス良い丈感!
ゆったりとしたシルエットのトップスの場合、合わせるパンツによっては、ボテッとした印象になりがち。
でも、フロントサイドがスッキリとした丈感なので、身長が低い方はもちろん、どんなパンツと合わせてもバランス良くなるのが◎
1. The asymmetrical silhouette on the front is well-balanced for pants styling!
Loose silhouette tops tend to give a sloppy impression, depending on the pants you wear.
However, the front side has a neat length, so it's good to have a good balance with any pants, not to mention those who are short.
2. 袖口のリブ&切りっぱなしのレイヤード風がシンプルな中にもデザイン性を!
半袖になると目に入りやすくなる袖口周り。
その袖口を活かしたデザインはやりすぎず、シンプル過ぎない、飽きのこないチョイアクセントデザインで!
2. The ribbed cuffs and the layered style that has been cut are simple yet designable!
Around the cuffs that are easy to see when it comes to short sleeves.
The design that makes use of the cuffs is not overkill, not too simple, with a timeless accent design!
3. カタチも用途も違うから同じ強撚綿シリーズでもタンクトップとは1トーン変えて!
タンクトップと半袖トップスでは、合わせ方も使い勝手も全く違うモノ。
だからこそ、黒と白、それぞれトーンを変えることで色の合わせやすさが増す!
3. The shape and usage are different, so even with the same strong twist cotton series, change one tone from the tank top!
Tunk tops and short-sleeved tops are completely different in terms of matching and usability.
That's why changing the tone of black and white makes it easier to match colors!
4. ゆったりシルエットを活かして、真夏も快適なトップスに!
強撚綿のサラッとした肌触りはもちろん、ゆったりシルエットで汗をかいても体にピタッとつきにくい!
通気性もよく、真夏でもインナーとの間に風を通して快適に!
4. Tops that are comfortable even in the middle of summer, taking advantage of the airy loose silhouette!
Not only does it have a smooth feel with strong twisted cotton, but it also has a loose silhouette that makes it hard to stick to your body even if you sweat!
It has good breathability, and even in the middle of summer, it is comfortable to let the wind through between the inner and the inner!
5. 二の腕を出したくない人も、出したい人にもパーフェクトな袖丈!
ちょっと手を上げたら腕が出てしまうようなギリギリの袖丈より安心の五分袖に。
逆に暑がりさんや、スッキリ腕を出したい方は、クルっと袖を折り返せば◎ 落ちてこないように商品タグついている安全ピンを活用して留めても◎
5. Perfect sleeve length for those who don't want to put out their upper arms and those who want to put them out!
For a half-sleeve that is safer than the sleeve length that the arm will come out if you raise your hand a little.
On the other hand, if you are hot or want to get your arms out, just fold back your sleeves. Even if you use the safety pin with the product tag to prevent it from falling ◎
---


スッキリパンツとの合わせだから、黒のゆったりトップスでも重苦しくない!
アイテムの良さがそれぞれ惹き立つ組み合わせに!

Because it is combined with refreshing pants, it is not heavy even with loose black tops!
In a combination that brings out the goodness of each item!
---
全身BLACKでも、フロントアシメの短い部分からチラッと見えるインナータンクの白で重くならない印象に◎

Even with the whole body BLACK, the white inner tank that can be seen from the short part of the front asymmetry gives the impression that it does not become heavy.
---
大人気の2wayパンツワンピをベースに。レギンスをINしてサンダルを合わせれば5月の暖かい日からすぐに取り入れられるスタイリング!
まだまだ使えるシーズンレスのbajraのカーディガンも忘れずに!

Based on the popular 2way pants dress. If you put in leggings and put on sandals, you can get styling right away from the warm days of May!
Don't forget the seasonless bajra cardigan that you can still use!

オールBLACKでも、足元で軽さを出して◎
オチ感のあるゆったりとしたボトムラインとトップスのゆったりラインでも、フロントのアシメのラインでスッキリする!

Even with all BLACK, put out lightness at your feet◎
Even with a loose bottom line and a loose top line, the front asymmetry line makes it refreshing!

白トップスと合わせることで、ワンピ&カーディガンのシルエットがさらにキレイに見えるのが◎
全体的にゆったりシルエットでも、ボリュームの出ないオチ感があるものだからスッキリとしてくれる!

By matching with white tops, the silhouette of dress and cardigan looks even more beautiful◎
Even if it has a loose silhouette as a whole, it will be refreshing because it has a line feeling that does not produce volume!
---
BLACK on BLACKのどちらもゆったりスタイリングの時には、ワンショルダーとトップスのしなやかさを活かしてメリハリバランスに!

For a loose styling of BLACK on BLACK, take advantage of the suppleness of the one-shoulder and tops for a sharp balance!
---