HOME
HOME
▶
Hot summer, Cool jacket
Hot summer, Cool jacket
「ストレッチがしっかりと効いて、汗をかいても肌につかいないサラッとしたドライな肌触り」
この数年で夏には欠かせない素材として、今では夏の人気NO.1を誇るプリモの"TA"素材。
そのTA素材シリーズに、今年はあの大人気となったカーディガンジャケットのモデルが登場!
今回は、Deep Beigeをベースに製品染めによって絶妙な色味で人気のFANGOにフォーカスし、アイテムのベスト4ポイントと合わせて、4つの異なる雰囲気のスタイリングをご紹介!

メンズ・レディースともに、人気のカーディガンジャケット。
そのカーディガンジャケットに夏の人気No.1のTA素材で、最強アイテムです! "Stretch works well, and it feels smooth and dry even if you sweat a lot."
As an indispensable material for summer in the last few years, Primo's "TA" material is now the most popular summer material.
In the TA material series, a model of that popular cardigan jacket has arrived this year!
This time, we will focus on FANGO, which is popular for its exquisite color by dyeing products based on Deep Beige, and introduce 4different atmosphere styling together with the best 4points of the item!

A popular cardigan jacket for both men and women.
The cardigan jacket is made of the most popular summer TA material, so it's the best item!
---
Primordial is Primitive
UNISEX STRETCHED CARDIGAN JACKET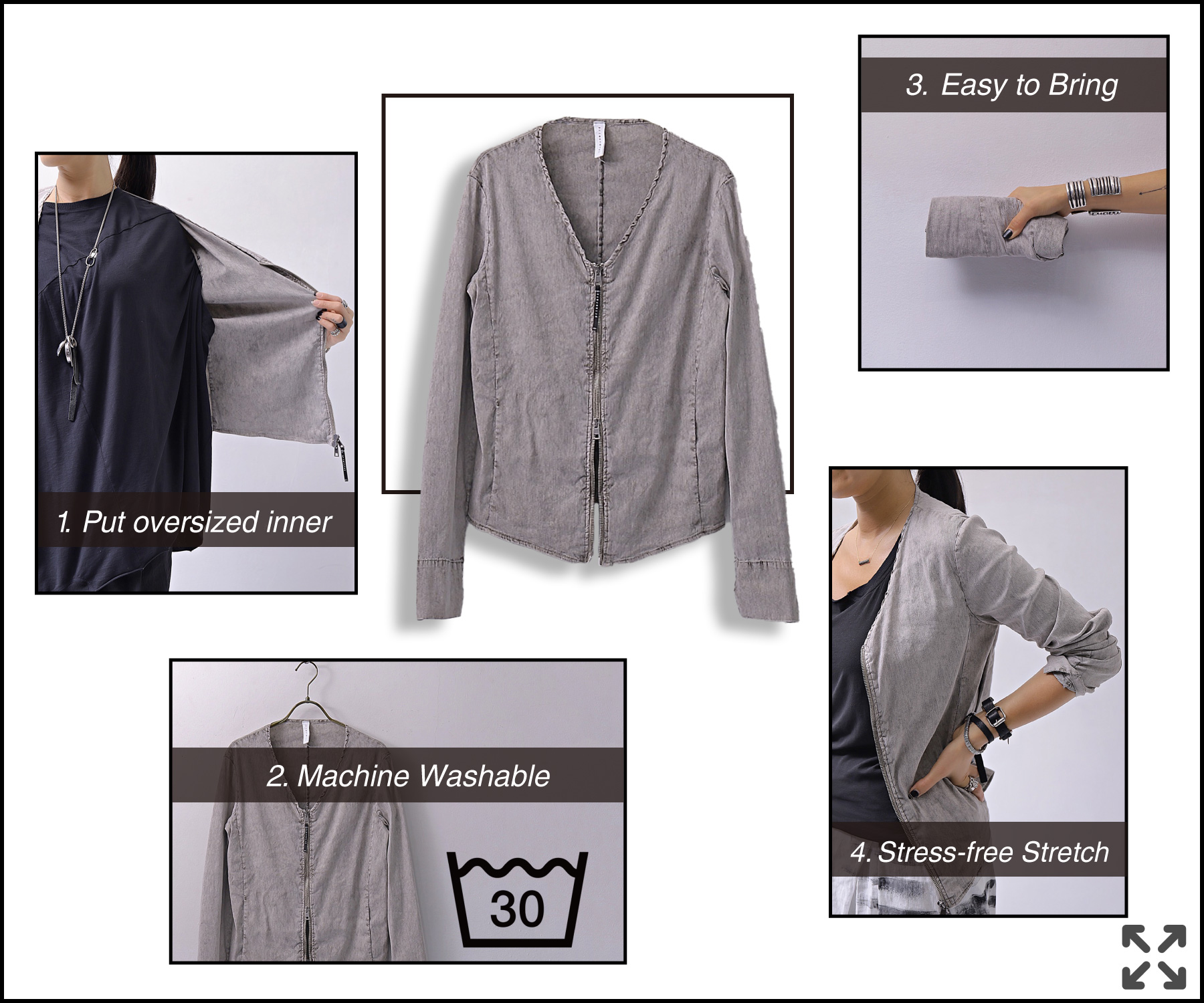 " 1. Put oversized inner 万能羽織りとしてゆったりオーバーサイズのトップスの上からでも◎ "
万能羽織りとしてゆったりオーバーサイズのトップスの上からでも◎
オーバーサイズのトップスの上からでは、厳しいかも?っと思いがち。でも意外とゆったりトップスの上からでも着れてしまう!
もちろん、フロントジップは閉めずに開けておくことが条件デス!
" 2. Machine Washable 汗やデオドラントのシミの心配なし!自宅で気軽にお洗濯! "
夏の暑さで汗をかいて首周りに汗シミが残ったり、特に女性はノースリーブの上から着用した際にデオドラントが付着して汗同様にシミや変色にならないか心配?
トップス同様にお洗濯できるのでご安心を!
" 3. Easy to Bring くるくるっと丸めてカバンIN!持ち運びもかさばらない! "
夏の室内のエアコン対策には必須の羽織り。でも、外出先での持ち運びにかさばったり重いものはNG!
このカーディガンジャケット、全くもってそんな心配は必要なし!
軽くてかさばらない、でもちゃんと着た時の着用感がある!コレ大事!
" 4. Stress-free Stretch スッキリアームのシルエットでも問題なしのストレッチ! "
ロンT感覚で着れてしまうほどのストレッチ素材。
スウェード調のHA素材の時よりもさらにストレッチが効いているので、動きやすさはまさにストレスフリー!
" 1. Put oversized inner ~As a versatile haori, even wear on a loose oversized top◎~"
From the top of oversized tops, may it be tight? But surprisingly, you can wear it comfortably even on the oversized tops!
Of course, you should open the front zip with wearing it!
" 2. Machine Washable ~No worries about sweat or deodorant stains! Washable at home!~"
Are you worried about get sweat stains around your neck, and especially for women, when worn over a sleeveless shirt, deodorant may adhere to them and cause stains or discoloration similar to sweat?
Rest assured that you can wash it just like tops!
" 3. Easy to Bring ~Roll it up and put it in your bag! Not bulky to carry!~"
A haori that is indispensable for indoor air conditioning measures in summer. However, don't use bulky and heavy one to carry on the go!
You don't have to worry about that in this cardigan jacket at all!
It's light and not bulky, but it feels good to wear! This is important!
" 4. Stress-free Stretch ~Stretching without problems even with a clean arm silhouette!~"
Stretch material that you can wear like tees.
The stretch is even more effective than when using suede-like "HA" material, so the ease of movement is truly stress-free!
---