HOME
HOME
▶
Hot Summer, Hot Sandal
Hot Summer, Hot Sandal
今年の夏の3か月予報が発表され、猛暑が長びくと言われた今週。
そこで今回は、スタイリングも暑さ対策も左右する足元にフォーカス!
以前大好評だったのが、サンダルとブーツでスタイリング比較をしたコンテンツ。
その後リクエストがあった、全く雰囲気の異なるサンダルでのスタイリング比較を、今回もベーススタイリングは同じでも、足元を変えるだけで全体の雰囲気が全く違ったスタイリングを楽しめるパターンに!
今年の夏は、暑さが続くからこそサンダルの当たり年です! This week, when the three-month forecast for this summer was announced, it was said that the heat wave would be prolonged.
Therefore, this time, we will focus on the foot wear, which affect both styling and measures against heat!
Previously, the content that was very popular was a styling comparison between sandals and boots.
After that, we compared the styling with sandals with completely different atmospheres, and this time we made a pattern that you can enjoy styling with a completely different atmosphere just by changing your feet, even if the base styling is the same!
This summer is a hit year for sandals because of the continued heat!
---
PALOMA BARCELO
CROCHET ANKLE TIE WEDGE SANDAL_CLAIRE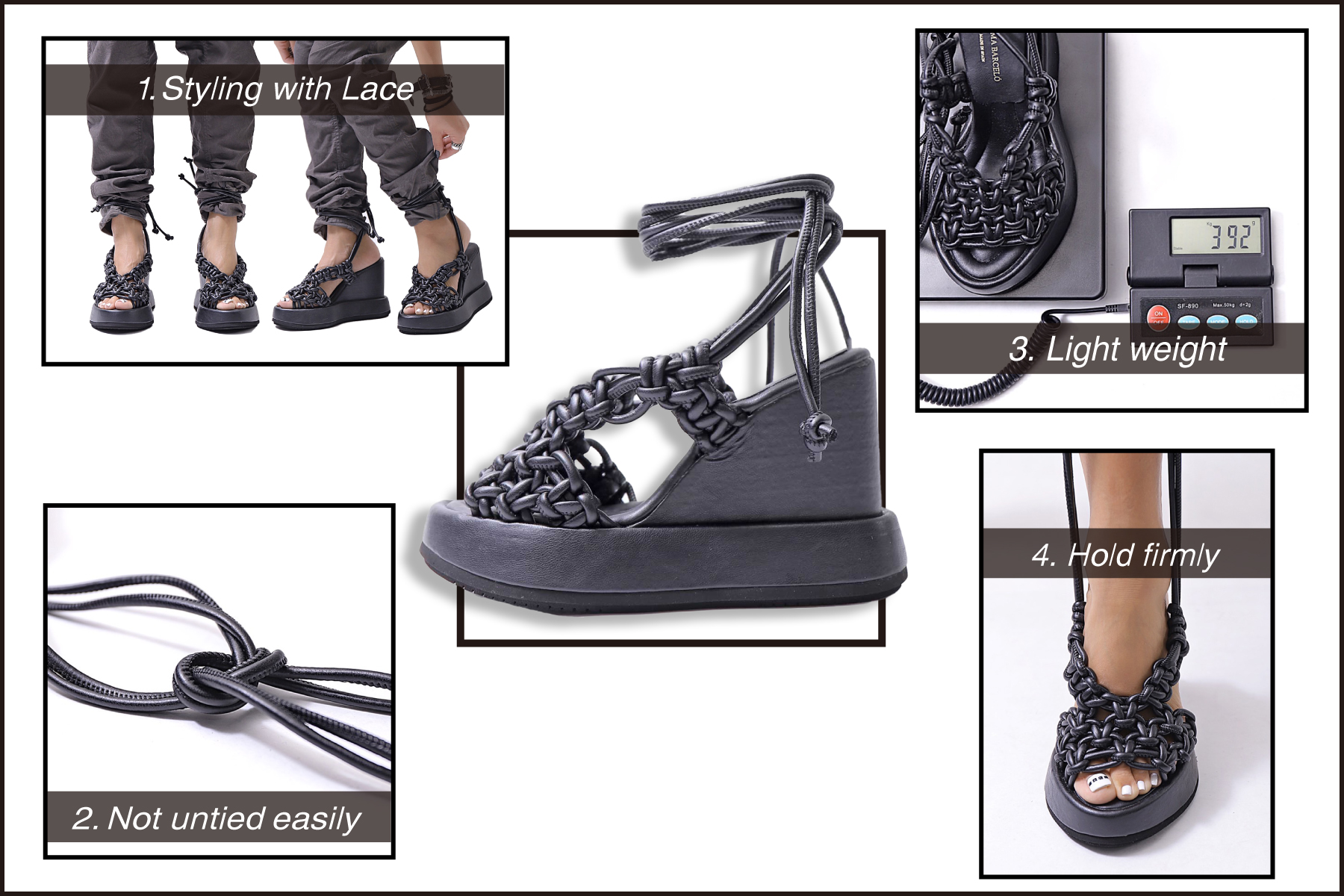 1. サンダルのアンクル紐を使ってパンツをアレンジ!
フルレングスのパンツの裾に、解けにくい紐を活かしてクルクルっと巻きつけて新しいアレンジに!
1. Style pants with ankle straps on sandals!
Make a new arrangement by wrapping the hem of full-length pants with a cord that is hard to unravel.
2. 解けにくく、クッション性ある紐で安心!
紐の中に中綿の入ったタイプのものを使用。
見た目にも雰囲気が出るこのタイプの紐は手が込んだ職人の技術が光る箇所でもアル!
2. Hard to untie and is safe with a cushioned string!
Use the type with batting in the cord.
This type of cord, which gives an atmosphere to the appearance, shines with elaborate craftsmanship!
3. 見た目に反して意外と軽いウェッジサンダル!
履いた人がまず言うのが、全く重くない!っということ!
ブーツに慣れている人でも、素足で履くサンダルでは軽さはとても重要なポイント!
3. Wedge sandals that are surprisingly light weight!
The first thing people who wear it say is that it's not heavy at all!
Even for those who are accustomed to boots, lightness is a very important point for sandals worn with bare feet!
4. しっかり足をホールドすることで安定感もさらにプラス!
デザイン性だけでなく、サイドから甲を包み込むようにしてしっかりホールド!
中綿の入ったレザーコードで編み込んでいるので、直接肌にあたってもクッション性があるので痛くないのが◎
4. By holding your foot firmly, you can feel more stable!
Not only the design, but also hold firmly by wrapping the instep from the side!
Since it is woven with a leather cord containing batting, it has cushioning properties even when it comes in direct contact with the skin, so it does not hurt◎
---
PURO
UNISEX LEATHER PUFF VELCRO BELT SANDAL 99740_BLACK/WHITE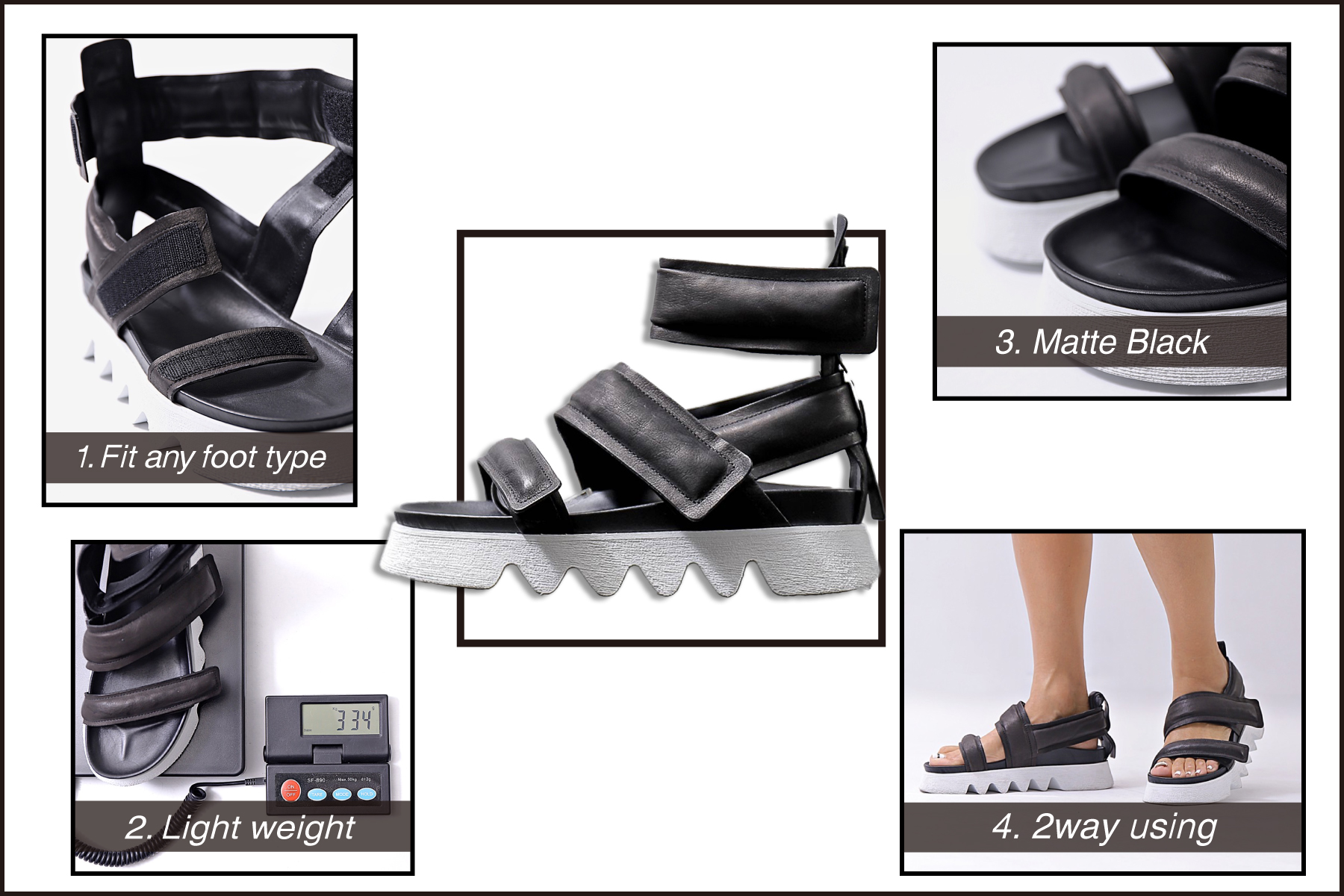 1. どんな足のカタチの方でもフィットするベロクロタイプ!
甲高さん、甲低さんでも、足首ゾウさんでも問題なく履く人の足に合わせて簡単に調整してフィットしてくれるのがベロクロタイプ!
1. Velcro type that fits any shape of foot!
Easy to adjust according to the foot of the person who wears it, whether it is high or low, or thich ankle. The Velcro type fits you anyway!
2. しっかりソールと見た目のボリューム感では想像できない軽量!
すでにご購入いただいた方々から、まずビックリされるのがその軽さ。
一般的に有名コンフォートサンダルブランドのモデルで400-500g(片足)という中、見た目に反してPUROのサンダルは、大きく下回る334g!!!
2. Lightweight that cannot be imagined with a solid sole and a voluminous appearance!
The first thing that surprises people who have already purchased it is its lightness. Generally, the model of the famous comfort sandal brand weight 400-500g, but the PURO sandals weight is 334g!!!
3. カジュアルすぎない雰囲気は、マットな質感のBLACKレザーにあり!
薄く柔らかく鞣されたレザーは、マットな質感。
そのレザーを活かして、レザーとレザーの間にパフのようなボリューム感あるデザインだからこそCOOLな印象に!
3. The atmosphere that is not too casual is in BLACK leather with a matte texture!
The thin, soft and tanned leather has a matte texture. Taking advantage of the leather, it gives a cool impression because it has a voluminous design like a puff between the leathers!
4. 簡単ストラップをOFFして2wayサンダルにも!
足首のベルトストラップをスッと抜いて、スリッポン感覚で履けるサンダルにも早変わり!
足首のベルトを通していたカカトの部分は、内側に折り入れ込むとバランス良し!
4. Turn off the strap and use it as a 2-way sandal!
You can quickly pull out the ankle belt strap and turn it into a sandal that you can wear like a slip-on! The heel part that passed through the ankle belt is well-balanced when folded inward!
---
白のパンツと黒のトップスのテッパンコンビ。
パンツの黒プリントが黒トップスとリンクしてさらにバランス良くまとまった印象に!
トップスはフロントドレープとは逆の方をパンツに挟み込むだけで、身長が低い方でもバランス良くなるのがポイント!

Timeless combination of white pants and black tops.
The black print on the pants is linked to the black tops for a more well-balanced impression!
The point is that the tops can be well-balanced even for short stature by simply sandwiching the opposite side of the front drape between the pants!
---
---
---
夏のグレーススタイリングとして使えるロングシャツをメインに。
今回はインナーTシャツにはBLACKをINしてエッジーな印象に。
白をチョイスしてもボヤっとした印象にならず、爽やかな印象に!

Mainly long shirts that can be used as summer grace styling.
This time, I put BLACK on the inner T-shirt to give it an edgy impression.
Even if you choose white, it doesn't give a dull impression, but a refreshing impression!