HOME
HOME
▶
The rule of my accessories
The rule of my accessories
以前から相談やお問合せをいただくワタシのアクセサリー達。
この数日間で一気にその数も増え、合わせてアクセサリー人気が高くなってきました!
1つ手にして、その後買い足しをしていくうちに、見えてくる自分の理想のバランス。
でも最初は、どの指がいいか?どの組み合せバランスがいいか?って悩んでしまうもの。
そこで、今回はワタシがずっと身に着けている中で見えてきた"ワタシのアクセサリーのルール"をご紹介!
以前からアクセサリーは気になってるけど、欲しい洋服もいっぱいあってなかなかアクセサリーまで手が出せない…という方、アレもコレもと洋服を買い足すのではなく、今年の夏はアクセサリーをしっかりと揃えてみては? My accessories that I have been consulting and inquiring about for a long time.
In the last few days, the number has increased at a stretch, and accessories have become more popular!
As you get one and then buy more, you can see your ideal balance.
But at first, which finger is better? Which combination balance is good? Things that bother me.
So, this time, I would like to introduce the "rules of my accessories" that I have been able to see while wearing them all the time!
For those who have been interested in accessories for a long time, but have a lot of clothes they want and can't get their hands on them ... How about watching?
---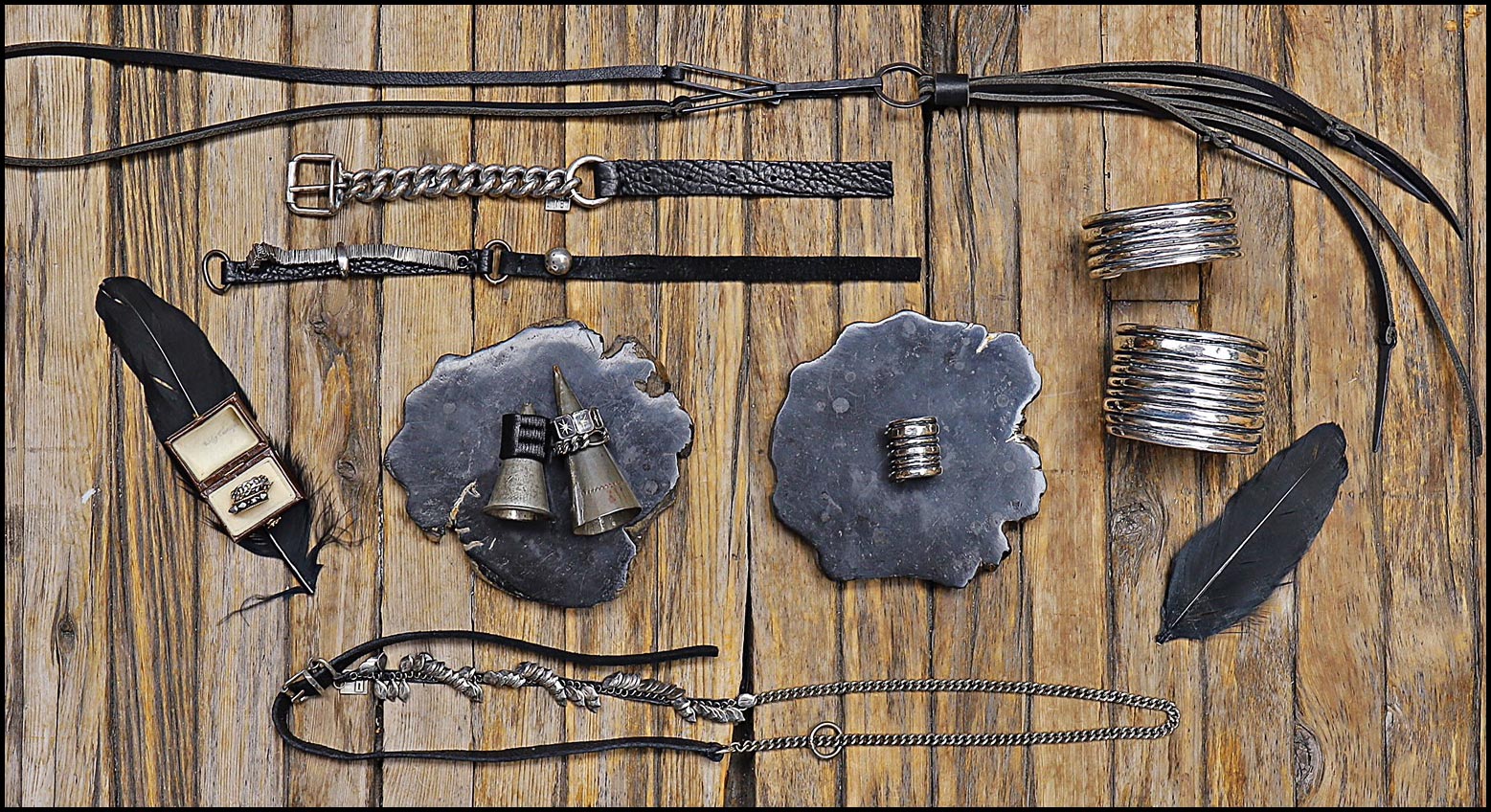 Rule.1 "白トップスのときは絶対にAumorfiaのレザー&スパイクネックレスで!"
ボヤっとしがちな白やグレー、カーキなど黒以外のトップスには絶対にこのネックレス!
コレがあるとないとでは、ホントにスタイリングがキマルかどうかに差がつく!
そして、何よりカジュアルでもキレイ目系でも、エッジを効かせた攻めのスタイリングでもとにかくコレが合う!
今年で4年目のこのネックレス、まだまだこれを超えるレザーネックレスには出会えない!
Rule.2 "黒トップスにはシルバーベースのネックレスがワタシの定番に"
ずっとこのGOTIのシルバーネックレスに出会うまで、黒トップスでもAumorfiaのネックレスをしていて、もちろんどのスタイリングにも合うし良いかなと思っていたけど、黒on黒でせっかくのネックレスが活かせてない…って思っているところに、このGOTIのシルバーネックレスシリーズに出会い、今では黒トップスには映えるシルバーベースのGOTI派に!
Rule.3 "左手はレザーアイテムをメインに、レザーリングとレザーブレスでバランス良くリンク!"
右手とは対照的に、左手はレザーとシルバーのバランスを重視した重ね付けを楽しんでます。
チャンスを引き寄せ、願いを叶えるとされる指としてピンキーは左手の小指に。
人差し指には積極性を高め、目標に向かって前向きに進む力をもたらしてくれるポジティブリングとして。
そして、どちらもダイヤが入ったものを。
もちろん、華奢なダイヤのリングじゃなくてカッコイイダイヤのリングで! 失くさないように、シルバーのリングと重ねて付けして抜けないように安全対策をしつつ、ブレスレットとのリンクも!
Rule.4 "右にはシルバーONLY。大ぶりアイテムだからこそ、余計なものはつけない!"
今ではこの大小のバングルをダブルでつけないと落ち着かない!っていうくらいワタシのアイコン的な右手のバングル。リングも大ぶりを一つだけ。
その方が、存在感とアクセサリーの良さが惹き立つんです!
最近は、このCOILシリーズをメインにつけてますが、ワタシの太バングルの始まりは、FOLDシリーズで今でも大切なアイテム。
たまに、COILシリーズとも組み合わせてつけてます!
Rule.1 "Aumorfia leather and spike necklace for white tops!"
This necklace is definitely for tops other than black, such as white, grey, and khaki, which tend to be dull!
With or without this, it really makes a difference whether the styling is Kimaru or not!
And above all, whether it's casual or beautiful, or aggressive styling with an edge, this suits you anyway!
This is the 4th year of this necklace, and I still can't find a leather necklace that exceeds this!
Rule.2 "Silver-based necklace on black tops is my staple"
Until I came across this GOTI silver necklace, I was wearing an Aumorfia necklace even with black tops, and of course I thought it would be good for any styling, but I couldn't make the most of the black on black necklace ... Where I was thinking, I came across this GOTI silver necklace series, and now I am a silver-based GOTI sect that looks great on black tops!
Rule.3 "Left hand, mainly leather items for a well-balanced link!"
In contrast to the right hand, the left hand enjoys layering with an emphasis on the balance of leather and silver.
Pinky is the little finger of the left hand as a finger that attracts chances and is said to grant wishes.
As a positive ring that enhances the positiveness of the index finger and gives the power to move forward toward the goal.
And both have diamonds in them.
Of course, not a delicate diamond ring, but a cool diamond ring! To prevent it from being lost, attach it to the silver ring to prevent it from coming off, and also link it to the bracelet!
Rule.4 "ONLY Silver on the right. Because it's a large item, don't add anything extra!"
Now I can't settle down unless I double-attach these big and small bangles! My iconic right-handed bangle. Only one large ring.
That way, the presence and the goodness of the accessories stand out!
Recently, I mainly attach this COIL series, but the beginning of my thick bangle is still an important item in the FOLD series.
Occasionally, I also wear it in combination with the COIL series!
---
" ひとつでサマになるのが大ぶりロングリング "

おススメのつけ指は、人指し指と中指。
人指し指なら、薬指にリングを足しても他のリングとのバランスも良し!
シンプルにいくなら中指がベスト。

" A large long ring that makes you look cool with just one "

The recommended fingers are the index finger and the middle finger.
With the index finger, even if you add a ring to the ring finger, the balance with other rings is good!
The middle finger is the best if you want to keep it simple.
---
" 複数付でもバランスがとりやすいのがミドルリング "

普段リングをあまりつけていない方でも違和感なく馴染むこのサイズがベスト!
男性なら、小指にピンキーリングとしてもバランス良くてカッコイイ!と、店頭ではこのミドルサイズをピンキーリングにしている方が多いデス!

" The middle ring is easy to balance with other finger rings "

This size is the best, so even those who don't usually wear rings will feel comfortable with it!
For men, it's well-balanced and cool as a pinky ring on the little finger! And, at the store, there are many people who use this middle size as a pinky ring!
---
" 大切なリングを失くさない様に重ね付けして守りつつ、小洒落感を出す! "

お気に入りのリングや、サイズがちょっと大きく感じるリングをそのままつけるより、チェーンリングでしっかりホールドしつつ、重ね着けをしてカッコよく見せるのが◎
このチェーンリングなら、どんなリングとの重ね付けしても合わせやすく、むしろ重ね着けすることでお気に入りのリングもより惹き立ちます!

" While protecting the precious ring by layering it so as not to lose it, it gives a sense of fashion! "

Rather than just attaching your favorite ring or a ring that feels a little big in size, it is better to hold it firmly with a chain ring and layer it to make it look cool.
This chainring is easy to match with any ring, but rather it makes your favorite ring even more attractive!
---
" プライスの良さと、抜群の存在感で手が出しやすいレザーリング! "

黒ベースのお洋服が多いなら絶対に身に着けて欲しいのが、レザーリング。
1つでも、十分なほど存在感があるのに、洋服に馴染みやすいので浮いた感じにならない!
中指ならシルバーチューブリングがおススメ。
薬指や、人指し指ならスティッチリング。このスティッチリング、立体感ある刺繍のようなスティッチが◎
薬指と人差し指に、2個着けでもやりすぎないバランスで◎

" A leather ring that is good price to get and outstanding presence! "

If you have a lot of black-based clothes, you definitely want to wear a leather ring.
Even one has enough presence, but it's easy to get used to clothes, so it doesn't feel like it's floating!
Silver tube ring is recommended for the middle finger.
Stitch ring for ring finger and index finger. This stitch ring, a three-dimensional embroidery-like stitch◎
With a balance that does not overdo it even if you wear two on the ring finger and index finger◎