HOME
HOME
▶
Bring Summer to Autumn by new Denim JK!
Bring Summer to Autumn by new Denim JK!
発売開始一晩で50枚近く売り上げたデニムジャケット!
コンテンツで、こだわりのポイントやスタイリングをしっかりとご紹介する前に、多くの方々に手にしていただき、ウレシさと共にとてもビックリしてます!
皆さま、本当にありがとうございます!
そこで今回は、発売時にはお伝えしきれなかったこのデニムジャケットのこだわりポイントをしっかりとお伝えします!
そして、BLACK WashとBLUE Washどちらも、スタイリングが楽しめるというのも合わせてご紹介!
まだまだ暑さの真っただ中ということもあり、今着ているアイテムをそのまま秋スタイリングでも活かせるように、夏スタイリングにデニムジャケットをONして秋スタイリングに☆ A denim jacket that sold nearly 50pieces in one night!
Before I introduced the points and styling that I am particular about in the contents, I am very surprised at how many people have gotten their hands on it!
Thank you very much to all of you!
Therefore, this time, we will tell you the special points of this denim jacket that we could not tell you at the time of its release!
We also introduce that you can enjoy styling both BLACK Wash and BLUE Wash!
We are still in the midst of the heat, so we showed you that you can use summer styling in autumn by putting on the denim jacket☆
---
「何年も着れるこれからのデニムジャケット」として、何度も何度もやり直してこだわったシルエット。
最初のサンプル出しから、発売までに2年近くかかりました!
でも、長く着れるアイテムなら発売が先になっても関係ない! 妥協せずにとことん納得のいくモノが欲しい!っという思いでした。
そこで今回は、シルエット以外にもこだわった5つのポイントにフォーカス! As a denim jacket that can be worn for many years, the silhouette has been reworked over and over again.
It took nearly two years from the first sample to the release!
But if it's an item that can be worn for a long time, it doesn't matter if it goes on sale first! I want something that I am completely satisfied with without compromising! That's what I thought.
Therefore, this time, we will focus on five points other than the silhouette!
bajra
UNISEX OVERSIZED STRETCH DENIM JACKET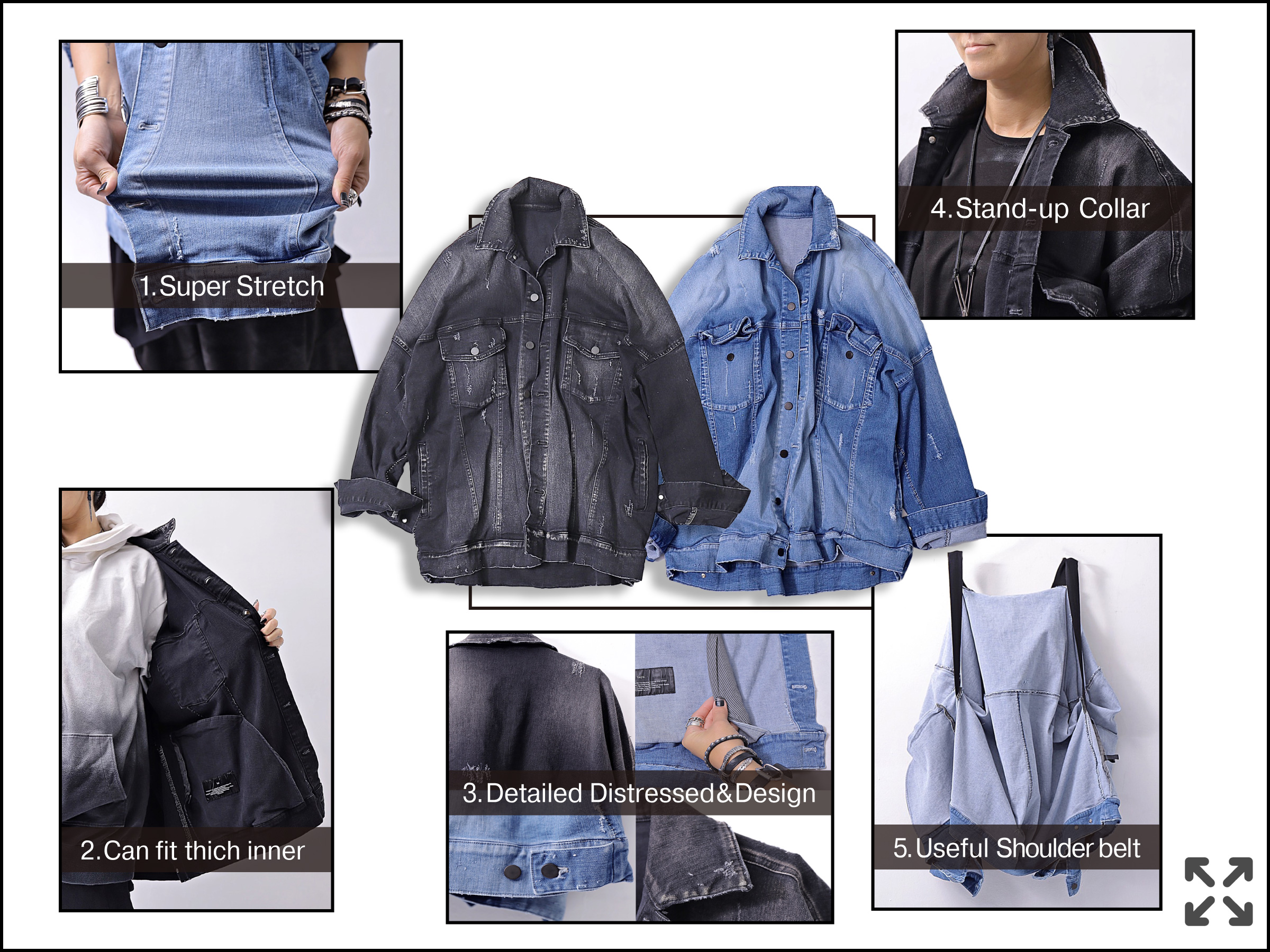 1. " スーパーストレッチ "
ストレッチの効いていないジャケットでは、着心地や動きやすさが心配となるのはデニムジャケットでも同じ。
今回は絶対に譲れなかった一つに、見た目は通常のデニム生地でありながら、しっかりストレッチのあるデニムということ!
そしてウォッシュ感を出すとき、通常のデニム同様にストレッチデニムでもしっかりと縦糸の筋が出るものを使用。
1. "Super Stretch"
With jackets that don't have stretch, you might be worried about comfort and ease of movement, which is the same for denim jackets.
One thing that I absolutely couldn't give up on this time was that it looks like normal denim, but it's a stretchy denim!
And when it comes to creating a washed look, we use stretch denim that has strong warp threads just like normal denim.
2. " ゆったりスウェットを中に着ても問題ナシ! "
デニムジャケット最大のメリットは、オールシーズン着用できること!
でも、今までのデニムジャケットは、ゆったりしたシルエットのスウェットやニットを中に着用するとゴワツキ、着心地が悪いと結局は薄手のトップスの時にしか着なくなるものがほとんど。
だからこそ、リアルに気兼ねなく、どのトップスにの上からでも着れるシルエットのデニムジャケットに!
2. "Can fit thick inner"
The greatest advantage of denim jackets is that they can be worn all year round!
However, most of the denim jackets I've used so far are stiff when worn with a sweatshirt or knitwear with a loose silhouette.
That's why it's a denim jacket with a silhouette that can be worn over any top without hesitation!
3. " 細かいディテールの積み重ね "
1つ1つ手作業でダメージ加工をし、その積み重ねによって全体の雰囲気が一気に増した仕上がりに!
そして着込むほどに着る人のカタチや、風合いが生まれるのも楽しみなひとつ。
また、見えないポケットの内側の生地にもさりげなくストライプ柄の生地を使用。
ポケットから中身が出て落としたりしにくいように、強度のある生地でありながら柔らかくしなやかなものを使用。この柔らかな生地だからこそ、ポケットにモノを入れた時、沈みができ落ちにくくなるんです!
3. "Detailed Distressed and Design"
The damage process is done by hand one by one, and the overall atmosphere is increased at once by stacking them!
And one of the fun things is that the more you put it on, the more the person who wears it will take on the shape and feel of it.
In addition, the fabric inside the invisible pocket is also casually striped fabric.
To prevent the contents from slipping out of the pocket and dropping them, we used a fabric that is strong yet soft and supple. Because of this soft fabric, when you put something in your pocket, it will sink and it will not fall off!
4. " こだわりの襟の立ち方! "
襟のカタチや大きさ次第で、印象が変わる!っというのは、襟付きシャツが苦手な人なら経験したことがあるはず!
そんな、襟一つで印象が変わる大切な顔周りのパーツだからこそ、大きさや形にはとにかくこだわり、何度も修正した部分。
髪が短い方でも長い方でも、キレイに襟が立つことによって顔周りがスッキリに!
このスッキリがあることによって、オーバーサイズのシルエットでも、着られてる感にならないって意外と知られてない、全体のバランスを左右する大切なポイントなんです!
4. "Stand-up collar"
Depending on the shape and size of the collar, the impression changes! I mean, if you're not good at collared shirts, you've probably experienced it!
Because it is an important part around the face that changes the impression with just one collar, we are particular about the size and shape, and we have revised it many times.
Whether you have short or long hair, the neat collar will make your face look neat!
Because of this sleekness, even an oversized silhouette doesn't feel like you're wearing it, which is an important point that affects the overall balance!
5. " 使えるインナーショルダーベルト "
手に持つのが面倒なとき、リュックのように肩から背負えて便利というのが、インナーショルダーベルト。
でも、実際に背負って持ち運びをすることは意外と少なく、つい手に持って持ち運ぶ方も。
ならばもっとオシャレに、もっとカッコよく持ち運べるように、今回は肩掛けをして羽織ってみては?
ショルダーベルトに腕を通すことによって、意外と固定されるので肩掛け羽織りをしても落ちにくいんです!
5. "Useful shoulder belt"
The inner shoulder belt is convenient because it can be carried from the shoulder like a backpack when it is troublesome to hold it in your hand.
However, it is surprisingly rare to actually carry it on your back, and some people just carry it in their hands.
So why not wear it over your shoulder this time so that you can carry it more stylishly and coolly?
By putting your arm through the shoulder belt, it will be fixed unexpectedly, so it won't fall off even if you wear it over your shoulder!
---