HOME
HOME
▶
Add New Pants, make New Styling!
Add New Pants, make New Styling!
オールインワンは以前から欲しかったけど、スタイリングがワンパターン化してしまうと思い手にしてこなかった方の為に、「飽きの来ない、スタイリング幅が広がるオールインワン」をテーマに、スタリングが楽しめるアイテムとして、登場したのがbajraのオールインワン!
このオールインワン、袖も取り外しが可能で長袖から半袖へとボタンで簡単に着脱可能!
間違いなく、これからの時期には大活躍すること間違いナシ!
そこで今回はまだ残暑が残るこの時期からでも、今あるトップスと合わせてスタイリングを楽しめるというのをしっかりとご紹介! For those of you who have always wanted a jumpsuit but didn't get it because you thought it would be a one-size-fits-all styling, we have created an item that you can enjoy styling with the theme of "jumpsuit that never gets tired of and has a wide range of styling!"
This, the sleeves are also detouchable, so you can easily change from long sleeves to short sleeves with a button!
There is no doubt that it will be a big success in the coming season!
Therefore, this time, we would like to introduce you to the fact that you can enjoy styling with your existing tops even from this time of year when the lingering summer heat still lingers!
---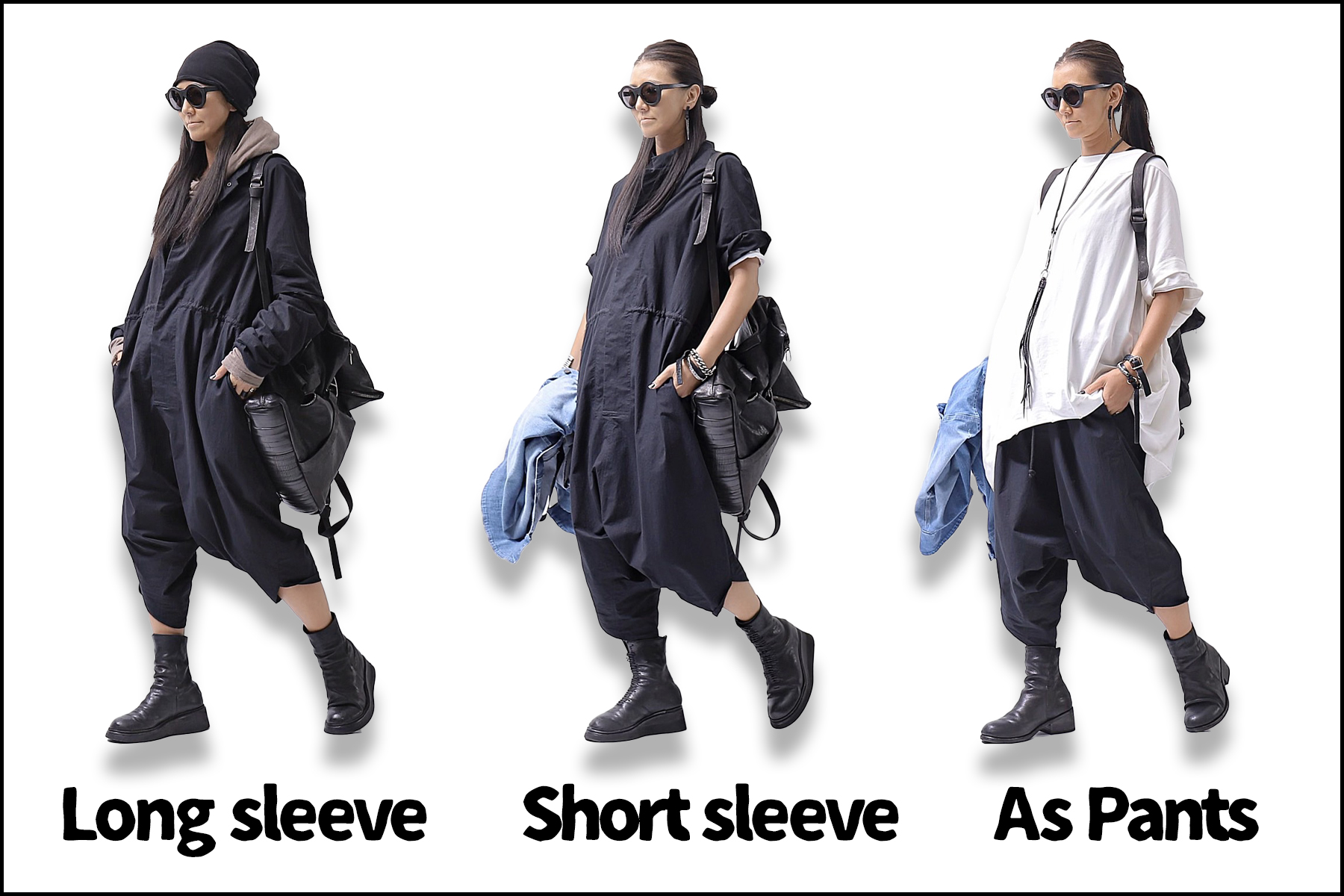 季節や気分にあわせて簡単にアレンジできる3つのベースとなる着方

①ロングスリーブのまま、ゆったりとした身幅を活かしてインナーにカットソーフーディーをON!
②ハーフスリーブで、キレイなシルエットを活かしてそのままシンプルに!
③パンツとして、いつものトップスに合わせて暑い時期でもドライな肌触りで快適に!
3 basic ways to wear that can be easily arranged according to the season

①With long sleeves, you can wear a cut and sewn hoodie as an inner, taking advantage of the loose body width!
②With half sleeves, keep it simple by taking advantage of the beautiful silhouette!
③As pants, you can wear it with your usual tops to keep you dry and comfortable even in hot weather!


---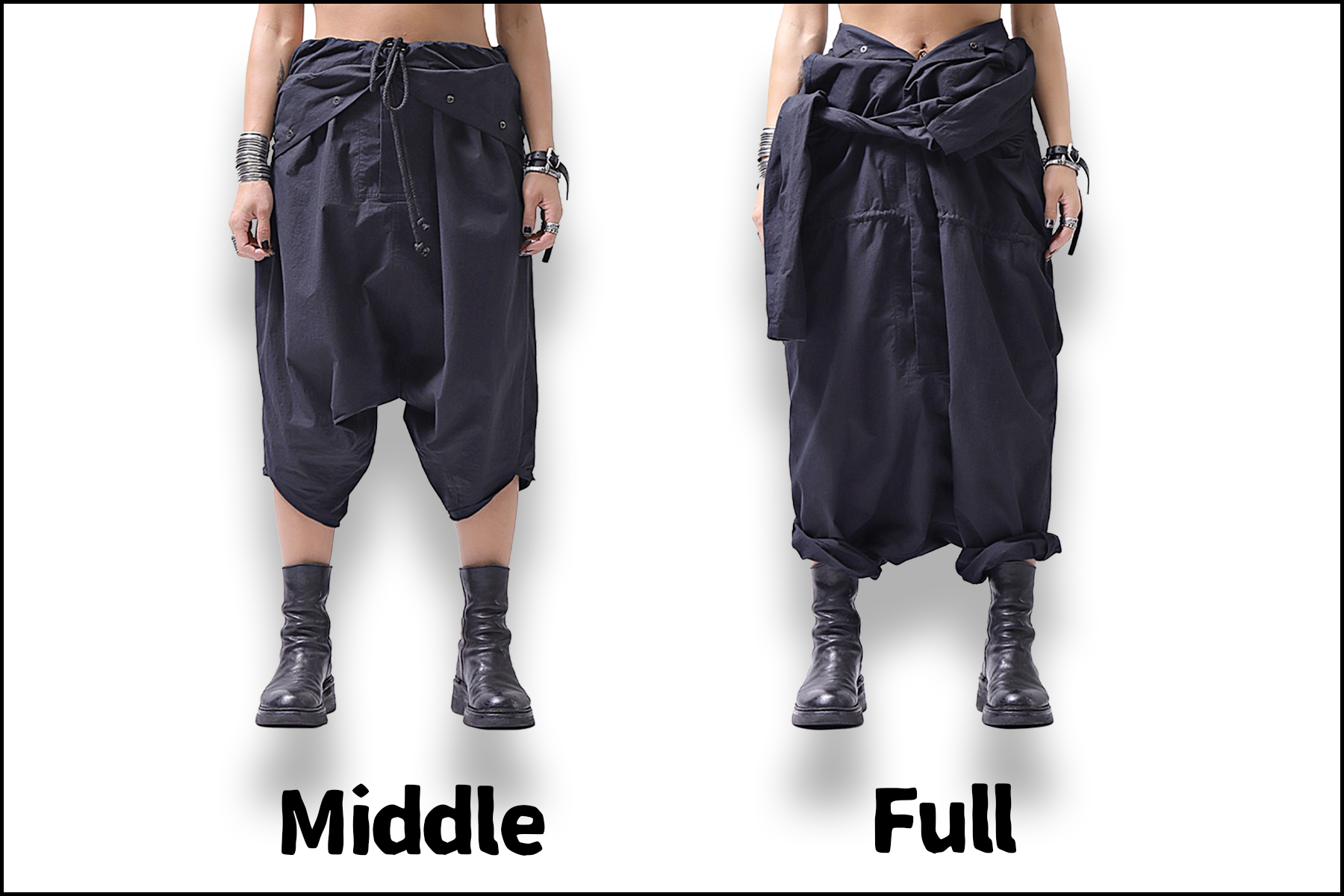 内側のドローコードとセンターのスナップボタンを活かしてパンツも2タイプのシルエットに。

①ドローコードは使わずに、パンツは長さを落とし目にしてフロントのスナップボタンを留めて、ロングスリーブをフロントからサイドに回して結ぶ。
②内側のドローコードをウェストの位置で結び、ミドル丈のパンツに。袖を後ろで結ぶとスッキリとした印象に!
The inner drawcord and button create two types of silhouettes for the pants.

①Instead of using a drawcord, the pants are shortened, the front button is fastened, and the long sleeves are tied from the front to the side.
②Tie the inner drawcord at the waist for mid-length pants. Tie the sleeves at the back for a clean look!


---
---
---