HOME
HOME
▶
"Match to ALL perfectly"
"Match to ALL perfectly"
「エコレザーを超えた新しいエコレザー」として去年プリモから発売されたHAの素材シリーズ。
パンツでは、今季もその人気は衰えることなく、すでにサイズ欠けしているほど。
そして、今季は待望のアウターが登場!発売からすでに多くの方の元へといった中、その大半が男性というのも納得のカッコ良さ!
そこで今回は、この新作アウターを使った幅広いスタイリングを一気にご紹介! The HA material series released by Primo last year as a "new eco-leather beyond eco-leather".
As for pants, the popularity has not declined this season, and there is already a shortage of sizes.
And this season, the long-awaited outerwear is here! Since its release, it has already been sold to many people, and the fact that most of them are men is so cool!
So this time, we will introduce a wide range of styling using this new outerwear!
---
Primordial is Primitive
UNISEX ECO-LEATHER OVERSIZED ZIPPED HOODIE COCOON BLOUSON
417HA





" 新しい素材として、確立したプリモのHA素材
今年待望のアウターは身長体型を問わない、スタイリングも幅広いマルチアウター! "

スウェード調エコレザーをベースにワックス加工を施したような風合いある表情は、着ていく度に馴染むのが楽しめる素材として、すでにパンツやカーディガンジャケットでは多くの方のお墨付きがあるこのシリーズ。
このレザー調の生地感のアウターとなると、印象強くなってしまうと思いきや、それぞれのスタイリングに馴染むだけでなく、バランス良くまとまるシルエットとデザインなのがこのコクーンブルゾンの良さ! "Primo's HA material established as a new material
This year's long-awaited outerwear is a multi-layered outerwear with a wide range of styling regardless of height or body type!"

Based on suede-like eco-leather with a waxed look, this series is already endorsed by many people for its pants and cardigan jackets, as it is a material that you can enjoy getting used to every time you wear it.
I thought that this leather-like outerwear would make a strong impression, but the goodness of this cocoon blouson is that it not only blends in with each style, but also has a well-balanced silhouette and design!
---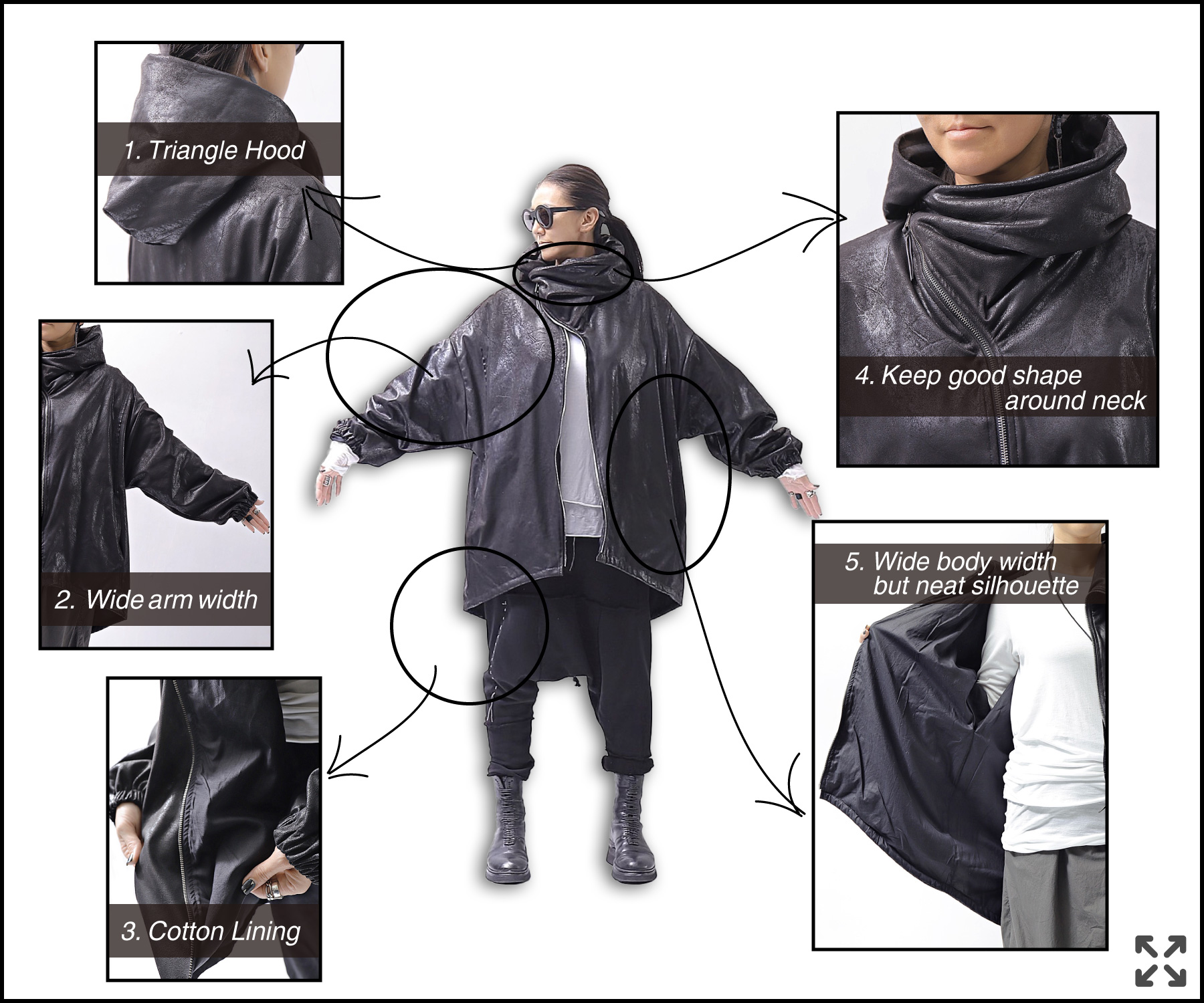 1. プリモのアウターでは人気の首周りの三角フード
1. The triangular hood around the neck is popular among Primo outerwear.
2. ゆったり腕周りとゆったりアームホールで、どんなスタイリングの上からでもサッと羽織れる!
2. With a loose arm circumference and a loose armhole, you can quickly put it on over any style!
3. サラッとしたコットンライニングで中に着た洋服との摩擦も軽減!ゴワツキ0!
3. The smooth cotton lining reduces friction with the clothes you wear inside. No stiffness!
4. フードにだけ中綿をいれることで、キレイなカタチKEEP!
4. By padded only in the hood, it keeps a beautiful shape!
5. 見た目以上のゆったり身幅。でも、スッキリしたシルエット!
5. More spacious than it looks. But a clean silhouette!
---


---

通年よりさらに寒くなるといわれている今年の冬。
BOAゴリラコートを上からサッと羽織れば、そんな寒さのときでも問題ナシ!
そして、何よりもアウターを2枚重ねても軽いのが◎ This winter is said to be even colder than the rest of the year.
If you put the BOA gorilla coat on top, you won't have any problems even when it's cold!
And above all, it is light even if you stack two outer layers ◎