HOME
HOME
▶
BLACK and DUNE, can't decide ONE!!!
BLACK and DUNE, can't decide ONE!!!
先月発売されたばかりのRUNDHOLZのスウェットロングトップス。
RUNDHOLZのスウェット素材シリーズ好きの方には、一年ぶりとなるスウェット素材の新作ということですでに多くの方の元へ。
今、どちらの色にするか迷っている方からのご相談はもちろん、この上に合わせるアウターはどういうのがゴワつかずに着やすく、合わせやすいかのお問合せが多かったので、今回はたくさんのお問合せをもとにコンテンツでフォーカス! RUNDHOLZ Sweat Long Tops just released last month.
For those who like the RUNDHOLZ sweat material series, it's the first new sweat material in a year, so it's already been available to many people.
There were many inquiries from those who were wondering which color to choose, as well as inquiries about what kind of outerwear would be comfortable to wear and easy to match, so this time we had a lot of inquiries. Focus on content based on inquiries!
---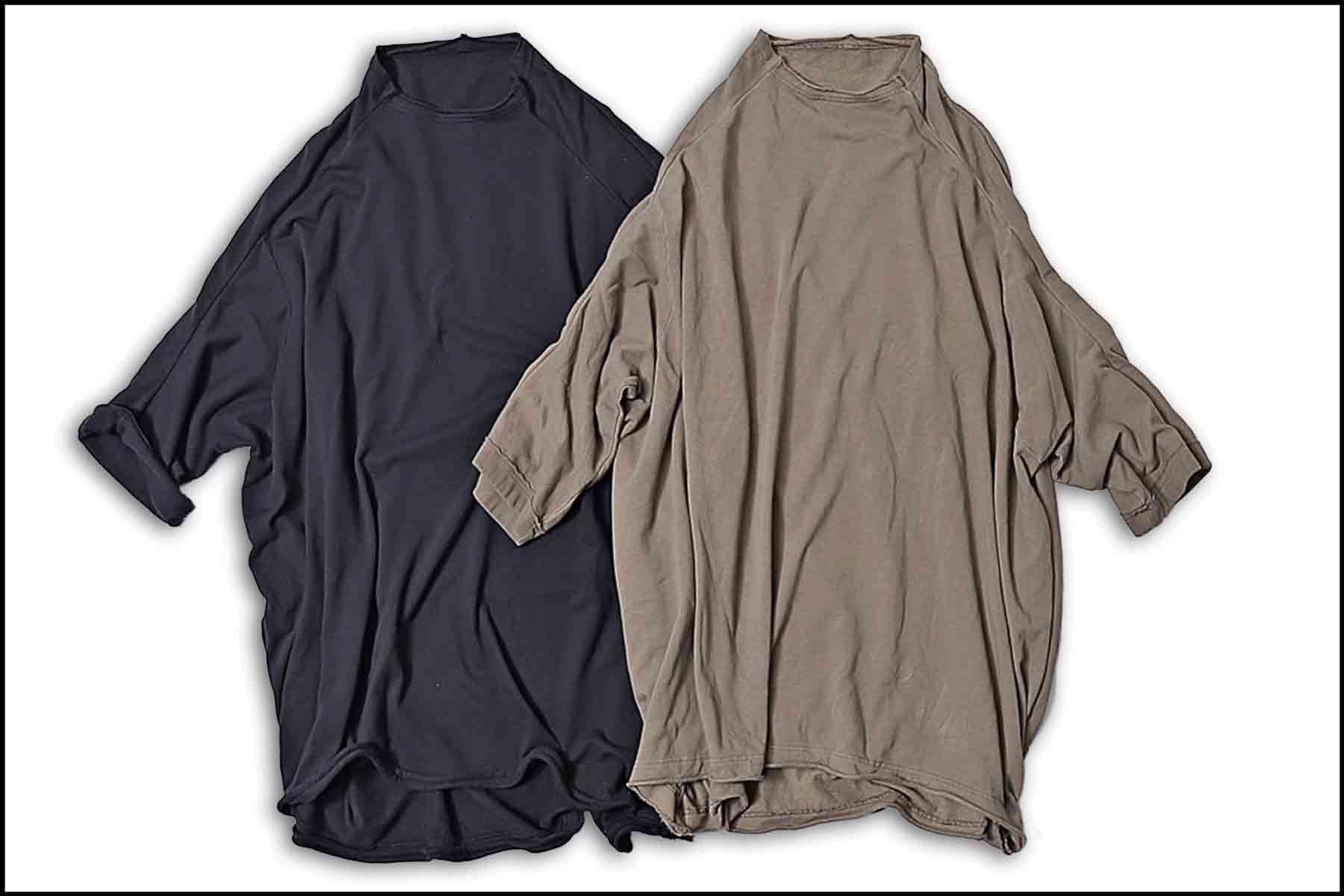 Q. ワンサイズ展開ですが、通常Lを着用していても問題なく着れる?
A. ゆったりとしたシルエットで、アームもかなりゆったりとしているので、通常L-XLの方でも問題なく着用可能です!
特に肩の厚みがある方でも着始めてすぐに肩のラインの素材が、着用されている方のカタチや動きに馴染んできます!
また、袖は元から少し短めなので通常サイズXSやSの方でもインナーにロンTを着用することでバランス良くなります。


Q. It's available in one size, but can I wear it without problems even if I usually wear L?
A. It has a relaxed silhouette and the arms are quite loose, so even those who normally wear L-XL can wear it without any problems!
Especially for those with thick shoulders, the material of the shoulder line will adapt to the shape and movement of the wearer as soon as you start wearing it!
In addition, the sleeves are a little short from the beginning, so even if you are a normal size XS or S, you can wear a long T as an inner layer for a better balance.


Q. スウェット素材ですが生地感的にオールシーズン着用可能?
A. ミドルな肉厚のコットンスウェットを製品染めすることによって、柔らかくドライでサラッとした生地感になるので、夏以外の3シーズンは着用可能です。
またこれからの寒い時期にはゆったりとしたシルエットを活かして、中にレイヤードしてもゴワつかないので、重ね着のしやすさはあります。
反対に暖かい季節には、このゆったり感のおかげて肌と服の間に通気性があり快適になります。


Q. Although it is a sweatshirt material, is it possible to wear it in all seasons?
A. By dyeing the middle thick cotton sweatshirt, it becomes soft, dry and smooth, so it can be worn in 3 seasons except summer.
In addition, in the coming cold season, it is easy to layer because it does not feel bulky even when layered inside by taking advantage of the relaxed silhouette.
On the other hand, in the warmer months, the looseness allows air to pass between your skin and your clothes for comfort.


Q. アームがゆったりとしていますが、上からアウターは着れる?
A. もちろん、細身のアウターやアームが細いアウターを羽織るのは難しいです。
逆に着丈関係なく、ゆったりとしたシルエットのアウターなら問題なく羽織れるだけでなく合わせやすく、ショート丈のアウターとならロングトップスの着丈を活かしてレイヤードスタイリングにも!


Q. The arm is loose, but can I wear an outerwear over it?
A. Of course, it is difficult to put on a thin outerwear or an outerwear with narrow arm width.
On the other hand, regardless of the length, you can wear it with a loose silhouette outerwear without any problems, and it is easy to match with it.


Q. 身長が低いので前を少し短くしたいけど簡単にカットしても大丈夫?
A. 商品自体はアクセントとして裾から約3cmくらいのところにスティッチが入ってますが、元から切りっぱなしの裾になっており、ほつれる心配はない素材です。
また、カット後お洗濯などをすることで切りっぱなしの部分はクルっと丸まってくれます。
前の長さをカットすることで身長が低い方は合わせやすくなるのでカットするのもおススメです!


Q. I'm short, so I'd like to make the front a little shorter.
A. The product itself has stitches about 3 cm from the hem as an accent, but the hem is left uncut from the beginning, so there is no need to worry about fraying.
In addition, by washing after cutting, the cut part will curl up.
By cutting the front length, it will be easier for people with short stature to match, so we recommend cutting it!


---
ゆったりトップスとスッキリパンツとの組み合わせは、ボリューム負けしないようにチラッとパンツ裾の白をアクセントとしてプラス!
インナートップスの白とリンクさせてバランス良く◎ The combination of loose tops and slim pants adds a touch of white at the hem of the pants so that it doesn't lose volume!
Linked with the white inner top for a good balance◎




---




インナースカートをチラッと見せて丈足しすれば、ゆったりロングトップスをスッキリワンピに!
もちろん、ゆったりパンツをInしてもバランス良く◎ If you show off the inner skirt to add length, you can make a loose long top look like a refreshing dress!
Of course, even if you wear loose pants, the balance will be better too◎





---





同色系のスウェットパンツとの合わせのカギは、インナーのフーディートップス!
フードと袖周りの黒があるだけで一気にシマル!
小物や靴、アウターもBLACKでまとめるのが鉄則! The key to pairing with sweatpants of the same color is the inner hoodie top!
The black around the hood and sleeves makes it look simple!
It is an absolute rule to put together accessories, shoes, and outerwear in BLACK!




---