以前から気になっている人も多い、2つのレディースアイテムがついにコンテンツ初登場!
メンズアイテムをメインに使ったユニセックススタイルが確立されてきた今、2023年はしっかりと全ての女性に向けて提案していきたいのが、「女性らしさのあるアイテムをデイリーからエッジ、そしてお出かけスタイリングへと欲張りに楽しむ!」ということ。
年齢を重ねると共に、女性らしいアイテムというとなかなか着る機会が少ないとか、オンナっぽ過ぎて自分には合わない…など自分自身の中で知らず知らずのうちにルールを作ってしまっている方も。
そこで、今回は年齢を重ねてくるからこそ、カッコよく着れる2つのフェミニンアイテムをデイリースタイリングからエッジィまでそれぞれご紹介! Two women's items that many people have been interested in for a long time are now available for the first time!
Now that a unisex style that mainly uses men's items has been established, in 2023 we would like to propose to all women firmly, "Feminine items for daily use, edge, and outing styling. Enjoy it greedily!"
As you get older, some people unknowingly create rules within themselves, such as having fewer chances to wear feminine items, or being too feminine and not suitable for them.
Therefore, this time we will introduce two feminine items that can be worn cool as you get older, from daily styling to edgy!
女性らしさの中にもCOOLな印象のBLACK。
動きと表情のあるシルエットで、ALL BLACKスタイリングにはもちろん、カラートップスとの相性も◎ BLACK with a cool impression even in femininity.
With a silhouette with movement and expression, it goes well with ALL BLACK styling as well as colored tops.

カラーアイテムの中でも、黒との相性断トツなのがこのDUNE!
全く雰囲気の異なる黒トップスも見事にマッチする優秀なスカート! Among the color items, DUNE is the one of the best that goes well with black!
An excellent skirt that goes well with a completely different black top!
---
RUNDHOLZ
COTTON COMBI MERMAID LONG SKIRT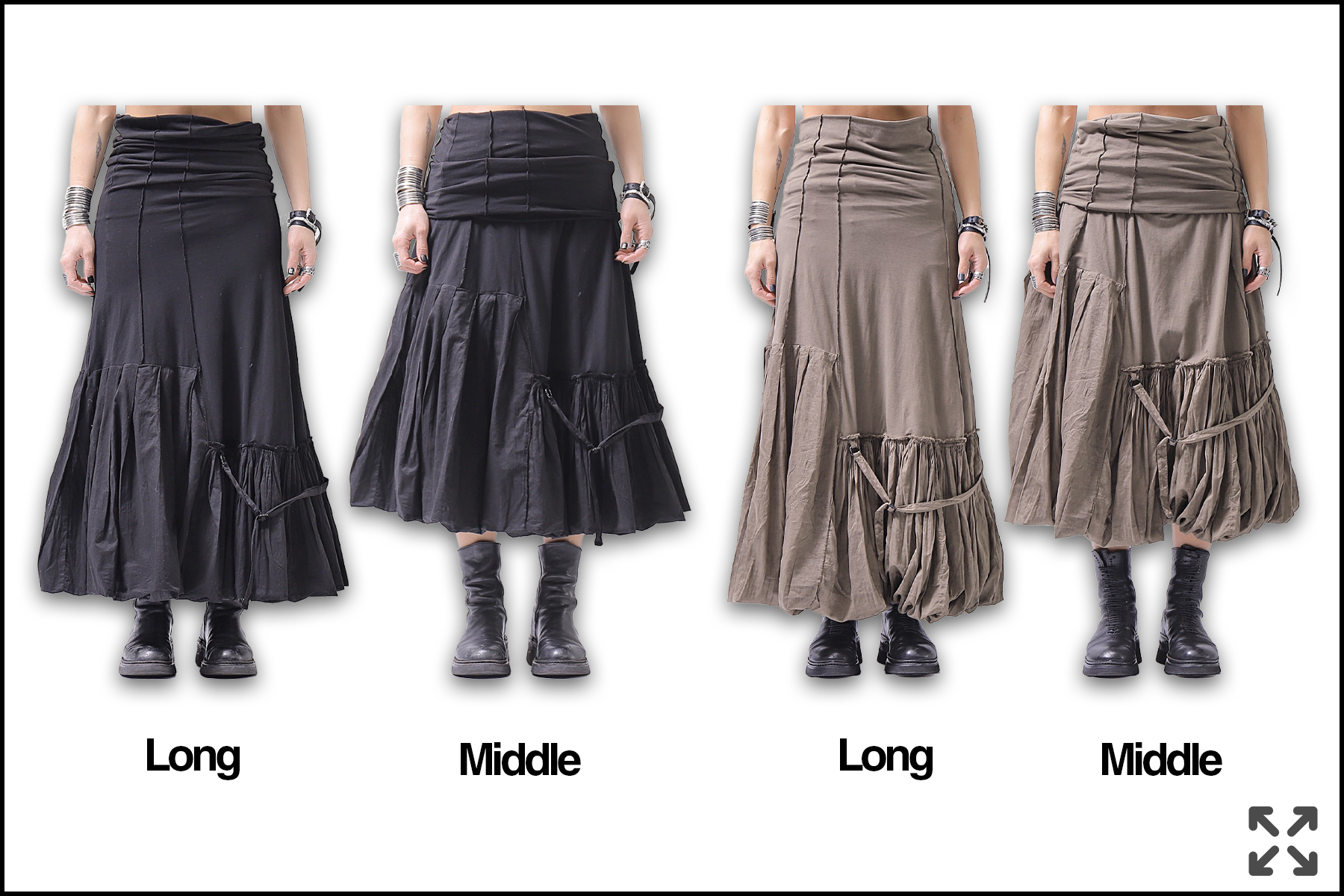 " Base of Arrangement "
合わせるトップスや、足元とのバランス次第で長さ調整はもちろん、シルエットまで変えれるのが◎
ロング丈ならメリハリあるシルエット、ウエストをしっかり折り返して緩やかなフレアラインのミディアム丈に。
身長が低い方、身体のラインにメリハリがない方でも、履きこなしやすいのがこのスカート!
BLACKはサイズXSを、DUNEはサイズSを着用してます!
" Base of Arrangement "
Depending on the tops you match and the balance with your feet, you can of course adjust the length and even change the silhouette.
The long length creates a sharp silhouette, and the waist is folded back to create a medium length with a gentle flared line.
This skirt is easy to wear even for those who are short or those who don't have a sharp body line!
Wearing Size XS in BLACK and size S in DUNE.
---

パンツメインのスタイリングばかりという方の、貴重なスカート1枚をカジュアルデイリーからエッジーなレイヤードスタイリング、お出かけスタイリングへと幅広くスタイリング!
パンツ以上に幅広くスタイリングが楽しるのは間違いナシ! For those who only use pants as the main styling item, you can use this valuable skirt for a wide range of styles, from casual daily wear to edgy layered styling and outing styling!
There is no doubt that you can enjoy styling more widely than pants!
---
Primordial is Primitive
2WAY FRONT DRAPE LONG SLEEVE PANTS DRESS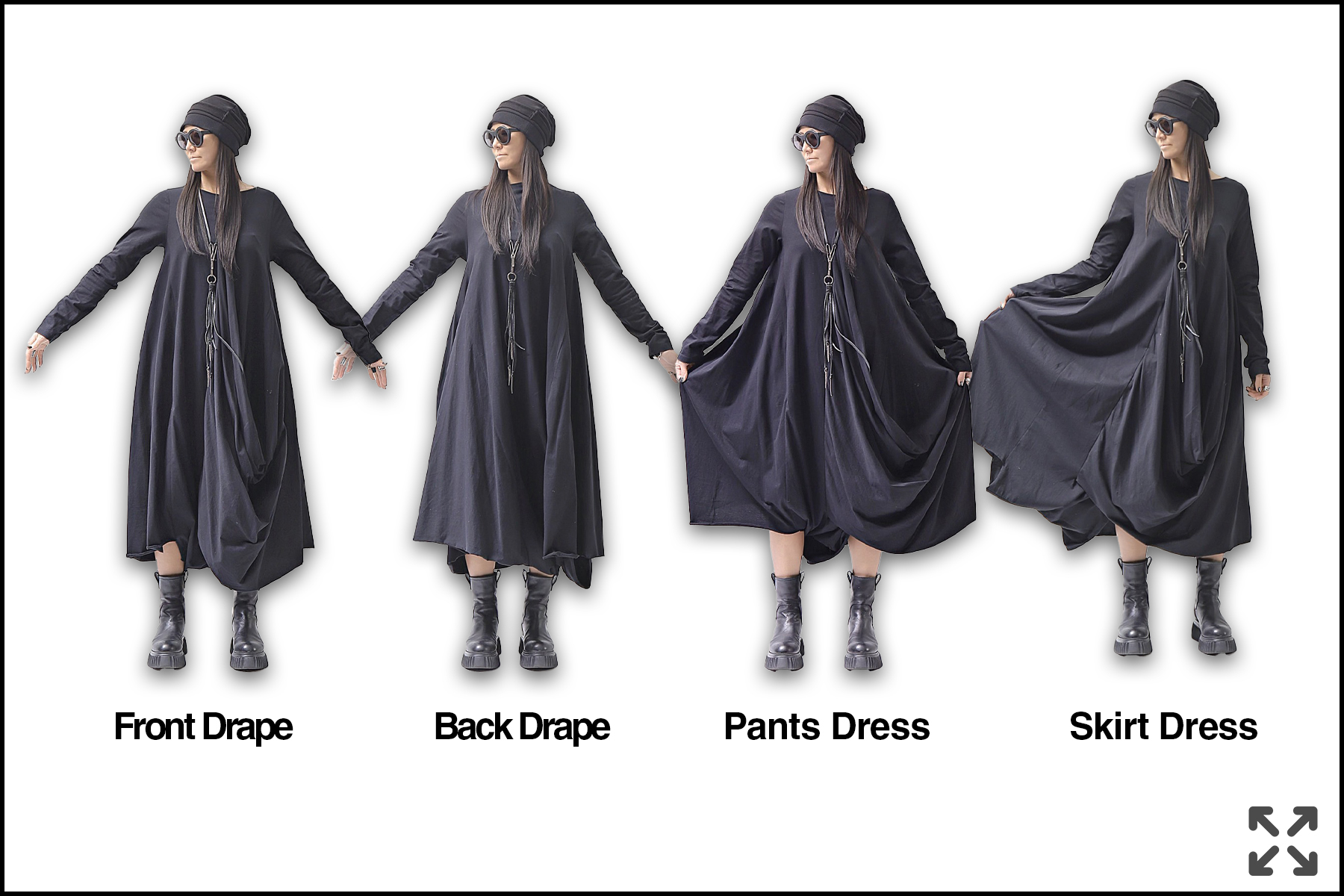 " Base of Arrangement "
このワンピースの一番の魅力は、アレンジというほどの手間なしに簡単に4つのパターンのワンピースに変身するところ!
前後逆にしてドレープの位置を変えるのはもちろん、パンツワンピースのおトイレ問題も全く気にならないのが◎
ゆったりとしたパンツシルエットなので、片側のパンツ部分に両足ごと入れてしまえばアシメスカート仕様に!
これなら、ワンピースの上からトップスの重ね着をしても、いちいちワンピースごと脱がなくても良い、女性からしたらまさに神アイテム!
" Base of Arrangement "
The best thing about this dress is that it can easily be transformed into one of four patterns without the hassle of arranging it!
Not only can you change the position of the drape by reversing the front and back, but you don't have to worry about toilet problems with pants dresses.
The pants have a loose silhouette, so if you put both legs in the pants on one side, you can create an asymmetrical skirt!
With this, even if you wear a top over a dress, you don't have to take it off every time.It's a god item for women!
---

ワンピースのデザインとシルエットを活かしてそのまま一枚でしか着れない、ちょっとデイリーに着るには難しいかも…と思われがちなこのワンピース。
しっかりとした生地厚のコットン100%でTシャツにも使われている素材だからこそ、デイリーにも着れるのがこのワンピース。
しかも、お洗濯もガンガンできちゃうのも◎っということで、とことんデイリーに組み合わせてスタイリング! Taking advantage of the design and silhouette of the dress, this dress can only be worn on its own.
This dress can be worn daily because it is made of 100% thick cotton and is also used for T-shirts.
What's more, it's also easy to wash, so you can combine it with your daily style!