HOME
HOME
▶
How about Ice Grey?
How about Ice Grey?
ついにコンテンツ登場となるIceGreyのストレッチデニムパンツ。
数年前の発売時に、色の良さ・シルエット・履き心地の良さをお伝えして多くの方がハマったのがこのデニムパンツ。
店頭にお越しいただいた方々へおススメすると、ほとんどの方がその良さに即決で手にしていくほどの実力のアイテム!
ということで、今回はノーマークの方がまだまだ多いということで、このIceGreyのデニムパンツにフォーカス! IceGrey's stretch denim pants will finally be released.
When it went on sale a few years ago, many people fell in love with these denim pants because of their good color, silhouette, and comfort.
If you recommend it to people who come to the store, most of them will immediately decide to get it because of its goodness.
So, this time, there are still many unmarked denim pants, so we will focus on these IceGrey denim pants!
---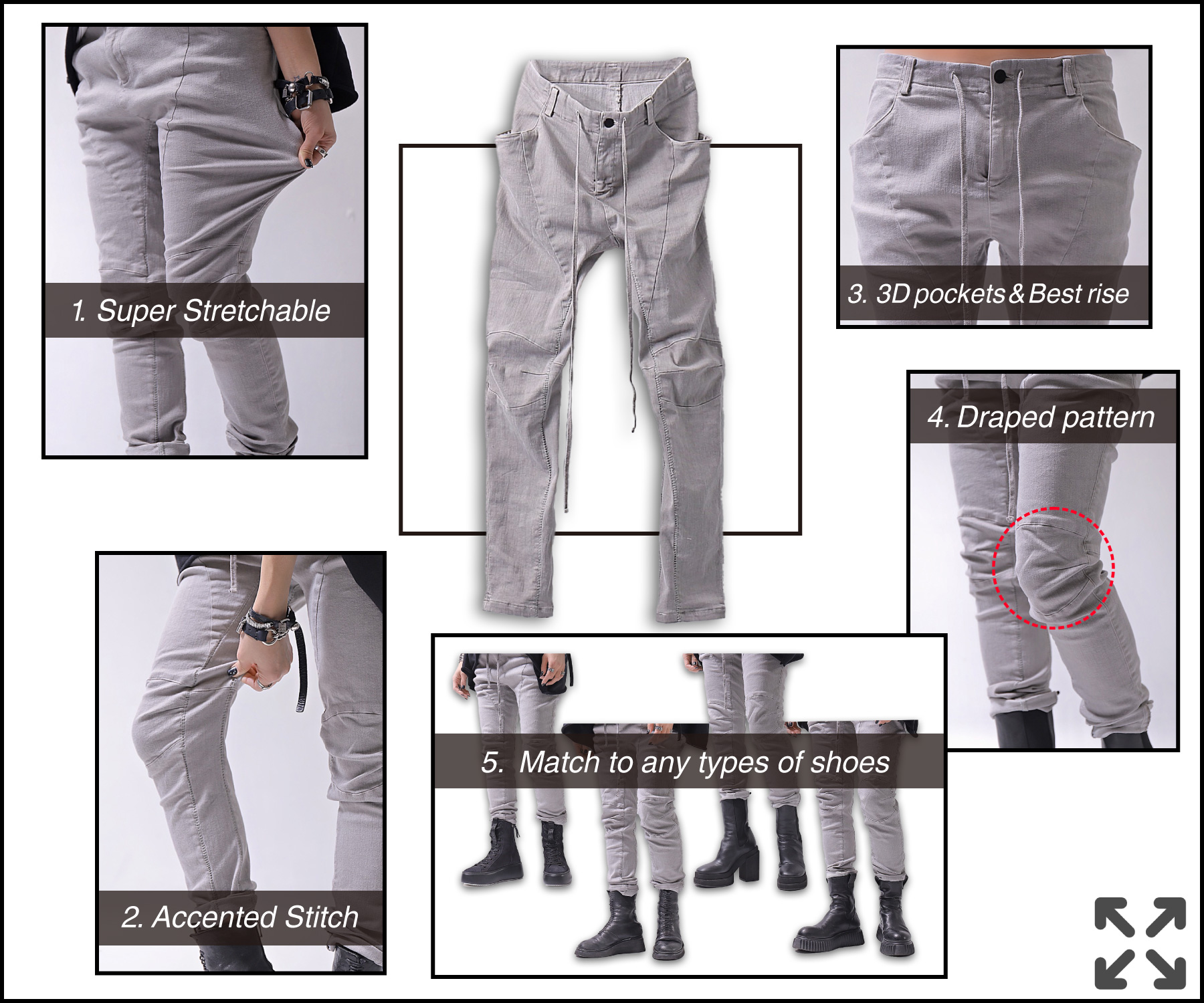 1. スーパーストレッチで動きやすさはストレスフリー!
1. Super stretch for ease of movement without stress!
地厚すぎない、薄すぎない、程よい生地感のストレッチデニムでゴワつきがないのが◎
It's not too thick, not too thin, and has just the right amount of stretch denim, so it doesn't feel stiff.
2. チラッとさりげなく見えるアクセントステッチ!
2. Accent stitch that looks cool!
裾から内腿へとぐるりとオーバーロックステッチを入れることでディテールにこだわりが見え、カジュアル過ぎる印象にならない!
By adding overlock stitches from the hem to the inner thighs, you can see the attention to detail, and it doesn't look too casual!
3. 3Dポケットと程よいチョイサルエルが腰回りのシルエットをキレイに見せる!
3. The 3D pocket and the right amount of saruel make the silhouette around the waist look beautiful!
メンズパンツのパターンからユニセックスとして登場したこのパンツ。
ウエスト寸胴の方も、腰が張っている方もこの立体ポケットがカバー!そして程よいチョイサルエルでピタッとせず◎ These pants have emerged as unisex from the pattern of men's pants.
This three-dimensional pocket covers both those who have a narrow waist and those who have a tight waist! And it's just the right amount of saruel and it's not too tight ◎
4. 膝周りの立体裁断で美脚効果大!
4. Three-dimensional draping around the knees makes your legs look great!
この膝周りの切り替しがあるとなしでは、印象も美脚効果も全く違う!
切り替しがあることで、のっぺりのした印象にならず、さらに立体裁断で脚をまっすぐに見せてくれるんです! The impression and beautiful leg effect are completely different without this draping around the knee!
By having a draping, it doesn't give a flat impression, and the three-dimensional draping makes your legs look straight!
5. ブーツ、スニーカー、ヒールブーツ、どんな足元でも合う!
5. Boots, sneakers, heeled boots, fit any shoes!
パンツのシルエット素材によって、合わせる足元を選んできたパンツがほとんど。
でもこのデニムパンツ、どんな足元にも合うのがスゴイ!
スタイリングの雰囲気で足元を変えて楽しめるのも◎ Most of the pants have been chosen to match the feet depending on the silhouette material of the pants.
But these denim pants are amazing because they go well with any type of feet!
You can also enjoy changing your feet depending on the style◎
---

ショート丈からロング丈までバランス良く合うのは、このシルエットでIceGREYカラーだからこそ!
It is because of this silhouette and IceGREY color that it goes well with among short length and long length!
ショートトップスと合わせてチラッとインナータンクの白が見えることで全体のバランスもまとまり◎

Combined with the short tops, the white inner tank can be seen for a glimpse of the overall balance.




---




ゆったりトップスのミドル丈でもスッキリとした印象に!
トップにボリュームをもってくることでデニムのスッキリ感が増◎

Even with a middle length loose top, it gives a refreshing impression!
Bringing volume to the top increases the refreshing feeling of denim◎




---



---
とにかく白と黒との相性が良いのがこのIceGrey!
また、1サイズアップのリラックスフィットで履くことでスッキリ美脚のジャストサイズとは違った印象に!
※PANTS wearing size4 / TOPs wearing sizeM This IceGrey goes well with black and white!
In addition, by wearing it with a relaxed fit that is one size up, it gives a different impression than just the right size for beautiful legs.

---
履きやすさと合わせやすさからデイリーユーズにはもってこいのIceGreyパンツ。
とは言え、ちょっとしたお出かけにも使えるのもこのパンツの良さ。
デイリースタイリングからちょっと手を伸ばした2つのスタイリングは、簡単にできちゃうおススメスタイリング!
IceGrey pants are perfect for daily use because they are easy to wear and easy to match.
However, the good thing about these pants is that they can be used for short outings.
Two stylings that are a little stretched out from daily styling are recommended styling that can be done easily!

パンツは、リラックスフィットの1サイズアップで。
黒のブルゾンの中にロンTフーディの白をINすることで、IceGreyと黒をバランス良くまとめるだけでなく、軽い印象に!

   

Pants are one size up for a relaxed fit.
By inserting the white long T hoodie inside the black blouson, you can not only combine IceGrey and black in a well-balanced fashion, but also create a light impression!