HOME
HOME
▶
Make your NEW Styling with SLATE
Make your NEW Styling with SLATE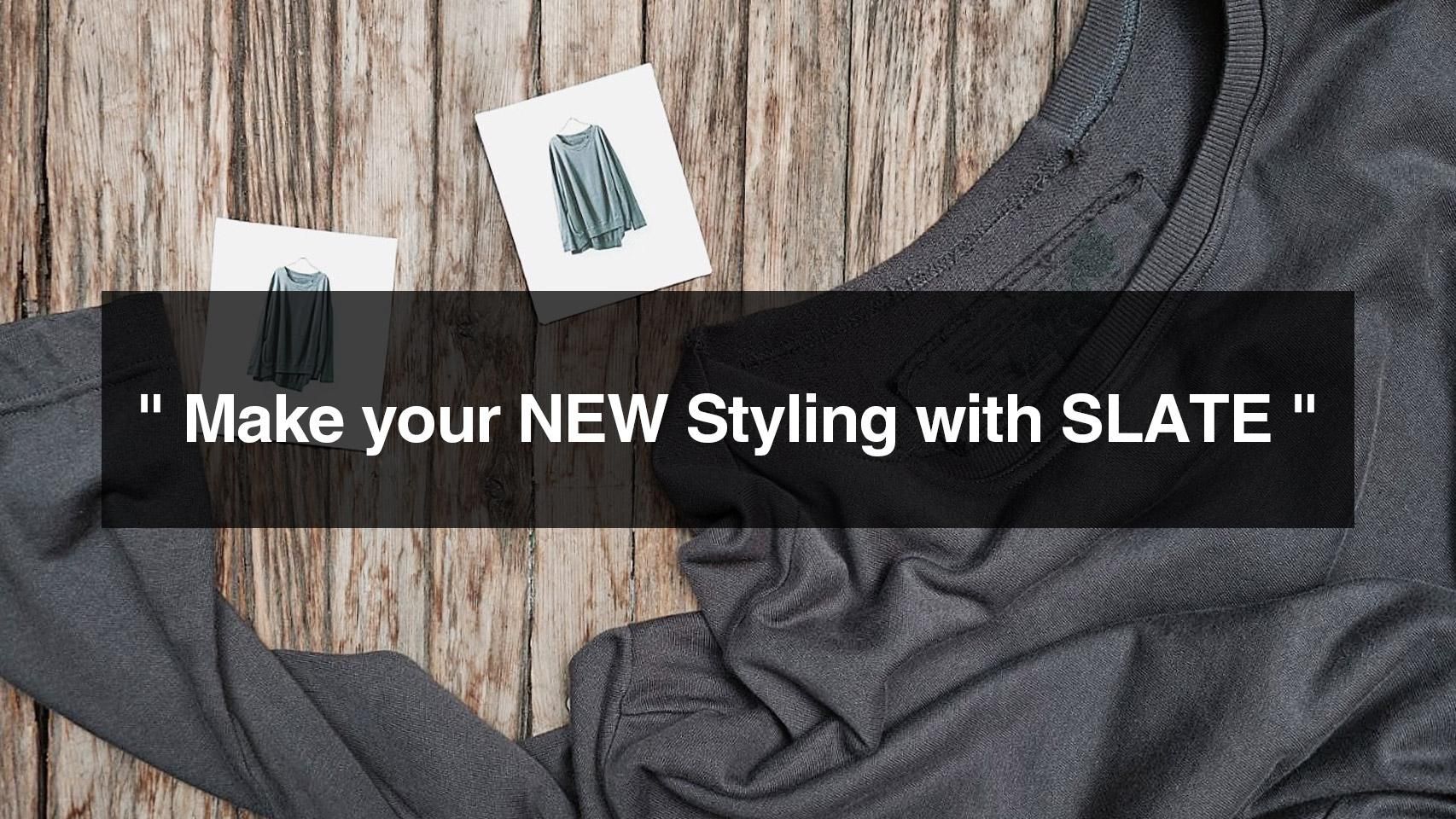 8月のこの暑さの中でも、完売となったRUNDHOLZのライトスウェットトップス。
この暑さの中で、長袖スウェットが完売?っと思う方!
実際、ワタシもこのライトスウェットは7月はもちろん8月でも室内のエアコン対策としていつも愛用しているので、この時期に手にしただいた方の気持ちは分かります! ホントに使えるんですよ、このトップス!
ただ、このライトスウェットトップス、BLACKとSLATEで最後の最後までどっちの色にするか悩んだり、どっちの色をおススメしますか?っというご相談を多く受けました!
悩んでいるなら、絶対にSLATE!とおススメしたところ、手にした方からはこのSLATEにして良かった!と、ウレシイメッセージをいただきました!
そこで今回のコンテンツは、このライトスウェットの良さと、SLATEの色の良さを最大限に活かした今時期のスタイリングと、合わせてちょっと一足先に秋冬スタイリングも合わせて徹底的にご紹介!
RUNDHOLZ light sweatshirt tops sold out even in this heat in August.
Long-sleeved sweatshirts sold out in hot summer? You may be thinking!
In fact, I always use this light sweatshirt in July and even in August as a countermeasure against indoor air conditioning, so I can understand why you would want to buy it at this time of year! It's really useful, this top!
However, we get a lot of people asking us which colour we recommend for this light sweatshirt top, or wondering until the last minute which colour to choose between BLACK and SLATE. We've received a lot of inquiries asking us which colour we recommend!
We recommended that if they were having trouble, they should definitely choose SLATE, and those who got it said they were glad they chose this SLATE! We have received some very positive messages from those who have used the SLATE!
So, for this issue, we're going to thoroughly introduce you to this season's styling, which makes the most of the light sweatshirt's qualities and SLATE's colours, as well as autumn/winter styling a little bit ahead of time!

---

RUNDHOLZ
UNISEX 2WAY FRONT LAYERED LIGHT SWEAT TOP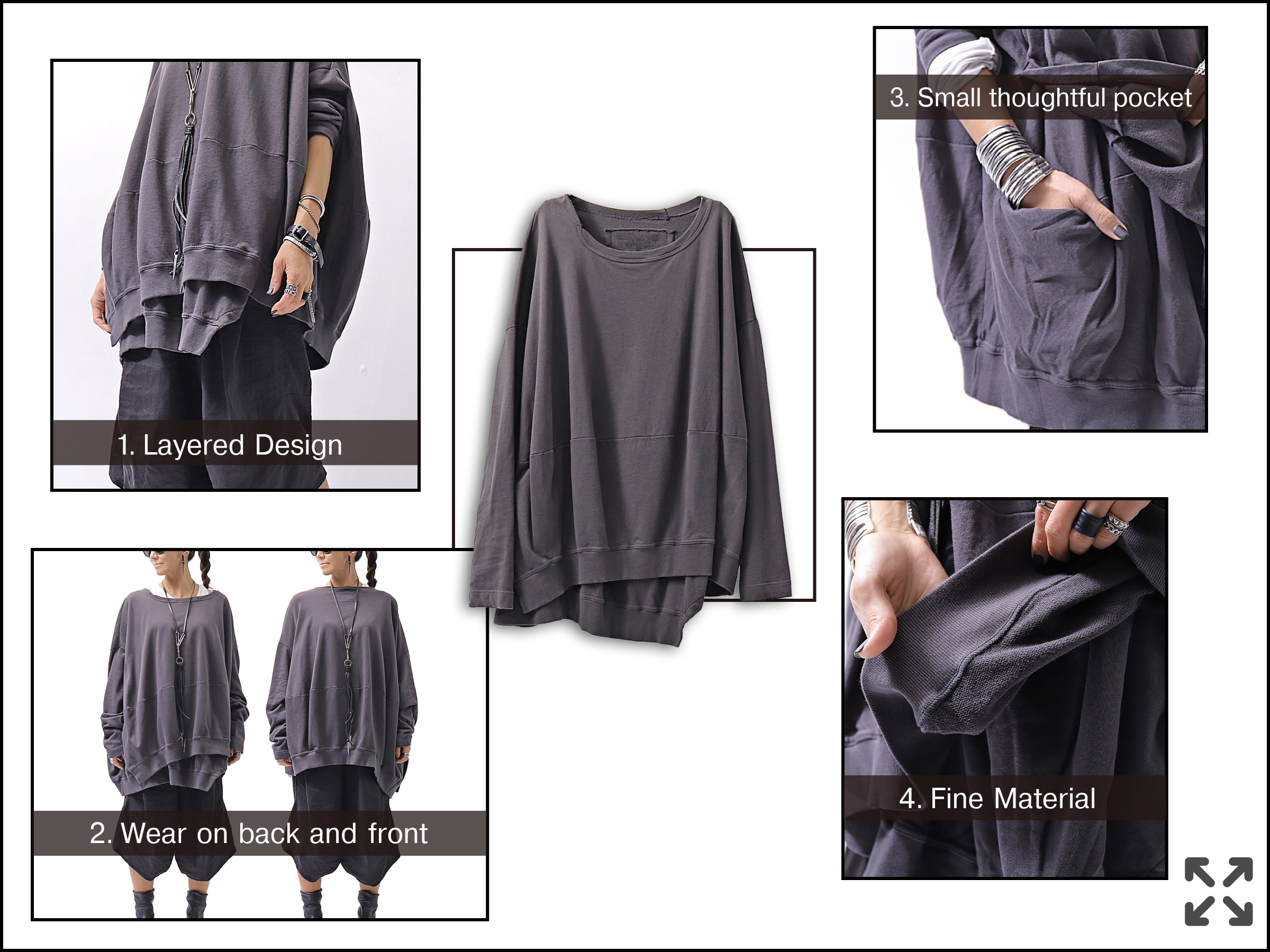 1. " Layered Design "
RUDHOLZらしいデザインのアシメレイヤード。
プラス、裾のリブをアクセントにすることで、バランスのとれたキレイなオチ感も生まれ◎

1. "Layered Design"
Asymmetrical layers in a design typical of RUDHOLZ.
Plus, by accentuating the ribbing at the hem, a well-balanced and clean ochi-feeling is created.

2. " Wear on back and front "
前後逆にして着ることで、前身の丈感も変わるのでボトムスや全体のシルエットのバランスに合わせて2wayを楽しめる!
シンプル過ぎるスタイリングの時には、アクセントとしてそのままレイヤードがフロントにくるようにON。
逆にスッキリとした丈感でバランスを取りたいときは、前後逆にしてON!

2. "Wear on back and front"
By wearing it front-to-back, the length of the front can be changed, so you can enjoy the 2-way function according to the balance of the bottoms and the overall silhouette!
When styling is too simple, leave the layers as they are in the front as an accent.
On the other hand, if you want to balance the clean length of the garment, reverse the front and back!

3. " Small thoughtful pocket "
レイヤードをチラッとめくるとあるこのポケット。
ポケットを使う・使わないというより、ちょっとしたこういう細かい部分でもニコっとさせてくれるのがRUNDHOLZらしくて◎

3. "Small thoughtful pocket"
This pocket can be found by glancing at the layers.
Rather than using or not using the pockets, it's the little details like this that make you smile, just like RUNDHOLZ.

4. " Fine Material "
厚すぎない、薄すぎない、ちょうど良い使い勝手のコットン100%のライトスウェット素材。
そして、柔らかいのにドライな肌触りで肌にピタッとしないのが◎

4. "Fine Material"
100% cotton light sweatshirt material that is not too thick, not too thin, just right for use.
And it's soft yet dry to the touch and not too tight against the skin.

---

このライトスウェット、いくら分厚過ぎないからといって、この暑い時期に外でも着れるなんて、間違っても言いません!
あくまでもこの時期は、室内のエアコン対策や旅行先などに持って行くと安心な長袖的な存在。
でも、この存在があるとないとでは全く違うんです!
外では着ない分、カバンにしまうよりアクセントとして身に着けて持ち運べは一石二鳥! This light sweatshirt, no matter how thick it is, does not incorrectly say that it can be worn outside during this hot season!
It is just a long-sleeved, safe presence to take with you during this time of year, for indoor air-conditioning or when you are travelling.
But it makes all the difference if you don't have them!
Wear it as an accent rather than storing it in your bag, as you don't wear it outside, and you kill two birds with one stone!
" Put OFF "

Tシャツとパンツのシンプルなスタイリングがベース。 着ないときは、ウェストに巻き付けることで、サシ色的にスタイリングにメリハリが生まれる!

" Wear ON "

パンツの裾のシルエットと、フロントレイヤードのシルエットリンクで、さっと羽織っただけのシンプルスタイリングの中にも、エッジをを効かせた印象に!

" Put OFF "

Based on the simple styling of a T-shirt and trousers. When not worn, it can be wrapped around the waist to create a accentted coloured styling effect!

" Wear ON "

The silhouette of the trouser hem and the silhouette link of the front layer give the impression of an edgy look in a simple styling with just a quick wrap!




---




" Put OFF "

シルエットはキレイだけど、メリハリがなくどこか物足りないと感じるモノトーンコーデには、ナナメにタスキ掛けしてアクセントに!

" Wear ON "

ゆったりとした開き具合の首元を活かして、インナータンクの黒がチラッと見えるくらいに片肩に落としてあげるだけで、バランスがギュッとまとまる!

" Put OFF "

For a monotone coordination that has a beautiful silhouette but is somewhat lacking in body and spirit, wear the tassels in the opposite direction to accentuate the look!

" Wear ON "

The loose opening at the neck can be used to bring the balance together by simply showing one shoulder just enough to show a glimpse of the black of the inner tank!
---

NowのON同様に秋だってそのまま着て楽しむ!
首周りに黒ストールなどを巻いて、SLATEを黒で挟んであげることで、カジュアルな印象のジョギパンとスウェットトップスのスタイリングも、SLATEの色を馴染ませつつ一気にCOOLな印象に!

Enjoy wearing it as it is in autumn as well as in summer!
By wrapping a black stole around the neck and sandwiching the SLATE in black, the casual styling of joggy pants and sweat tops will blend in with the colour of the SLATE and give it a COOL impression at once!




---




ロングの羽織をメインにしたオールブラックスタイリング。
ロングコートカーディガンの中に着るのはもちろん、あえて肩からストール感覚で羽織ってONすることで、温かさをキープしながら、オシャレ感も格段にアガル!

All-black styling with a long coat main body.
Wear it inside a long coat cardigan, or dare to wear it like a stole over your shoulders and turn it on, to keep you warm and look fashionable at the same time!