HOME
HOME
▶
Still NEED! And We still use it!
Still NEED! And We still use it!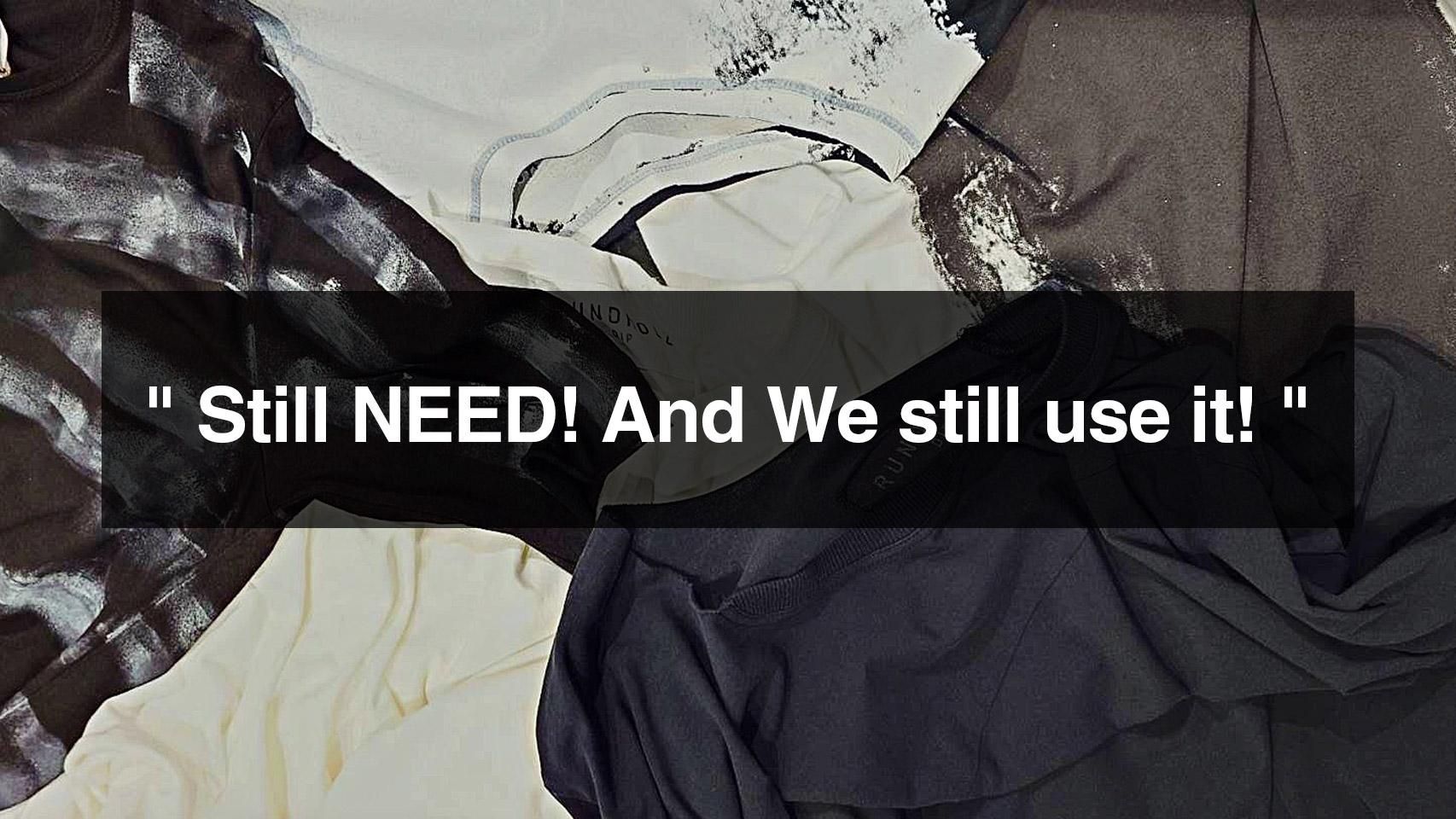 秋の新作が早く見たい!っと思っている方がたくさんいらっしゃると思いますが、実際この暑さの中でワタシ達自身が新作の良さをお伝えできるような気分じゃないのが正直なところ。
今まで自分たちがリアルに欲しい!と思ったモノを、欲しいと思ったタイミングでご紹介してきたからこそ、皆さまにその良さをお伝えできてきたのだから、焦らず無理した新シーズンのスタートはしたくない!
という思いから、今年は今までとは違った新シーズンの始まりを提案していきます!

そこで、まずは今すぐ使えて秋冬が本格的にスタートした時にも、インナートップスとして使える半袖トップスをNOWとAutumnにして活用したスタイリングをご紹介!
今すでに持っている方は、新作に飛びつく前にこのトップス達をそのまま秋にも愛用して、クローゼットにはまだしまわないで!っと声を大にして言います!
この時期に手にしようかと悩んでいる方には、まだまだ暑くて着れない長袖トップスを手にするよりも、間違いなくこのトップス達を手にした方が賢いですよ!っと背中を押します!
コレが、皆さまから頂いた信頼をカタチにしたワタシ達のやり方です! We know that many of you are thinking "I can't wait to see the new autumn collection", but the truth is that we ourselves are not in the mood to tell you how good the new collection is in this heat.
We have been trying to introduce the things that we really want, and when we want them! We don't want to start the new season too hastily and forcibly, because we have been able to tell you how good it is because we have been introducing what we really wanted at the time we wanted it!
That's why this year we are proposing a different start to the new season!

So, first of all, we introduce styling that utilises short-sleeved tops in NOW and Autumn, which can be used right now and can be used as inner tops when autumn and winter start in earnest!
If you already have these tops now, before you jump on the new releases, you can still love them in Autumn and not put them away in your closet just yet!
If you're still thinking about getting one this time of year, it's definitely smarter to get one of these tops than to get a long-sleeved top that's still too hot to wear!
This is our way of giving form to the trust you have placed in us!
---
先週からサイズ欠け再入荷のお問い合わせが多いこのトップス。
メンズTシャツらしく、スッキリした細身のシルエットと少し長めの丈感が秋冬もレイヤードしやすく◎
100回洗っても生地のヨレ感がでない!と自信を持ってお伝えできるほど、ワタシの愛用Tシャツ!

This top has been receiving a lot of enquiries about restocking since last week.
The slim silhouette and slightly longer length make it easy to layer in autumn and winter, just like a men's T-shirt.
The fabric does not become saggy even after being washed 100 times! I can confidently say that this is my favourite T-shirt!
---
この暑い今時期も、そして秋冬のスタイリングでもチラッと裾白見せで大活躍する自信しかない!
この白Tシャツは生地も型崩れもしないのに、白がオフホワイトになったんじゃないかというくらい去年1年間着まくった一枚。
でも、余裕でこの夏も一枚で着れるくらい永く愛用できてます!

I have no doubt that it will be very useful in this hot season and in autumn/winter styling with a glimpse of the white hem!
This white T-shirt is a piece that I wore so much over the last year that I thought the white had turned off-white, even though the fabric and the shape never lost its shape.
But I've loved it so much for so long that I can wear it on its own again this summer!
---
遂にラス1になった強撚綿ハーフスリーブのBLACK!
サイズMでも元々オーバーサイズのシルエットなので、通常サイズXSを着る方が、あえて落ち感の為にMを選んでも全く問題ナシ!
サイドとバックにRUNDHOLZらしいドレープがありアシメなデザインが、無地のトップスなのに1枚でもサマになるデザイン性で◎
何回洗っても型崩れせず生地も悪くならないので、秋にもインナーとして毎日でも着たくなるMyBESTトップス!

Finally, the last one in BLACK with half sleeves made of high-twisted cotton!
The silhouette is originally oversized even in size M, so there is no problem at all if a person who normally wears size XS dares to choose M for a feeling of fall!
The asymmetrical design with the typical RUNDHOLZ drape on the sides and back makes this a top that looks great on its own, even though it is a plain top.
MyBEST tops that you will want to wear every day as an inner layer in autumn as well, as the fabric does not lose its shape and does not deteriorate even if washed many times!
---
白のトーンを少し抑えた、クリーム系の色味が入ったよう真っ白ではないホワイトの色味が、1枚で着てもインナーとして着ても、コーデで浮くことなく馴染んでくれて◎
特に秋にインナーとして使うときに合わせる羽織の色味を気にすることなく使えるので1軍で活躍するのは必定!

The colour of white, which is not pure white, has a slightly subdued, creamy tone, so it can be worn alone or as an inner layer and blends in without floating in the co-ordinates.
It can be used without having to worry about the colour of the matching cloak, especially when used as an inner layer in autumn, so it is a must to be active in the army!
---
今季初登場した大人気のbajraのプリントTの黒×白プリント!
シンプルなシルエットのTシャツに施された大胆なラバーペイントが目を引くデザインながら、スタイリングを引き立ててくれる!
また、インナーとして着た時にラバーペイントがチラッと見えてコーデのアクセントになって◎

The black and white print of the very popular bajra print T, which was first introduced this season!
The bold rubber paint on this simple silhouette T-shirt is eye-catching, yet complements the styling!
Also, when worn as an inner layer, the rubber paint can be glimpsed to accentuate your co-ordinates.
---
オトナのプリントTとして実用性とファッション性を兼ね備えたTシャツとして、2年前の登場以来常に人気のTシャツも遂に残りもわずかに!
ラストサイズのサイズ4でも、普段サイズSを着ている人が着用しても、大きすぎることなくスタイリングにマッチしてくれて◎
オールホワイトにもカラーコーデにも馴染む万能Tシャツなので、秋にもインナーとして活躍することは今までの実績から実証済み!

The last of the popular T-shirts that have always been popular since their appearance two years ago as a T-shirt that combines practicality and fashion as a print T-shirt for adults are finally running out!
Even the last size, size 4, is not too big for someone who normally wears a size S, and matches the styling well.
This is a versatile T-shirt that blends well with both all-white and coloured coordinates, so it has already been proven that it can also be used as an inner layer in autumn!