HOME
HOME
▶
Which color will you choose?
Which color will you choose?

今季QUADRATO Boutiqueで春夏のノースリーブトップスのセレクトはこの指紋トップスしかしていない!って言っても過言ではないくらい、デザイン性と実用性を兼ね備えたこのトップス。 "毎シーズン買い足す、夏のトップスだからこそ、今までとは違う、けど間違いなく使えるモノ"という自信あるこのトップスを徹底解剖!
さらに、寒暖差のある今時期には羽織りと合わせた「NOW」として、夏には足元だけを変えた「SUMMER」として、2つのリアルスタイリングを提案! 羽織りと足元を変えただけで、雰囲気が変わるのも✔ In this season, the fingerprint top is the only selection of sleeveless tops for spring and summer at QUADRATO Boutique! It's no exaggeration to say that these tops combine design and practicality. Thoroughly look at these tops, which is confident that they are different from before, but definitely usable because it's a summer top that you buy every season!
In addition, at this time when there is a difference in temperature, "NOW" combined with a light outer and in "SUMMER" we changed only your summer shoes. We propose two real styles! You can change the atmosphere just by changing your outer and pair of shoes.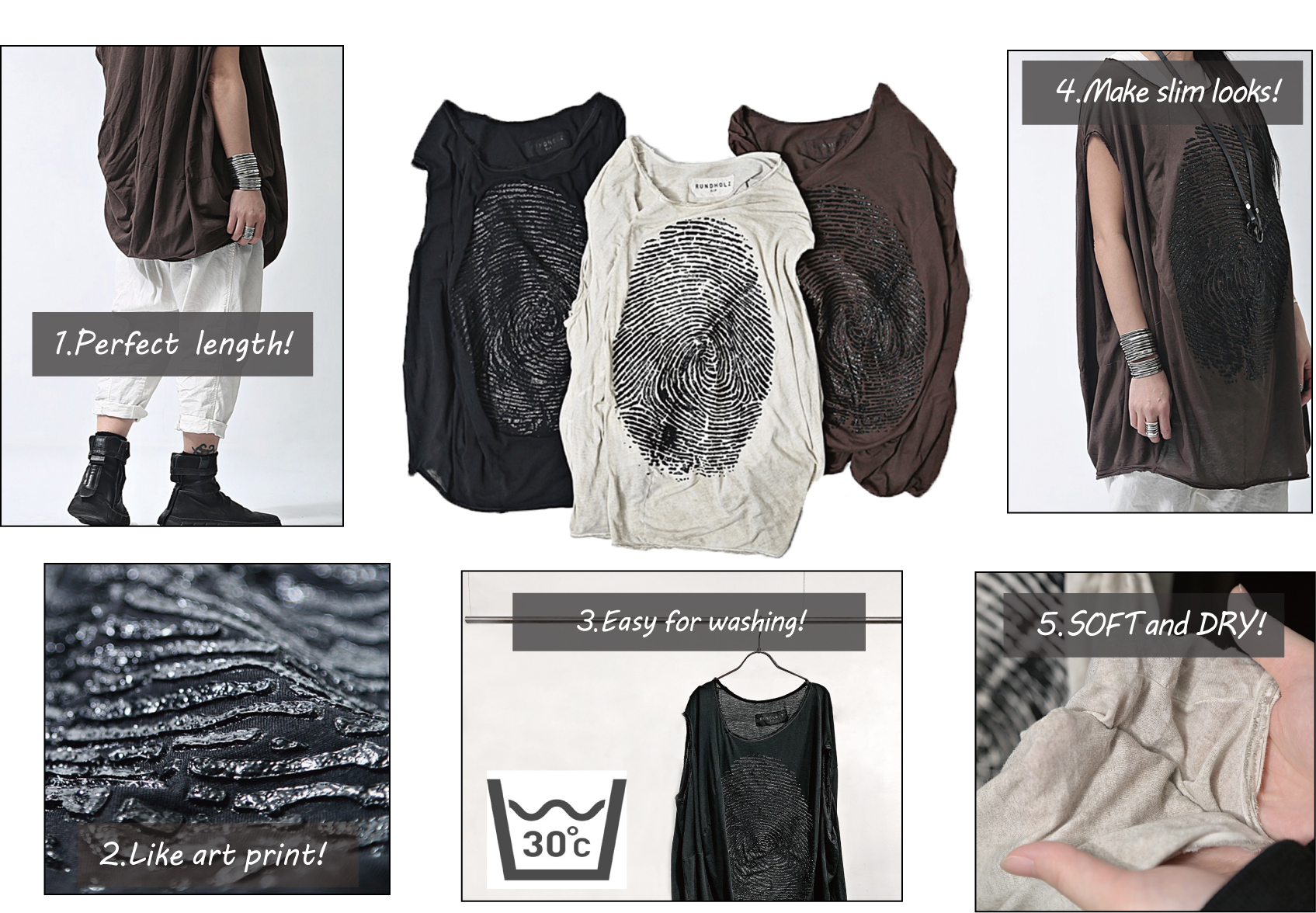 1.程よい丈感でヒップラインがちょうど良いバランスでしっかりと隠れ、更にゆったりとしたバックドレープのラインが、身長・体系を問わずにキレイなシルエットに!

2.製品染め洗いがされたコットン100%の風合いある生地に、立体感あるラバープリントが、アートな雰囲気に。 このBLACKでされたラバープリントが、プリントという枠を超え、スタイリングの中で"黒を足す"という感覚となり、全体のバランスを良くしてくれるマストなポイントに!

3.暑い時期にはもちろん、毎回のお洗濯を簡単にお家の洗濯機でガンガン洗えるのは、ウレシイところ! 良く着るものだからこそ、気兼ねなく扱える素材というものこそ、リアルクロージングの必須条件!

4."袖丈の長いもので二の腕を隠す"という概念を、"二の腕の前後を覆うようにして、腕を出しながらにしてスッキリと見せる"という新しい概念に! 今まで二の腕を気にしていた方へ、是非お伝えしたいポイント!

5.直接肌に触れるものだかこそ、柔らかく肌なじみが良い生地感というのはもちろん、真夏でもサラッとした生地感も大切。 製品染め洗いをしているからこそ生まれるこの柔らかさとドライな肌触りが通常のコットン100%にはないものポイント! また、生地はサラッと薄手でもしっかりとした丈夫な生地なので、インナータンクと合わせてもストレスフリーに! 1. With a good sense of length, the hip line is perfectly hidden with a good balance, and a more relaxed back drape line gives a beautiful silhouette regardless of height or body shape!

2. The product has a textured 100% cotton cloth that has been dyed and washed, and the rubber print with a three-dimensional appearance that gives it an artistic feel. This black rubber print goes beyond the frame of the print and becomes a feeling of "adding black" in the styling, making it a must-have point that improves the overall balance!

3. In hot weather, of course, you can easily wash wash it every time with your home washing machine! As it is something that you wear well, the material that you can handle without hesitation is a prerequisite for real closing!

4.The concept of "hiding a forearm with long sleeves" has been changed to a new concept of "covering your forearm slightly to make it look neat!" For those who have been worried about their upper arms, we would like to show you benefits of it's sleeve cut!

5. It is not only the soft texture that feels good on the skin, but also the smooth texture. This softness and dry touch that are created because the product is dyed and washed are points that ordinary cotton does not have! In addition, the fabric is durable, even if it is thin, so it is stress-free when combined with the inner tank!
---


NOSTRAのノースリーブワンピの上にトップスをON! 肌寒い今は、ストレッチがしっかりと効いたRUNDHOLZのカーディガンを羽織って寒暖差対策に。 また、羽織りと合わせた時、ロングワンピが長すぎると全体の雰囲気が重くなりがちなのでボディベルトをウェストで締めてワンピの丈感を少し上げれば◎

   

Put on this top on the sleeveless NOSTRA's dress! Now that it's chilly, you can wear a RUNDHOLZ cardigan that stretches firmly to protect against the temperature drop. Also, when combined with a haori(light outer), if the long dress is too long, the whole atmosphere tends to be heavy, so fasten the body belt at the waist part and slightly increase the length of the dress.

足元をサンダルに変えただけの夏コーデ。 ノースリーブワンピ一枚よりもトップスをONした方がメリハリが生まれ、バランスがよくなり、またカラダのラインをスッキリと自然に隠せるのが◎

   

A summer outfit that has just changed boots into sandals. Wearing the top rather than just one sleeveless dress by itself, will give you a better balance. Also, it is possible to hide the body line clearly and naturally.

▼STYLING ITEMS▼
---
柔やかな素材なのでゴワつくこともなく、スカートのフロントに挟んでロングスカートのラインを活かしてスッキリした印象に! また、オールBLACKで重い印象にならないように、WHITEカーディガンをONしてバランスよく!

   

Since it is a soft material, it will not be stiff, and it will be tucked in the front of the skirt and for a refreshing impression! Also, use the WHITE cardigan for lighter impression of black base.

インナーのタンクトップと、サンダルのプラス1カラーを活かした夏コーデ。 重い印象になりがちなロングスカートのデニムもバランスよく! また、トップスは片側をクルって結んでも、柔らかい生地なので結びやすく、型崩れしにくい素材なので安心!

   

A summer outfit that uses the inner tank top and same toned sandals. This color will balance long denim skirt that tends to look heavy. Also you are able to tie one side of the top as the material is soft, and it does not lose its shape.

▼STYLING ITEMS▼
---
バランスの良い丈感のトップスはパンツレギンスと合わせても、しっかりとしたバランスに。 今時季は、ロングカーディガンを羽織れば寒暖差対策だけでなく、シンプルな中にもスタイリッシュさがあるスタイリングに!

   

The well-balanced top has a firm balance even when paired with pants leggings. In this season, wearing a long cardigan will not only protect you against the temperature difference, but will also will help you to be stylish while being still simple!

▼STYLING ITEMS▼
---
上下BEIGEにBLACKが映えるこのスタイリングは、今季イチオシのスタイリング! ゆったりとしたパンツに着心地の良いジャケットを合わせて、メリハリあるバランスにすることで、身長や体型を問わない今時期スタイルに!

   

This styling with black on top and bottom BEIGE is the best styling this season! By combining loose pants and a comfortable jacket to create a well-balanced look, you can create a style this time regardless of height or body type!

ゆったりとしたパンツには足元のバランスが最も重要。 そこで、このサンダルブーツをONして◎ また、足元の黒とラバープリントの黒が全体のカラーバランスを良くしてくれるので、オールBEIGEでもメリハリある夏スタイリングに!

   

Balance is the most important factor in your loose pants. So, turn on these sandal boots. Also, the black of the feet and the black of the rubber print improve the overall color balance, so even in the all-BEIGE, it has a sharpness in summer styling!

▼STYLING ITEMS▼
---
羽織りで重くなりがちな雰囲気も、白のボトムスでバランスよく。 ゆったりとしたシルエットながらも、軽快なライトナイロン素材のこのブルゾンは、オールシーズン着用可能で◎ また足元は、BLACKにすることで3色コーデでも、上手くまとまるので◎

   

The white bottom gives a good balance even when the atmosphere tends to be heavy with outer. You can wear this blouson of light nylon material all season while it has a loose silhouette. Also, if you set your feet with BLACK, you will be able to balance well even in three-color coordination.

▼STYLING ITEMS▼
---
BROWNとBLACKでつくるカジュアル&エッジなレーヤードスタイル。 RUNDHOLZのキャミドレスのフロントレーヤードドレープはそのままに、トッピスをON。 また、ゆったりとしたコークーンシルエットのシャツをカーディガン感覚で羽織れば、バランス良いレイヤードスタイリングに!

   

Casual and edgy layered style built with BROWN and BLACK. Put on top over RUNDHOLZ's camisole front drape dress. In addition, if you wear a loose cocoon silhouette shirt like a cardigan, you can get a well-balanced layered styling!

▼STYLING ITEMS▼