HOME
HOME
▶
Use BLACK, Wear WHITE
Use BLACK, Wear WHITE

夏も冬も、一年中使える100%コットンのロングスリーブにいくらまで出せますか? 安価なもので、1シーズンせいぜい2シーズンで終わってしまうのがたくさん溢れている今、QUADRATOでは価値ある一枚をセレクトし、実際に自分たちで着用し、その良さをまさに実感。 その良さをさらに多くの方へ、お伝えしたいのが今回のコンテンツ。 ありそうでなかった、このロングトップス。納得の価値ある一枚に!
How many long sleeve tops made of 100% cotton that can be used all year round in summer and winter you know? It's unexpencive, and can serve for 2 seasons. Now, at QUADRATO, we select one valuable piece, actually we wear it by ourselves, and really feel the goodness. This time, we would like to convey the goodness to more people. This long top worth it!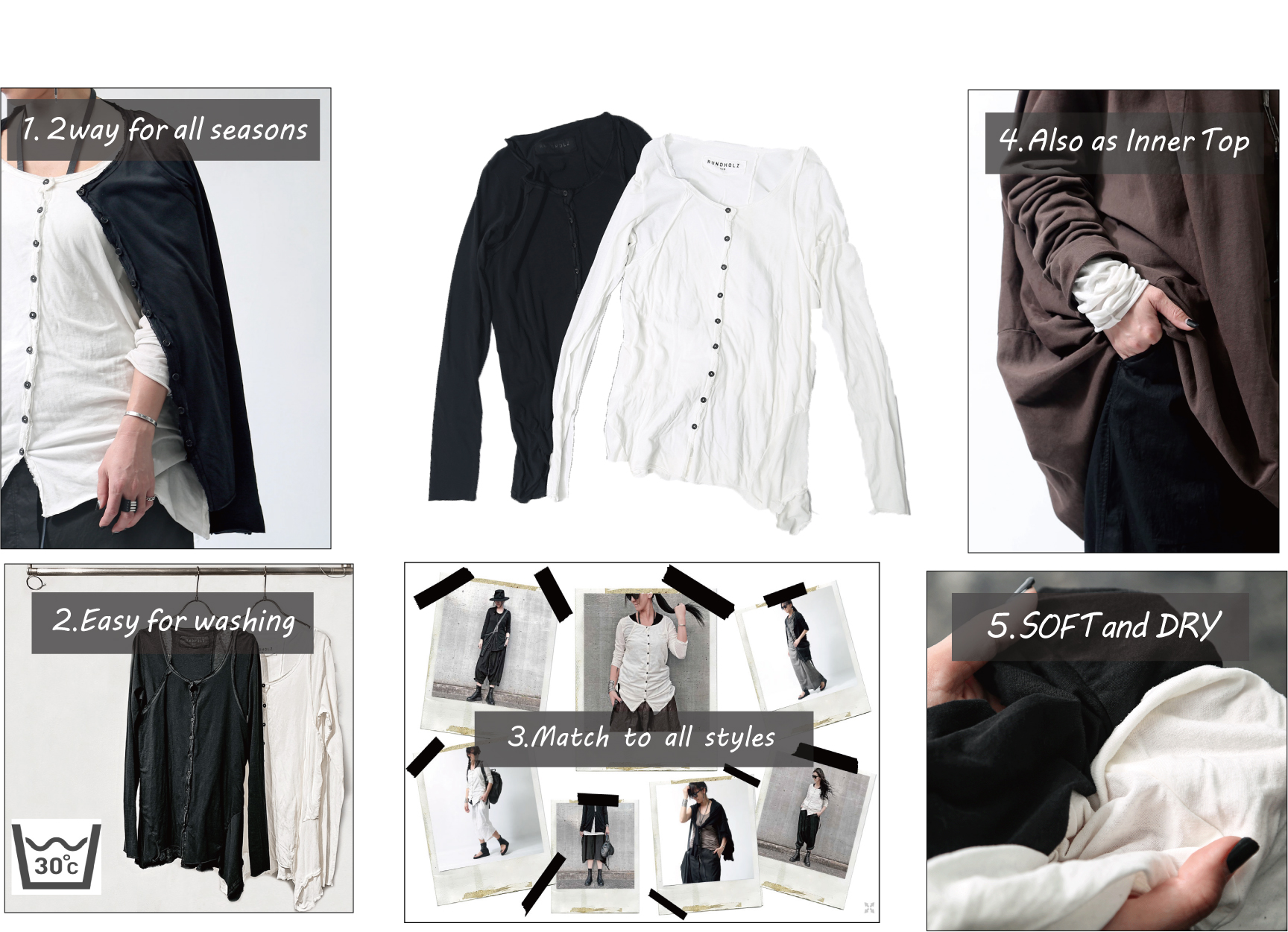 1.タイトピッチなボタンが、トップスとしてもデザイン性高く、ボディ部分は2枚レイヤード仕様になっており一枚でもサマになるバランスがよいトップスに◎ ボタンを開けてカーディガンとしても使える実用性も。

2.暑い時期にはもちろん、毎回のお洗濯を簡単にお家の洗濯機でガンガン洗えるのは、ウレシイところ! 良く着るものだからこそ、気兼ねなく扱える素材というものこそ、必須条件!

3.黒と白は、スタイリングの幅がある合わせやすさ。 メンズライクなスタイリングも、フェミニンなスタイリングにもマッチ!

4.メインアイテムとしてだけではなく、ロングスリーブを活かしたレイヤードスタイリングのインナートップスとして袖口をクシュっと!

5.柔らかく肌なじみが良い生地感というのはもちろん、真夏でもサラッとした生地感も大切。 そして、冬でも問題なく着用できる見た目はやはりコットン100%だからこそ。 また、生地はサラッと薄手でもしっかりとした丈夫な生地なので、インナータンクと合わせてもストレスフリーに! 1.Front button closure top is well-designed, and the body part has two layered specifications, making it a well-balanced top that will perfectly suit for summer.Practicality that can be used as a cardigan by opening the buttons.

2.In hot weather, of course, you can easily wash your laundry every time in the washing machine at home! A material that can be handled comfortably because it is something that you wear well is necessary!

3.Black and white have a wide range of styling for ease of matching. Match both men's-like and feminine styling!

4.Can be worn not only as a main item, but also in a layered styling as inner top under main top. Cuffs will look crispy.

5.It is important not only that the fabric feels soft and familiar to the skin, but that it feels smooth even in midsummer. And because it looks like 100% cotton, you can wear it in winter without any problems. In addition, the fabric serves for a long time even if it is thin, so it is stress-free when combined with the inner tank top!
---
ALL BLACKスタイリングにも、ボタンやWレイヤードの切り返しがアクセントとなり◎ 夏の重くなりがちなBLACKスタイリングには、ちょっとしたディテールが大切!

   

ALL BLACK styling is accented with buttons and W layered skirt of dress. A little detail is important for BLACK styling, which tends to be heavy in summer!

▼STYLING ITEMS▼
---
WHITEの中に映えるBLACKボタンを活かした、ALL WHITEスタイリング。 バックや、インナータンク、足元などのBLACKともバランスよく馴染んで◎

   

ALL WHITE styling that makes use of the BLACK button that appears in the WHITE base of styling. Well-balanced with the bag, inner tank, and black on your feet.

▼STYLING ITEMS▼
---