HOME
HOME
▶
WARM WHITE makes you COOL styling
WARM WHITE makes you COOL styling

今回のコンテンツは、ずっとコンテンツで特集をしたかったけど10月まで温めてきた2つのアイテムにフォーカス!
白でも色々なトーンの白がある中、OFF WHITEには絶妙なトーンにこだわってセレクトしてきたデニムジャケットとブーツ。 すでに持っている方も多く、またずっと気になっている方々も多いのがこの2つのアイテム。
このOFF WHITE、真っ白よりも黒に馴染みやすいだけでなく、確実にスタイリングがオシャレに見える反面、上級者向けに見えるという声を元に、簡単にいつものスタイリングに足すだけで大丈夫というスタイリングをご紹介!

それぞれ、今では入手困難な素材を使用していることから、再生産もナシなので迷っている方は是非、この機会に参考にしてみては!
This content focuses on two items that an idea I've been working on to feature in a content. While white comes in many tones, These denim jacket and boots are carefully selected with the exquisite tone of OFF WHITE. Many people have been curious about these two items. This color is more adaptable to black than pure white, and the styling looks stylish! On the other hand, some say it looks like an item for advanced users, so this time we will introduce you to easy way of styling! Each of them uses materials that are difficult to obtain now, so reproduction is not available. If you are thinking about them and want them, please take this opportunity to refer to them!
---
Project by H
OVERSIZED ASYMMETRY DENIM JACKET
無漂白の生成りのデニムを使用したゆったりシルエットのデニムジャケット。 着込むほどにデニムの馴染みが生まれ、キレイな落ち感のシルエットに。
通常、デザインだけではなく着心地を重視したセレクトをしている中、 特にジャケットにはストレッチの効いた素材をセレクトすることがほとんど。
しかし、このデニムジャケットのすごいところは、 伸縮性のない純粋なデニム生地を使用しているからこそ、 計算されたショルダーのライン、ボディ周りのパターンにより 着心地も良いということで、安心してセレクトできたアイテム! A loose silhouette denim jacket using unbleached denim. The more you wear it, the more familiar you become with denim, the more beautiful silhouette becomes. Usually, we select not only the design but also the comfortable to wear. In particular, most jackets are made from stretchy materials. However, this denim jacket is that it uses pure denim fabric without stretchy. Based on calculated shoulder lines and patterns around the body, it brings comfortable to wear, so we select it in relief.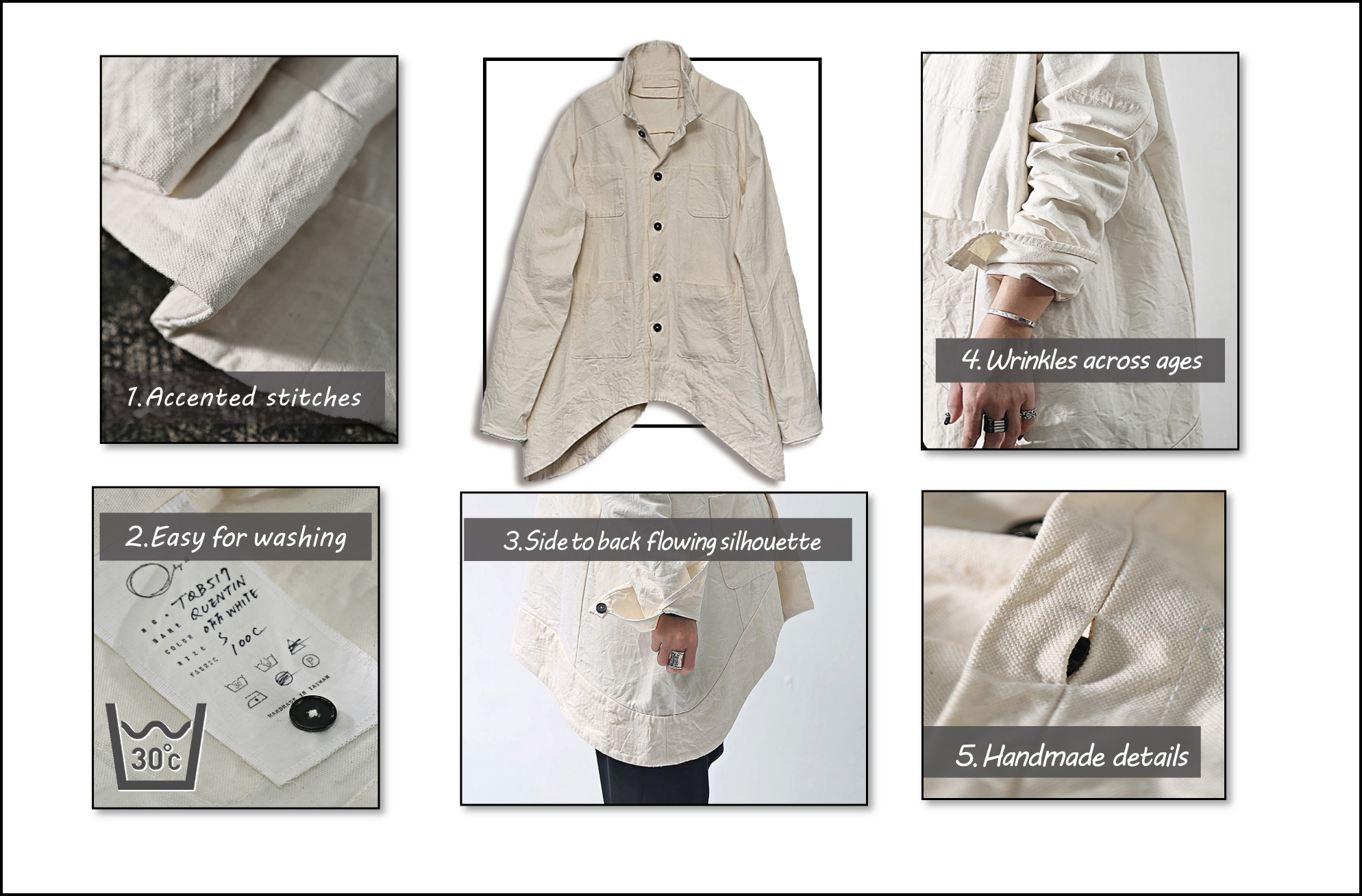 1. アルとナシでは全く違うステッチ
生成りのデニム生地の良さをそのままに、同色のステッチでアクセントを足すことで、表情ある雰囲気に。
ポケットや流れるラインのスソ部分、見えない襟の裏側にあるこのステッチはクオリティの高さを感じる部分。
1.Accented Stitches
Add accents to the denim fabric with the same color stitch to create an expressive atmosphere. This stitch on the back of the invisible collar feels high quality.
2. サイドから後ろへ流れるようなシルエット
今回デザイナーとこだわったのが、このサイドから後ろへ流れるラインのシルエット。
サイドからそのまま後ろ下がりになるデザインが多い中、身幅はゆったりしたままでもまっすぐではない、スッキリとしたラインのシルエットでということで 何度もやり直して生まれたのがこのシルエット!
2.Easy for washing
In order to create a taste, we washed the product after sewing, so we can wash it without any problems, especially in this OFF WHITE!
3. 着込むほどに生まれるアームのシワ感で小洒落感を
ピンッとハリ感のあるデニムジャケットにできたアームのシワ感が一言で"カッコイイ!" これが着込むほどに生まれてくるのが楽しみになる部分のひとつ!
3.Side to back flowing silhouette
This time, I was particular about the silhouette of the line flowing from the side to back. The silhouette with a neat line is not straight even though the body is loose!
4. お洗濯丸洗い可能
風合いを出すために、縫製後仕上げに製品洗いをかけてもいるので問題なくお洗濯できるのが、特にこのOFF WHITEではウレシイポイント!
4.Wrinkles across the ages
The wrinkles feeling of the arms on the tight denim jacket is simply "cool". One of the things that makes you look forward to being born as you wear it!
5. 一点一点ハンドメイドによる細かいディテール
ボタンホールのライン、ひとつ一つにしてもディテールを効かせ、ただのデニムジャケットとは全く違う雰囲気に。
5.Handmade details
Each buttonhole's line has its own details, creating a completely different atmosphere from just a denim jacket.
---
Portaille
BACK LACE UP LEATHER BOOTS PQ02F
ベストセラーとなっているPortailleの木型とソールをベースに製作してもらったこのOFF WHITEのブーツ。
白ブーツは欲しいけど、汚れが気になるという方の為にソールはあえて白ソールを使わず、ベージュベースのソールにハンドペイントを施しWHITEソールに。
このソールへのハンドペイントによって、アッパーのレザー部分が汚れてきても風合いある雰囲気になり全体のバランスが良くなるという使用後のことを想定したことで履き込む楽しさを味わっていただきたい一足。 These OFF WHITE boots were made of based on the bestselling Portaille wood pattern and sole. For those who want white boots, but are concerned about being dirty, use white soles instead of beige-based soles and hand paint to use WHITE soles. With this hand paint on the sole, even if the leather part of the upper part gets dirty, the atmosphere will be pleasant and the overall balance will be improved.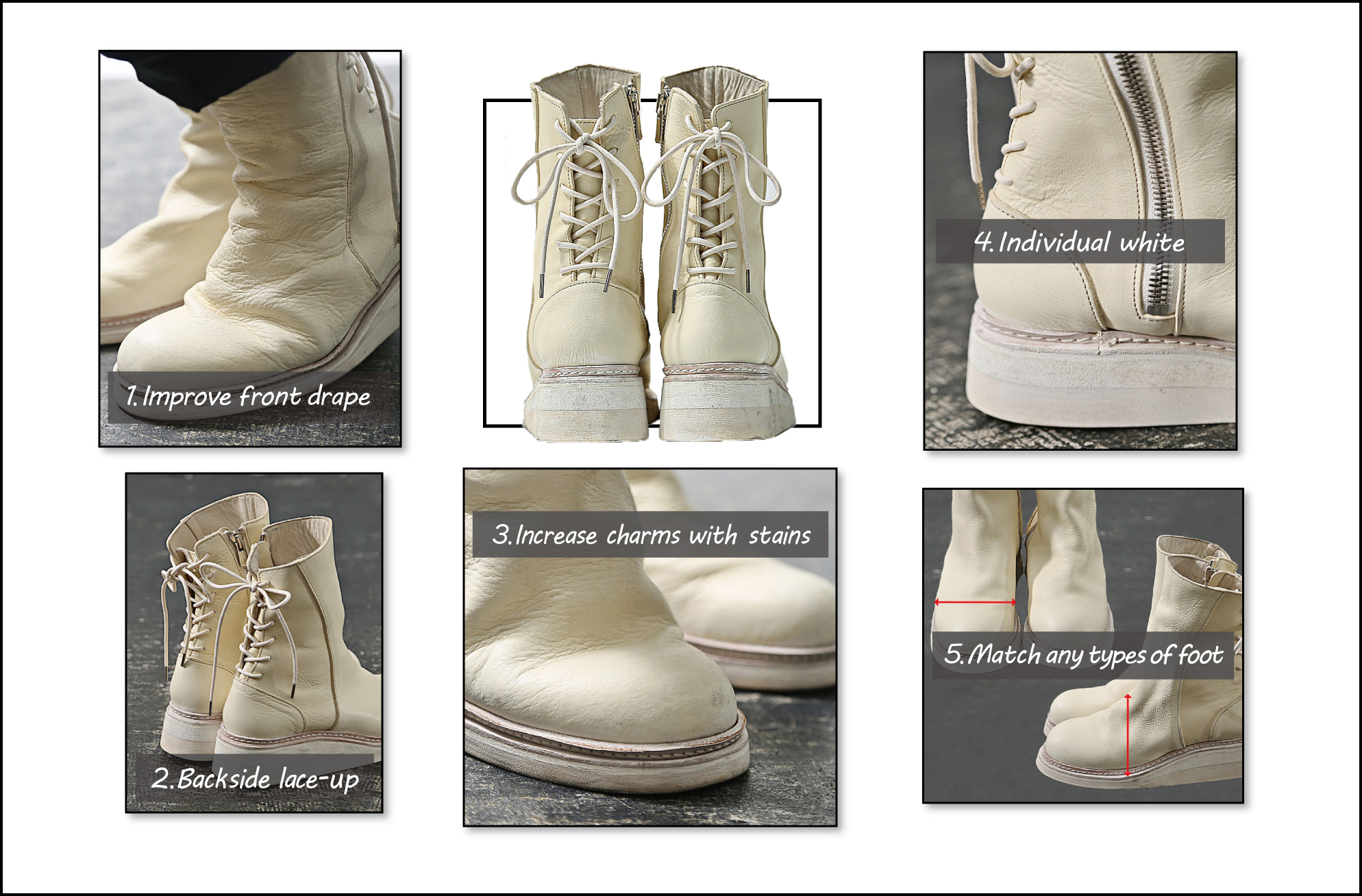 1. 履き込むほどに生まれるフロントドレープ
しっかりとした厚みがある牛革でも、しっとりした柔やかなタイプを使用しているので足馴染みも良く、履き込むほどにキレイなドレープが生まれる!
1.Improving front drape
Even though it's a solid thick cow leather, it's a soft and moist, so it's easy to break in, and the more you wear it, the more beautiful front drape you make!
2. バックレースアップでメリハリを
のっぺりとした印象になりがちなWHITEブーツを、バックレースアップがアクセントになりメリハリある雰囲気に。
2.Backside lace-up
White boots, which tend to give a smooth impression, have a refreshing atmosphere with backside lace-up accents.
3. 汚れていく度にカッコよくなるWHITE
汚れを気にしてしまいがちな白ブーツ。 ソールのハンドペイントの風合いと、汚れていく白レザーとのバランスは絶妙にマッチ。 真っ白のピッカピッカブーツより、履き込んで生まれた汚れが断然COOL!
3.Increase the charms with stains
White boots that tend to worry about getting dirt. The balance between the hand paint on the sole and the increasingly dirty white leather matches perfectly. The dirt created by wearing them is definitely COOL!
4. 他にはない、このトーンのOFF WHITE
シボ感のあるこのレザー。革染みにムラが出やすいことから特にこのOFF WHITEは職人による丁寧な染めがされているからこそ生まれたトーン。
4.Individual white
This leather has a grainy texture. In particular, this color was created by careful dyeing by craftsmen.
5. 甲高さんでも、足広さんでも問題ない足入れ
フロントドレープとレースアップと同じ木型を使用しているけども、レザーの柔らかさから、他の2つよりもさらに足への負担を軽減!
5.Match any types of foot
It uses the same wooden pattern as the front drape and lace-up boots, but the softness of the leather makes it even easier to put on your feet than the other two!
---