HOME
HOME
▶
Time-less, Age-less, Our Denim Jacket!
Time-less, Age-less, Our Denim Jacket!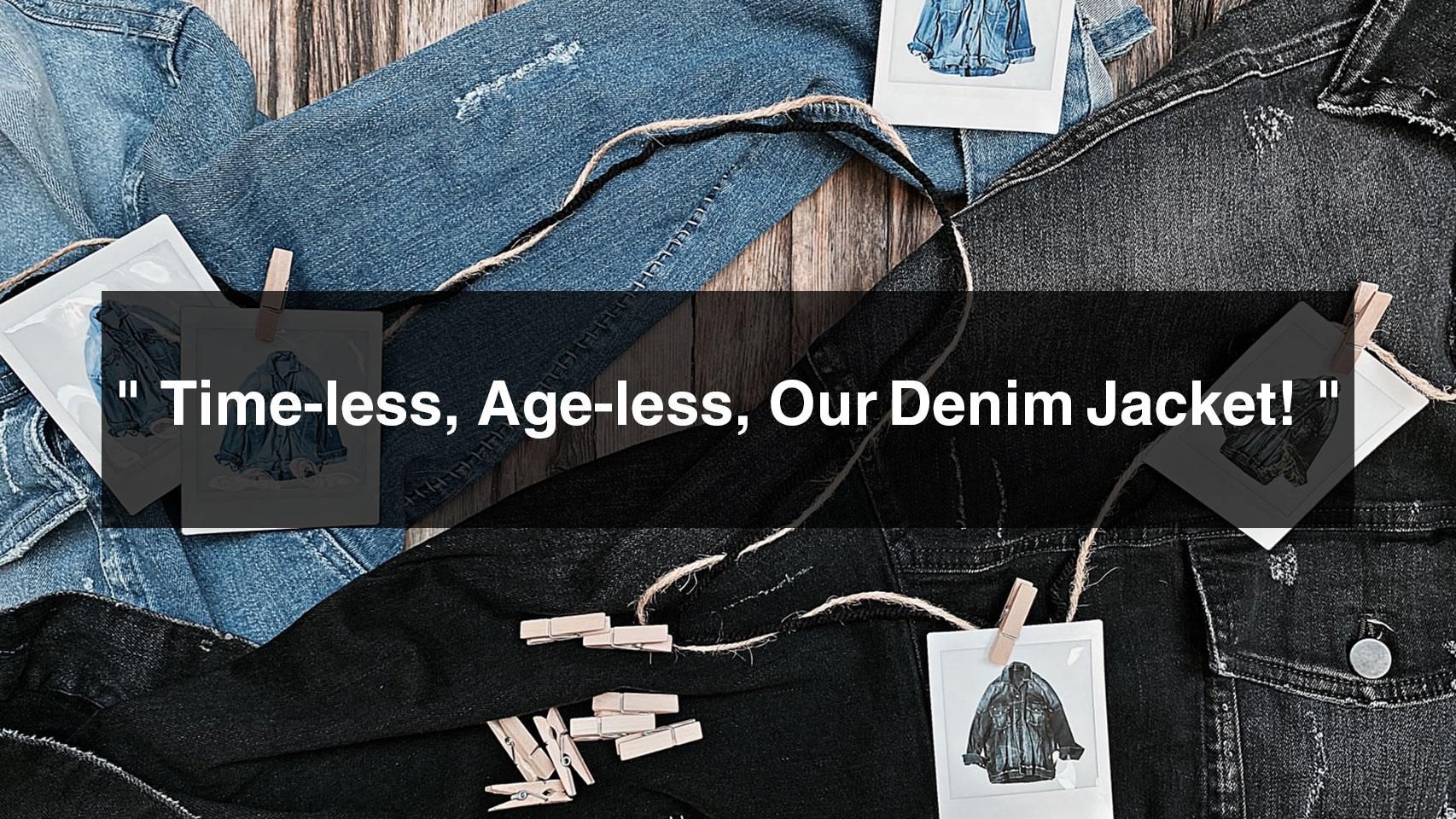 先週のリネンナイロンブルゾンに続いて、絶対に外せない使えるデニムジャケットにフォーカス!
この2年で本当に多くの方々に手にしていただいたデニムジャケット。
デニムパンツもですが、いつも気になっていて欲しいモノリストにはずっと入っているっという方!
最初の一色目を手にした方が、間違いのないずっと使えるデニムジャケットとして、翌シーズンには色違いを手にするほどの実力アイテム。

そこで、今回は総集編としてこのデニムジャケットのポイント5つと、サイズ毎の着比べをして徹底解剖!
実際、色でサイズを変える方も半分近くいらっしゃいました!
そして、今季のデニムスタイリング秋編も合わせてご紹介!
Following on from last week's linen nylon blouson, we focus on a usable denim jacket that you can never miss!
Over the past two years, a lot of people have got denim jackets.
We've also had a lot of people who have always been curious about denim trousers and have always had them on their wish list!
The first colour you get is the denim jacket you can't go wrong with, and you'll get a different colour the following season.

So, in this edition, we've thoroughly dissected this denim jacket by comparing five key points and wearing it in different sizes!
In fact, almost half of the customers changed their size depending on the colour!
We also introduce the autumn edition of this season's denim styling!

---

同じカタチ、同じ素材でも全く違う印象の2カラー。
2色買いしても、後悔なんて絶対にしない! むしろ、買わなかったら後悔する!っていう思いが持っている方は多かった!
Two colours with the same shape and material but completely different impressions.
If you buy two colours, you will never regret it! In fact, if you don't buy it, you will regret it! Many people had the feeling that they would regret not buying it!
---
デニムパンツ&ジャケットで過ごしてきた私たち世代が、"昭和のGジャンから、令和のデニムジャケットへ!"を合言葉に、「何年も着れるこれからのデニムジャケット」として何度も何度もやり直してこだわったシルエット。
ワタシ達が持っている、アイテムやスタイリングと合うこのデニムジャケット、昭和のGジャンにはなかった良い点しか詰まってない仕上がりに!
We, the generation who have spent our lives in denim trousers and jackets, have gone from the "G-janes of the Showa era to the denim jackets of present!" The silhouette was redone over and over again as a "denim jacket that can be worn for years to come" under the slogan "From the G-jumpers of the Showa era to the denim jackets of present! This denim jacket fits with the items and styling we have, and is finished with all the good points that Showa G-jans didn't have!
bajra
UNISEX OVERSIZED STRETCH DENIM JACKET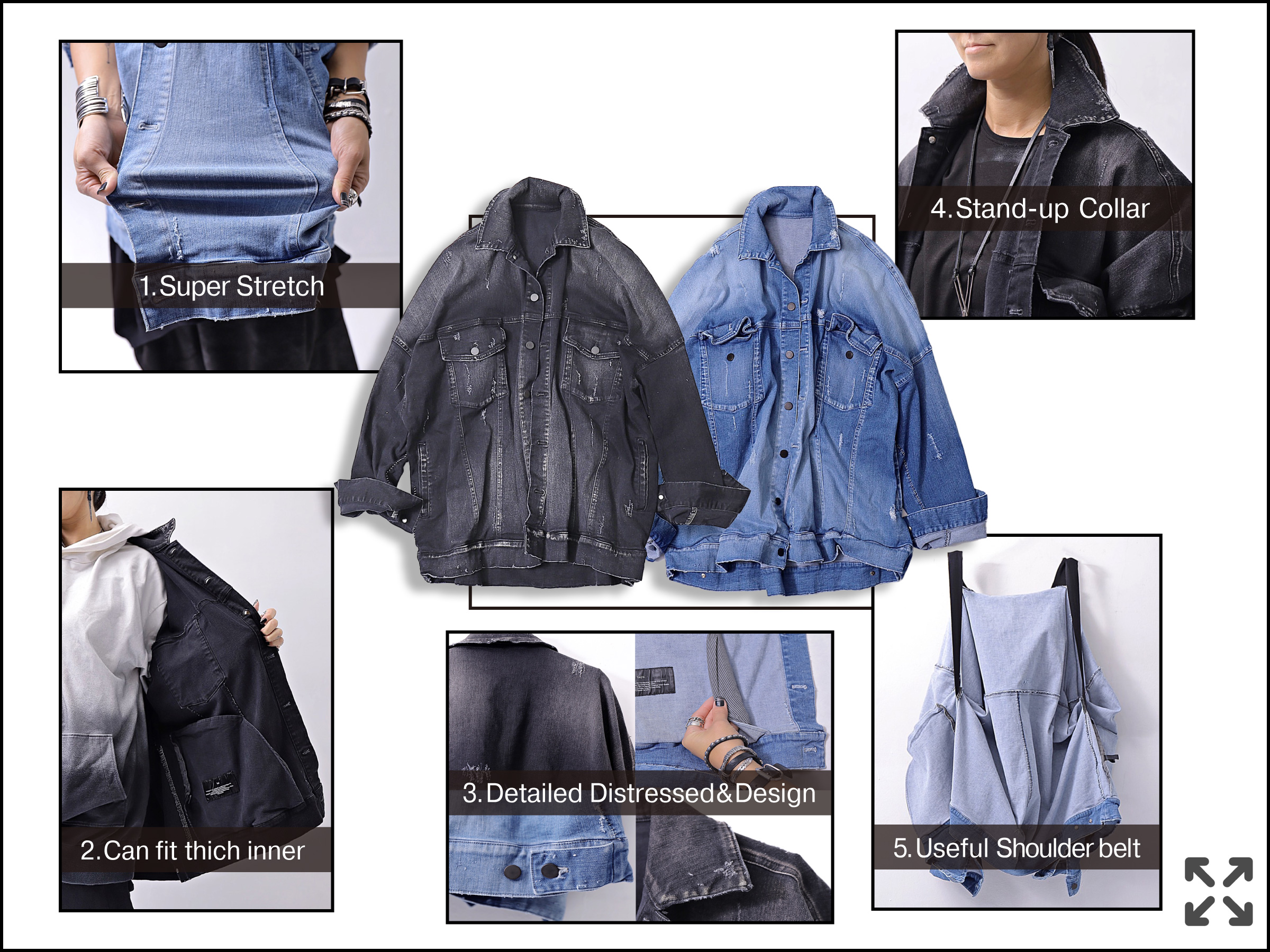 1. " スーパーストレッチ "
ストレッチの効いていないジャケットでは、着心地や動きやすさが心配となるのはデニムジャケットでも同じ。
今回は絶対に譲れなかった一つに、見た目は通常のデニム生地でありながら、しっかりストレッチのあるデニムということ!
そしてウォッシュ感を出すとき、通常のデニム同様にストレッチデニムでもしっかりと縦糸の筋が出るものを使用。
1. "Super Stretch"
With jackets that don't have stretch, you might be worried about comfort and ease of movement, which is the same for denim jackets.
One thing that I absolutely couldn't give up on this time was that it looks like normal denim, but it's a stretchy denim!
And when it comes to creating a washed look, we use stretch denim that has strong warp threads just like normal denim.
2. " ゆったりスウェットを中に着ても問題ナシ! "
デニムジャケット最大のメリットは、オールシーズン着用できること!
でも、今までのデニムジャケットは、ゆったりしたシルエットのスウェットやニットを中に着用するとゴワツキ、着心地が悪いと結局は薄手のトップスの時にしか着なくなるものがほとんど。
だからこそ、リアルに気兼ねなく、どのトップスにの上からでも着れるシルエットのデニムジャケットに!
2. "Can fit thick inner"
The greatest advantage of denim jackets is that they can be worn all year round!
However, most of the denim jackets I've used so far are stiff when worn with a sweatshirt or knitwear with a loose silhouette.
That's why it's a denim jacket with a silhouette that can be worn over any top without hesitation!
3. " 細かいディテールの積み重ね "
1つ1つ手作業でダメージ加工をし、その積み重ねによって全体の雰囲気が一気に増した仕上がりに!
そして着込むほどに着る人のカタチや、風合いが生まれるのも楽しみなひとつ。
また、見えないポケットの内側の生地にもさりげなくストライプ柄の生地を使用。
ポケットから中身が出て落としたりしにくいように、強度のある生地でありながら柔らかくしなやかなものを使用。この柔らかな生地だからこそ、ポケットにモノを入れた時、沈みができ落ちにくくなるんです!
3. "Detailed Distressed and Design"
The damage process is done by hand one by one, and the overall atmosphere is increased at once by stacking them!
And one of the fun things is that the more you put it on, the more the person who wears it will take on the shape and feel of it.
In addition, the fabric inside the invisible pocket is also casually striped fabric.
To prevent the contents from slipping out of the pocket and dropping them, we used a fabric that is strong yet soft and supple. Because of this soft fabric, when you put something in your pocket, it will sink and it will not fall off!
4. " こだわりの襟の立ち方! "
襟のカタチや大きさ次第で、印象が変わる!っというのは、襟付きシャツが苦手な人なら経験したことがあるはず!
そんな、襟一つで印象が変わる大切な顔周りのパーツだからこそ、大きさや形にはとにかくこだわり、何度も修正した部分。
髪が短い方でも長い方でも、キレイに襟が立つことによって顔周りがスッキリに!
このスッキリがあることによって、オーバーサイズのシルエットでも、着られてる感にならないって意外と知られてない、全体のバランスを左右する大切なポイントなんです!
4. "Stand-up collar"
Depending on the shape and size of the collar, the impression changes! I mean, if you're not good at collared shirts, you've probably experienced it!
Because it is an important part around the face that changes the impression with just one collar, we are particular about the size and shape, and we have revised it many times.
Whether you have short or long hair, the neat collar will make your face look neat!
Because of this sleekness, even an oversized silhouette doesn't feel like you're wearing it, which is an important point that affects the overall balance!
5. " 使えるインナーショルダーベルト "
手に持つのが面倒なとき、リュックのように肩から背負えて便利というのが、インナーショルダーベルト。
でも、実際に背負って持ち運びをすることは意外と少なく、つい手に持って持ち運ぶ方も。
ならばもっとオシャレに、もっとカッコよく持ち運べるように、今回は肩掛けをして羽織ってみては?
ショルダーベルトに腕を通すことによって、意外と固定されるので肩掛け羽織りをしても落ちにくいんです!
5. "Useful shoulder belt"
The inner shoulder belt is convenient because it can be carried from the shoulder like a backpack when it is troublesome to hold it in your hand.
However, it is surprisingly rare to actually carry it on your back, and some people just carry it in their hands.
So why not wear it over your shoulder this time so that you can carry it more stylishly and coolly?
By putting your arm through the shoulder belt, it will be fixed unexpectedly, so it won't fall off even if you wear it over your shoulder!
---

2色展開のデニムジャケットは、カラーによってサイズ分けする方も!
例えば、通常M-Lの男性が、ゆったりとしたシルエットはそのままに、スッキリとした印象のサイズ1を選んだり、
逆に通常サイズXSの女性が、キレイなオチ感のビッグシルエットだからこそサイズ3でロングブルゾン感覚を楽しんだりと言うことも!
体格でサイズを選ぶのではなく、着た時の雰囲気で選べるのも、このデニムジャケットの魅力のひとつ!
The denim jacket comes in two colors, so some people sort their sizes by color!
For example, a man who normally wears M-L may choose size 1 for a neat impression while maintaining a relaxed silhouette.
On the other hand, a woman who is normally size XS may enjoy wearing a size 3 long blouson because it has a beautiful big silhouette!
One of the charms of this denim jacket is that you don't have to choose the size based on your physique, but you can choose based on the atmosphere when you wear it!

---

カジュアルからスタイリッシュ、INにもOUTにも、とにかくスタイリング幅が広く合わせやすいのがデニムジャケットの良さ!
この秋のスタイリングでも間違いなく、大活躍させますよ! From casual to stylish, in or out, the good thing about denim jackets is that they are easy to match with a wide range of styling options!
It will definitely play a big part in your styling this autumn!
---